Tony Goodman continues his tour of regional wine producers, chatting to the vignerons and recommending wines that have inspired him. Once again, a bit of poetic licence will allow you to enjoy some fun observations from this talented amateur wine taster.

This spring he visits another four fabulous domaines; Les Vignobles de Constance et du Terrassous, Terroirs Romans, and Clos Saint Georges.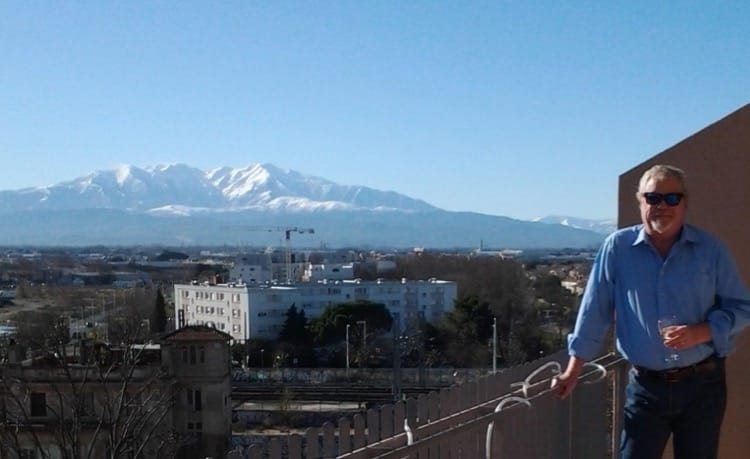 I have fallen in love with this extraordinary area and its wines. Being an unschooled amateur however, I recognise the only appropriate approach for me is to ask myself 'do I like it, would I buy it again?' If the answer is yes to both I then try to drill down to understand why. Which grapes are involved, where was it grown and who was the winemaker?
Background stories, price and circumstances add to the story. It's an absolute joy to shake the hand of producers, walk through their vines, taste their wines and hear their stories. I do hope these reviews give you a few ideas of wines to try and places to visit.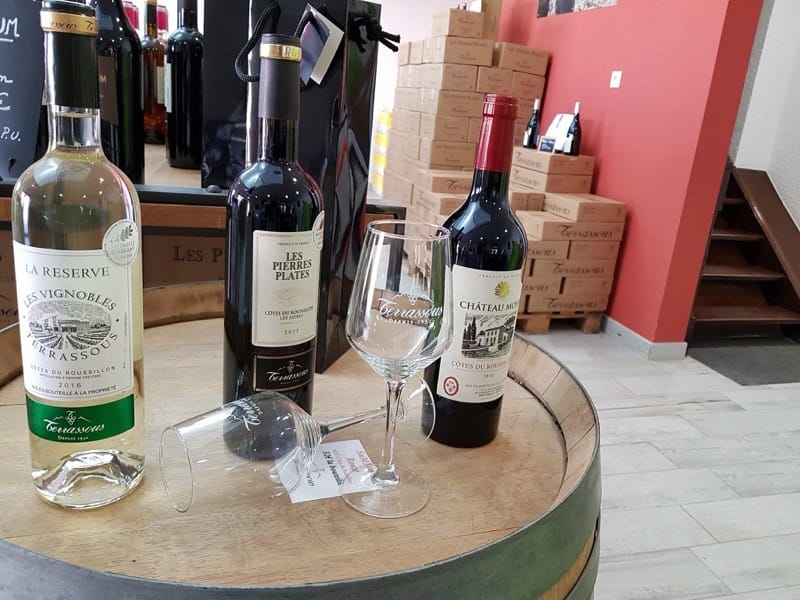 YOUR VISIT
A.O.C. Les Aspres is sweetly placed on the pebbled alluvial plain between Canigou and the soft waters of the Mediterranean sea. Founded early in the 20th century its 70 producers are deeply committed to secure recognition for it to be one of France's best bespoke domaines. They are absolutely determined to match consumer's 21st Century expectations.
Trading from three outlets, the store at Terrats is particularly user friendly, modern and bright with parking at the door. Nothing but the most basic French required as the wines are displayed on open shelves. Relaxed friendly staff.
VIN ROUGE
CHATEAU MOSSE 2016
Syrah Carignan Mourvedre
A flexible youthful wine with matchless soft southern French tannins. Deep ruby red, enticing fruit aroma with a hint of pepper. Upright, genteel and steadfast. Serve this and Gregory Peck will join you for the Sunday Roast. While age will imbue the tannins with further wisdom, it is fully briefed and ready to make the opening statement for the defence now. Decant no more than 30 mins before and it will appreciate being served around 18C.
LES PIERRES PLATES 2015
Syrah 70%, Carignan 15% Mouverde 15%
A gold medal winning, rock rolling, smooth roller skater of a wine. Plenty of red fruit with hints of pepper. Impressively purple almost black colour. The Mouverde and Carignan pack down nicely with the Syrah. Light touches of the new oak in the background which will come forward and add another layer of complexity if put aside. Grilled red meat or a spicy Friday night tajine but give it a few minutes to freshen up before dinner. Avoid the hipster urge to serve chilled, this is the Sud de France not Shoreditch.
VIN BLANC
LA RESERVE BLANC 2015
Grenache Blanc 52% Vermentino 48%
A fresh crisp, citrus apple blossom special. Vermentino, a recently permitted grape type together with the Grenache Blanc creates a wine with an intense affinity for seafood. While it has sufficient structure to be put aside for 12 months or so, it is ready, willing and able to be enjoyed now. Fantastic value there is no excuse for not having a bottle on hand for an impromptu al fresco lunch or an early summer apero on the terrace. Serve chilled around 12C.
23, AV DE LA MEDITERRANÉÉ
THUIR
Tel : 04 68 53 02 50
---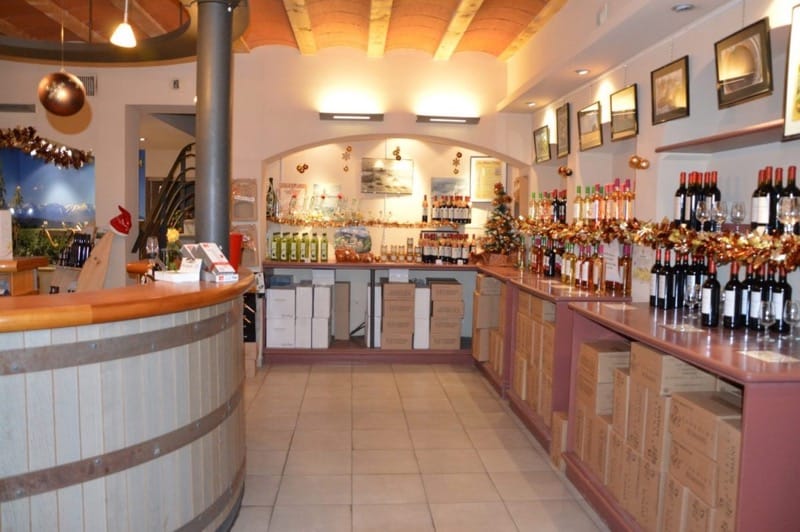 YOUR VISIT
A skilful, relatively fresh faced cooperative founded in 2005 and now consisting of around 50 vineyards. Using traditional grape varieties raised on the rich alluvial terroir of the Plain de Rousillion their mission statement is to craft great value, on point modern dry wines alongside their traditional sweet wines.
Three modern user friendly outlets in Elne, Cabestany and Villeneuve de la Raho, the latter a favourite with its traditional stone and timber ambiance hosted by Anne Sophie. Plenty of parking at the door. Open displays of wine so nothing more than a smile and a mot or two of French required.
VIN ROUGE
DAME D'ELNE AOP CÔTES DU ROUSSILLON 2014
60% Syrah 20% Carignan 20% Grenache Noir.
A powerfully garnet and ruby red wine. An articulate example of the region's strengths and the skills of a master winemaker. Plenty of wood, leather and grenache cherry jam ready for a pink lamb shoulder or herb crusted pork medallions. Ready for duty now or put it aside for 12 months. Decant and rest for 30 mins then serve around 16C.
MAÎTRE DE CABESTANY LA CUVÉE AOP CÔTES DU ROUSSILLON 2016
30 % Grenache 70 % Syrah
A skilfully constructed modern classic. Deep purple red. Plenty of syrah pepper with attractive apricot highlights. An incredibly good value performer capable of entertaining a thick grilled entrecote drizzled with green pepper sauce or a late night selection of regional cheese. Background hints suggest it will age quite well, however put it to work now. Let it breathe for 30 mins and serve around 18c.
ROSÉ
VOLONTÉ D'UN HOM BIO IGP CÔTES CATALANES 2015
100% Grenache Noir and Blanc
An interesting Rosé which has a robust crispness from the Grenache Noir, floral notes from the Grenache Blanc and an attractive smooth slightly citron and bay finish. Rosé aficionados looking for something different will love it. It will tackle Friday night spices with élan, a pepper and apricot laden Guinea Fowl or a goat cheese and honey buckwheat galette with style. Serve chilled, around 12C.
2 AVENUE ANGEL GUIMERA,
VILLENEUVE-DE-LA-RAHO
TEL: 04 68 55 02 11
(Also Elne and Cabestany)
———————————————————————————————————-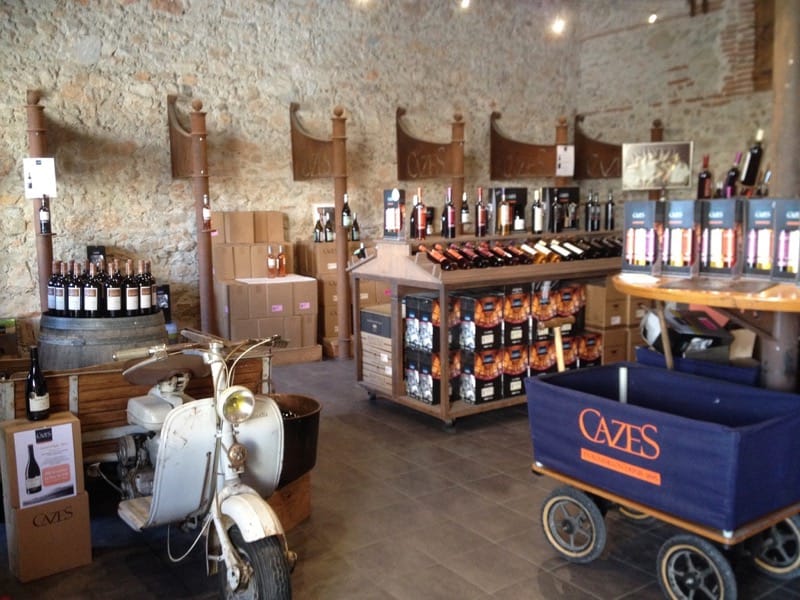 YOUR VISIT
A well known and much loved winery which really needs no introduction. Located in the Rivesaltes heartland, for over a 100 years four generations of the Cazes family have dedicated themselves to producing superb wines from its fabulous pebbled terroir. 100% certified biodynamic.
The visitor centre is located within the Riversaltes HQ. Surrounded by a working winery you could finds yourself rubbing shoulders master winemakers and Cazes family members. Well signposted. Plenty of parking. Good english
VIN ROUGE
EGO 2014
40% Syrah 40% Grenache 20% Mouverde
A lovely rush of smooth berry laden aromas, deep garnet colour. . Un-oaked which allows Syrah's pepper and Granache's raspberry spice to step forward and impress. Background hints of liquorice. Structured enough to be put aside for 12 months however that would be like having Michael Bublé over for a soirée and not letting him sing. It's the red for your next Saturday night Entrecote. Let it rest in the best decanter for no more than 40 mins. Serve at no more than 16C.
4 RUE FRANCISCO FERRER,
RIVESALTES
Tel: 04 68 64 08 26
---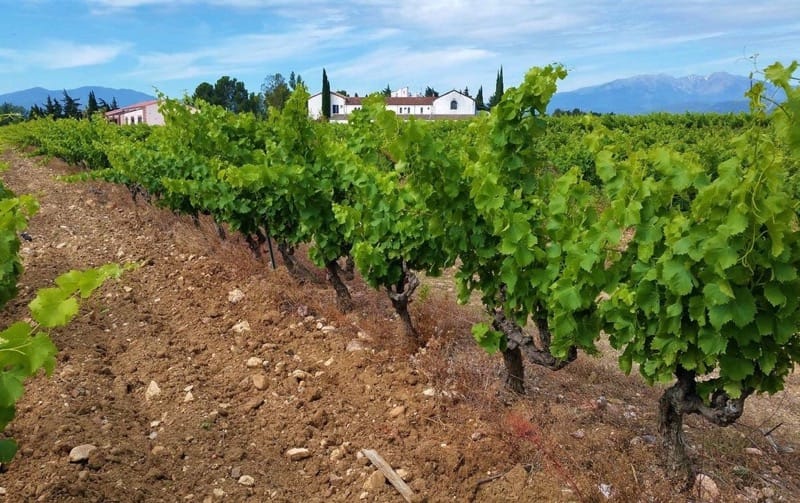 YOUR VISIT
Located in the heart of Trouilla's golden triangle, Dominique and Claude Ortel are applying their deep dedication to the region to produce dry wines alongside the estate's traditional sweet wines. The estate is evolving. For tastings please ring ahead to ensure Mr Ortel is available. Well signposted. A reasonable level of French required. Excellent facilities. Ample parking.
VIN ROUGE
Curvee de Pierre 2008
Syrah 85% Grenache Noir 10% Carignan 5%
The estate is still building its repertoire of dry wines, so for the moment focus on this its flagship offering. An intense red-purple fruit driven wine. The peppery Syrah provides structure, the Grenache deepens the hue and the Carignan contributes spice and liquorice. An honest and charming year round wine, it will help the bride and groom negotiate the speeches with aplomb and keep the guests attentive. Perfectly drinkable now it would benefit with say 30 mins in the decanter before serving. Serve around 16C
MAS RIPOLL, TROUILLAS
Tel : +33 (0)4 68 21 61 46
contact@clossaintgeorges.com