GARDENING NOTES FOR APRIL
with Gill Storey
---
April is the month when things in the garden really begin to grow. In February and March there seemed to be plenty of time: in April as the ground warms up, the garden comes along in a rush. So it is time to catch up with your jobs.
The main tasks in the garden are:
☀ Put supports in place for perennials
☀ Remove faded daffodil and tulip heads, but leave the foliage. Deadhead pansies and other spring bedding
☀ Divide clumps of perennials. Start new perennials from stem cuttings. Pot on pot-bound plants
☀ Sow hardy annuals straight into the ground. Plant half hardy annuals indoors. Sow sweet peas outdoors and plant out autumn sown plants.
☀ Plant summer flowering bulbs
☀ Remove fleeces and coverings from tender plants, but beware of late frosts.
☀ Mulch should be applied to a depth of 8cm including empty beds.
Vegetable Garden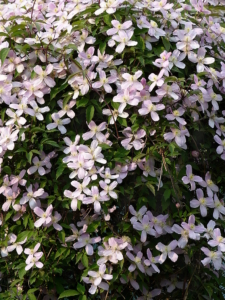 ☀ Prune laterals on grapevines and shape plum and cherry trees. Prune figs.
☀ Plant second early potatoes and early main-crop at beginning and end of month. Finish planting onions and shallots. Plant asparagus crowns.
☀ Sow vegetables out doors. (beet carrots, chard, cauliflower, lettuce, leeks, radish, turnip spring onion, perpetual spinach and peas. Sow brassicas in trays for later. Sow herbs or buy young plants. Continue to sow salad vegetables indoors.
☀ Support pea plants with sticks or mesh
☀ Protect early sowings with fleece or polythene
☀ Pot up tomato seedlings
April is the month to concentrate on your pot plants. Use good potting compost (terreau) and appropriate liquid fertilisers – e.g. for leafy plants, citrus plants (agrumes) or flowering plants – as each will have a different balance of essential ingredients. The more effort you put into this now the better will be your results.
I like to start work on the pots on a cool day and work in the shade rather than in bright sunlight. Lift up the pot and if roots are poking out at the bottom the plant needs repotting. If a plant does not need repotting it should have a top dressing of potting material to just below the rim of the pot and then it should be covered with a dry mulch to retain moisture such as horticultural grit or rounded pebbles. Find new pots for side shoots and bulbs from plants like amaryllis and start a few new cuttings of rosemary and lavender and anything else that takes your fancy. If you spot windborne seedlings in the garden that you rather fancy, pot them up too.
Watering should be done every evening in summer and once a week in winter. If permitted, an irrigation system is useful, especially if you are away a lot.
Food production gets very satisfying in April. As well as the tasks listed above, now is the time for asparagus crowns which require very careful bed preparation, especially since the bed is not moved around in the annual rotation. But they do repay the trouble.
Last of all is my "favourite" task, cleaning out the lily pond. If you skimp this you will regret it when clouds of bugs begin to appear above it. Take out the water, lift out the plant baskets onto a sheet of polythene and put the aerators in a bucket. Put the fish if any in another bucket filled with pond water. Tidy the roots of the plants and cut back the marginal plants if they have got too big. Refill the pond with rainwater if possible and if not leave it to stand before replacing fish. Start feeding the fish again. If you have them, they will consume the maggots of mosquitoes and flies before they can grow.
And finally, empty your freezer, eat up the old stocks and clean it ready for the new crops.
© Gill Storey