Mongolian yurts in the PO
Yurt place or

mine

?
by Simon

Newman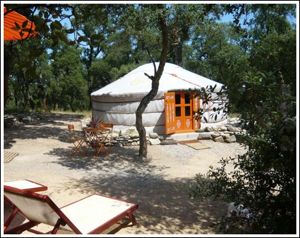 They say a Mongolian nomad can put up a yurt big enough to house his family, his mother-in-law and a couple of llamas all in under an hour. This is considerably quicker than a bemused couple spotted recently on Argelès beach who wrestled seemingly forever with a truculent octopus of ill-fitting bendy rods and a bin-liner. I can only assume that neither the instructions in Estonian nor the fuzzy pictogram of an entirely different model were of much help on this occasion.
Yurts originated in central Asia and just about every warrior king you can think of from Hannibal to Genghis Kahn crossed mountain ranges and carved out empires whilst B-and-B'ing in these circular tents along the way.
Made of animal skins (latterly canvas) stretched over wooden spokes set on an expanding "garden-trellis" frame, they're insulated from the icy blasts that sweep the Russian steppes (cue memories of Mr Rigsby throwing open the window of his freezing bedsit and declaring its health benefits to a prospective tenant with a hearty There, get a lungful of that – straight off the Urals that is!) by an inner layer of lambswool.
And there's nary a screw nor a bolt in sight as the whole thing is held in place by little more than plaited horse-hair and gravity.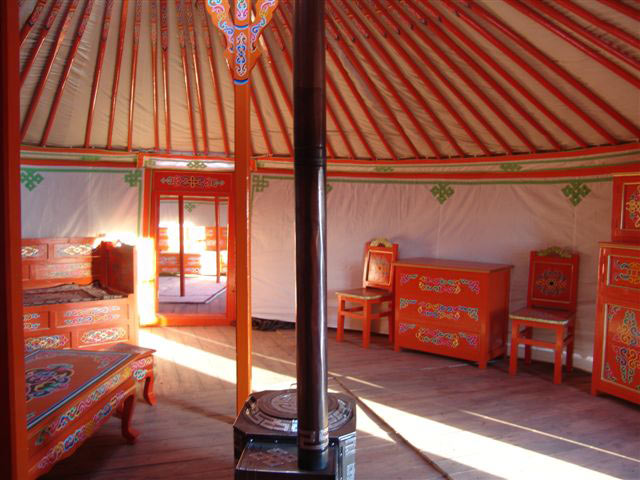 Often ornately decorated, a yurt is rather like an over-sized gazebo (but without the windows) and once inside they really do have an extraordinarily cosy feel to them.
The spokes that form the roof support are, like all of the woodwork, painted in Romany caravan meets narrow boat style. Enchanting doubtless, though some might find it a tad overdone.
Once the preserve of wandering central Asian tribes, yurts have long since migrated to the western world. They're a big hit in Canada and New Zealand and are currently enjoying great popularity in France.
Of course in their ethnic Mongolian setting an open fire in the centre of the yurt (fuelled on twigs, hair and llama dung …. mmmm, nice) does for both heating and cooking but here in cissy Europe the authorities insist on an enclosed wood burner and a vented smoke stack. Huh, health and safety gone mad or what?
Yurts are becoming established here in the PO, with one Ceret couple I know of spending the whole summer in one set up in a forested part of their grounds while their house is let to holiday visitors. With a goodly water supply, a BBQ and plenty of provisions they'll want for nothing. Certain essential facilities however were not mentioned, but hey ………. they're in the woods.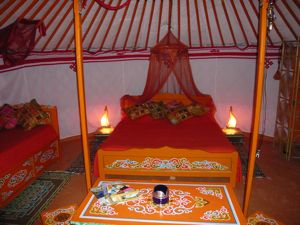 Starting at around 4,000 Euros for a small version, yurts don't come cheap but you don't have to buy one to savour their delights. There are dozens of up-market camp-sites around France where extremely plush yurts (complete with boudoir 'esque canopied beds) can be rented for a week or just the night.
There are several now in the P-O, one situated just on the outskirts of Sorede, another near Maureillas where prices start at around 100 Euros per night, including an authentic Mongolian breakfast (boiled sheep's eyes, you'll be pleased to learn, are optional.) That's the cost for two people and a couple of kids, by the way.
Any mothers-in-law or llamas you want to bring along will be charged as additional adults.