Bezerkas Circus comes to….Mas Pallagourdi
I met Shaun at my yoga class in Barrow-in-Furness, Cumbria. A teacher of literacy at the local college, he had dreams of becoming a circus entertainer.
A yoga friend and I had booked ourselves on an Ayurveda training day in Durham and Shaun kindly offered to drive us. We soon came to regret that offer as we sped at top speed across the Cumbrian fells, but while clinging on for dear life I learned that Shaun was temporarily without a home. Naturally, I offered him our spare room and the next day Shaun moved in, together with several unicycles and various circus props. Unfortunately, I had forgotten to tell the long-suffering hubby about this. It would be putting it mildly to say he was puzzled when he came home from work that night to find a unicycle leaning against the sofa and a top hat on the kitchen table.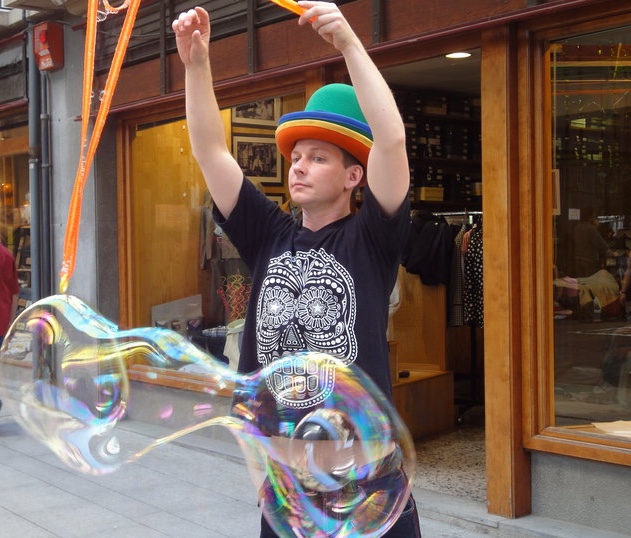 Our friendship with Shaun continued and we watched his progress from bumbling juggler to actually being able to ride the unicycle and stand on stilts. As coincidence had it, he too moved abroad, settling in Ripoll, only a couple of hours' drive away on the Spanish side of the Pyrenees.
We'd only been living at Mas Pallagourdi for a matter of weeks and the owner and his daughters were still living in The Other End, when Shaun and his family came to stay for the weekend. It was a balmy autumn night and Shaun suggested he give a fire-juggling show in the garden. "Why don't you invite the kids next door?" he suggested.
I knocked on the door in the barn and looked inquisitively through into The Other End. My recollections of that side of the house were that it was only half built and we were puzzled how two teenage girls were putting up with these conditions. The door opened a crack and I tried to peer through but without success. It seemed that the adults were all out. A gaggle of children in their pyjamas gathered around the door, staring at me as, in my pigeon French, I invited them to 'un spectacle'. No doubt curious as to what the strange woman meant, they followed me to our part of the garden as Shaun prepared for his act. I was quite perturbed to see that he hadn't been joking when he had mentioned fire juggling.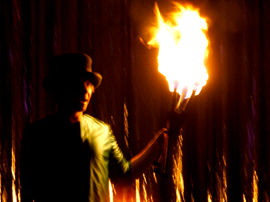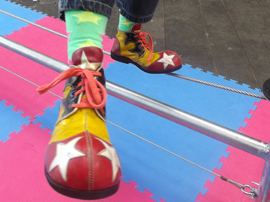 This was still early days in his new career and Shaun (or Bezerkas Circus as he called himself) had still not fully mastered the art of juggling. First of all, his hair caught fire and the French children gasped in horror. But Bezerkas wasn't at all daunted and continued to toss the flaming torches around with gay abandon. With increasing disquiet I remembered that this was a high risk fire zone, that fire juggling was probably banned, and wondered what the French adults would say if they knew their children were watching an apprentice English fire juggler in their garden.
The show continued and all of a sudden Bezerkas Circus started howling in pain and hopping about madly. His crotch was on fire. The French children laughed. They probably thought it was all part of the act. But BC recovered himself, doused the flames and said to me, "How do you say in French 'who wants to swallow fire?'" My French did not stretch that far, but the children clearly understood my meaning as they turned and fled to the safety, if not the comfort, of The Other End. To be fair to BC, he had been joking and he proceeded to demonstrate that he had at least learned this trick.
Bezerkas Circus has visited Mas Pallagourdi on many occasions since then and has never failed to entertain our guests with his abilities to play the 1812 overture on his violin while unicycling plus many other amazing feats. (Shaun is available for bookings, find him at www.bezerkaz.com and www.cercacirc.eu.)
In the meantime, as part of our attempt to run Mas Pallagourdi on eco-friendly lines, we thought it would be useful to have a wood steamer. When wood is steamed it can be bent into different shapes for making such things as the supporting structure for a yurt. We asked a friend in the UK, who owned a small engineering company, if they could make us such a thing. It would consist of a large steel 'pot', sealed by a flange, and a long steel tube. A bit like a cannon but bigger. This had now been fabricated and it was decided that our son would put it on the roof of his van and bring it with him when he came to us for Christmas. As with all things in our lives, this ended up very differently.
To be continued.