A Piano in the Pyrenees by Tony Hawks
Reviewed by Polly Cannie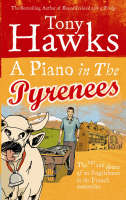 Fans of irreverent quiz shows such as Have I Got News for You and Never Mind the Buzzcocks will recognise Tony Hawks as a regular panellist; he is also the guy who found himself going 'Round Ireland with a 'Fridge' after a drunken £100 bet with a mate that Ireland was a place where anyone could thumb a lift even if he was carrying white goods.
This time the luggage is a piano and the destination is south-west France, but don't expect a travel book – there is only a passing nod to the wonderful scenery and the local towns around Pau – and neither is this a Peter Mayle-style story of a renovation project.
The story begins with forty-something bachelor Tony embarking on a skiing holiday in the Pyrenees with his London friend Kevin but disaster strikes on virtually the first day when Kevin injures his ankle. (A later description of what can go wrong on a drag lift before even arriving at the slopes will have seasoned skiers in fits of laughter!)
So what to do when you have time on your hands? Well, you visit the local estate agents, of course, and as Tony had already toyed with the idea of finding a holiday home where he could improve his piano playing and pursue his writing whilst surrounded by wonderful scenery for inspiration, he was well up for a purchase – which he agreed on the first house he saw and which fortunately required absolutely no renovation or refurbishment at all!
After a few false starts (and again, this is not a 'how to buy a house in France' kind of book either) he finds himself in the Notaire's office when the day of the signing finally arrives and Tony is regarded with amused interest and surprise when he describes himself as 'célibataire' on the documents – now he's really worried that word will get around that he is odd or, worse still, gay.
He sets out to prove otherwise at every social gathering he is now invited to by his friendly and inquisitive neighbours, although his case is not helped by the procession of male friends who come to stay – including Tim who helps him make the move, and Ron who arrives for an extended stay to build Tony a swimming pool.
He has some success with the local ladies but there's always a niggling doubt in the back of his mind that the spark isn't quite there. Meanwhile he busies himself with integrating into the local community with music as an instant and very successful entré at the various village feasts and get-togethers.
His singleton status is never far from his thoughts, however, and then suddenly, completely out of the blue, he has a call from Fiona, an ex-girlfriend who had been trying to make contact with him for some time back in London.
Before he knows it he has agreed to a reunion; the weekend is a big success with eleven years worth of news to catch up on – but will he ever see her again and would she ever agree to come and visit him in France?….. I won't spoil the ending!
This is a lovely light read; I found myself willing him on at every stage from the initial faltering exchanges in French with his fellow villagers to sorting out the vagaries of the design and build of his new pool to renewing a courtship. I'm hoping there might be a sequel.
Buy this book