Art or pornography?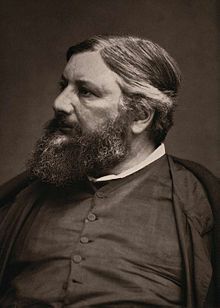 A french teacher is suing Facebook for suspending his account after he posted a photo of Gustave Courbet's 19th century painting, "The Origin of the World" (L'Origine du monde). A close up and personal view of a ladies' private parts, this oil-on-canvas work painted in 1866 shows the genitals and tummy of a naked woman, lying on a bed with legs spread.
Gustave Courbet led the Realist movement in 19th-century French painting.
Examining the claim that FB is confusing pornography and art, the final judgement will likely set a precedent for the future of legal disputes with FB and other social media.
Facebook has a strict policy against the sharing of pornographic content and any explicitly sexual content
"Facebook interdit la publication de contenus pornographiques et de matériaux de nature sexuelle lorsqu'un mineur est impliqué. Nous imposons également des limites à l'affichage de certaines parties du corps. Nous respectons le droit de publier des contenus de nature personnelle, qu'il s'agisse de photos d'une sculpture telle que le David de Michel-Ange ou de photos avec un enfant au sein de sa mere."