CAP D'ONA BREWERY
The P-O is without doubt renowned for its wines. At a national, European and global level our reds, whites and rosés have put our little corner of the Med well and truly on the map.
On the other hand, beer was never really very high on the agenda… until Cap d'Ona set up shop in Argelès sur Mer.
Started in 1999 by the Engler family, who have a brewing tradition stretching back hundreds of years in Eastern France, they have been operating out of purpose built premises in the zone artisanal (near Intermarché).

Change is a-brewing
New government subsidies are aiming to reclaim wasteland and reappropriate them to businesses with local economic and ecological importance.
Of the 544 projects selected for development in this nationwide scheme, Cap d'Ona are set to receive a grant of €635 932 to convert 20,500 m² of industrial wasteland, consisting of the former Saint-Marguerite factory in Céret.
Originally inaugurated in 1924, the former lace factory linked to the Bardou-Job cigarette papers, next to the Château Aubiry, has been abandoned for decades.
Having grown from 3 to 30 different beers, plus a range of spirits and soft drinks, the new, bigger location will allow Cap d'Ona to meet the increasing demand for its products.
While previously 95% of sales were made in the P-O, the new brewery will allow the company to transport its bottles to the rest of France and abroad.
If all goes well, the brewery will be moving in to the new premises at the end of 2022, or the beginning of 2023.

The beers
Combining state of the art equipment with strictly traditional recipes and methods, they use only the best malt, wheat, rye, yeast, and most importantly, pure well water.
The process differs slightly for each beer, but, in the main, cool, top fermentation ensures a distinctive character and satisfying flavour.
They have been awarded more accolades than any other French brand and have been voted the best beer IN THE WORLD, no less!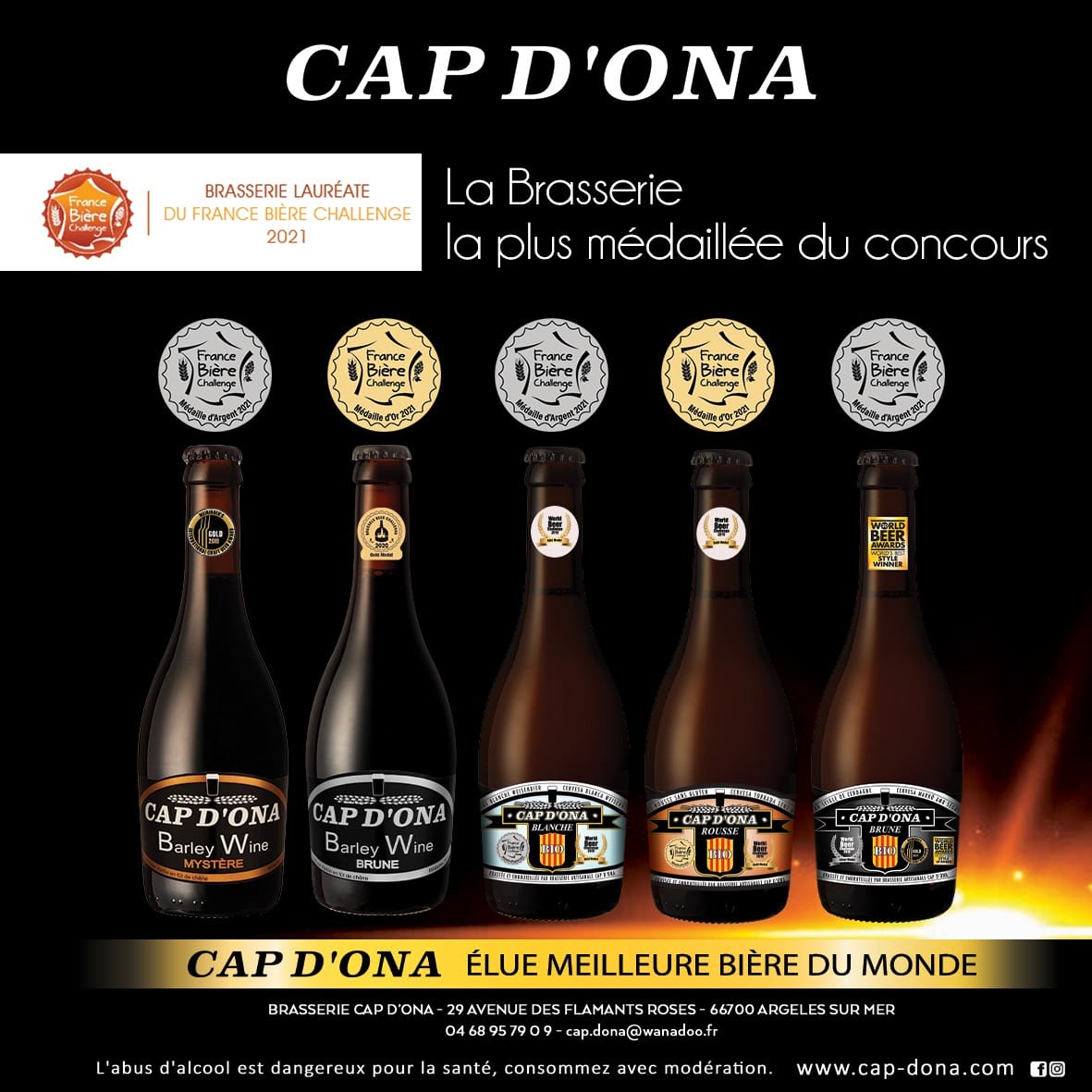 La Casa Cap d'Ona
The bar-shop offers tasting sessions from Monday to Saturday, between 10am and 12.30pm or 3.30pm to 9pm. With 10 beers on draft, local Catalan charcuterie and cheese platters, and a very pleasant beer garden, we can't think of a better way to while away a few sunny hours.
Brewery visits are available every Saturday morning, leaving at 10.30am or 11.30am, from June to September. Places are limited and prior reservation is essential. Give them a call (option 1 on the automatic answer phone).

Contact
Tel: 04 68 95 79 09
Email: cap.dona@wanadoo.fr
Website: www.cap-dona.com
Address: 29 avenue des Flamants Roses, 66700 Argelès-sur-Mer
For more info
Follow them on Facebook