CATALAN CHRISTMAS TRADITIONS
Bon Nadal i Feliç any Nou (Merry Christmas and Happy New Year in Catalan)
'Poo' seems to feature regularly in a traditional Catalan Christmas, possibly because it's a symbol of fertilisation and also of good luck!! A popular Catalan saying goes….Menja bé, caga fort i no tinguis por a la mort!" (Eat and poo well and don't be afraid of death!)
Here are a few more pooey traditions!
Les Pessebres
As in several countries, the Catalans have a Christmas tradition of creating a Crib Scene, un pessebre, with the Shepherds, Wise Men, Mary, Joseph and the infant Jesus, a tableau that they will often set up in home or garden.
Look out too for the pessebres vivants, life-size scenes with real people, dressed up in period clothes, in meticulously decorated stage-sets portraying traditional, historical and biblical scenes. Sometimes they will also sing and talk, other times they will just stand/sit without moving!
These living nativity scenes became popular after the French Revolution of 1789 when churches were closed and Nativity scenes were banned. People started to "bring religion home" by setting up crèches in their own homes, a tradition previously reserved for the rich.
Le Caganer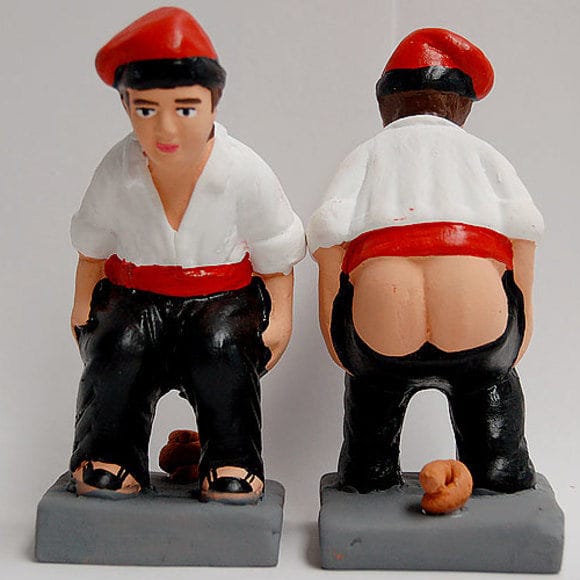 Catalan children love the pessebres but what they are really looking for is that bare bottomed bounder, the 'caganer'.
Roughly translated as 'the pooper', this small statue of a Catalonian peasant, wearing traditional red stocking hat (a barretina,) can usually be found crouching in the Pessebre, the representation of the Nativity Story, adding a rather comical aspect to this traditional scene.
He sits with trousers half down, in a 'toilet' position, making his small contribution to the land, often smoking a pipe or reading a newspaper!
The exact origin of the Caganer has been lost over the years but the tradition is known to have existed since the 17th century.
Some say that he is "fertilising" the land to ensure a bumper crop the following year, others that he represents equality of all people (we all do it!).
The Caganer is one of a type of small figures called 'santons' (coming from the Provençal santoun or "little saint") which became popular after the French Revolution of 1789 when churches were closed and Nativity scenes were banned.
Les Santons
They gave a chance to ordinary people to "bring religion home" by setting up crèches in their own homes, a tradition previously reserved for the rich. The most famous santons portray common Provençal folk in 18th and 19th century clothes who visit the Holy Family and bring presents.
Le caga tió – from December 8th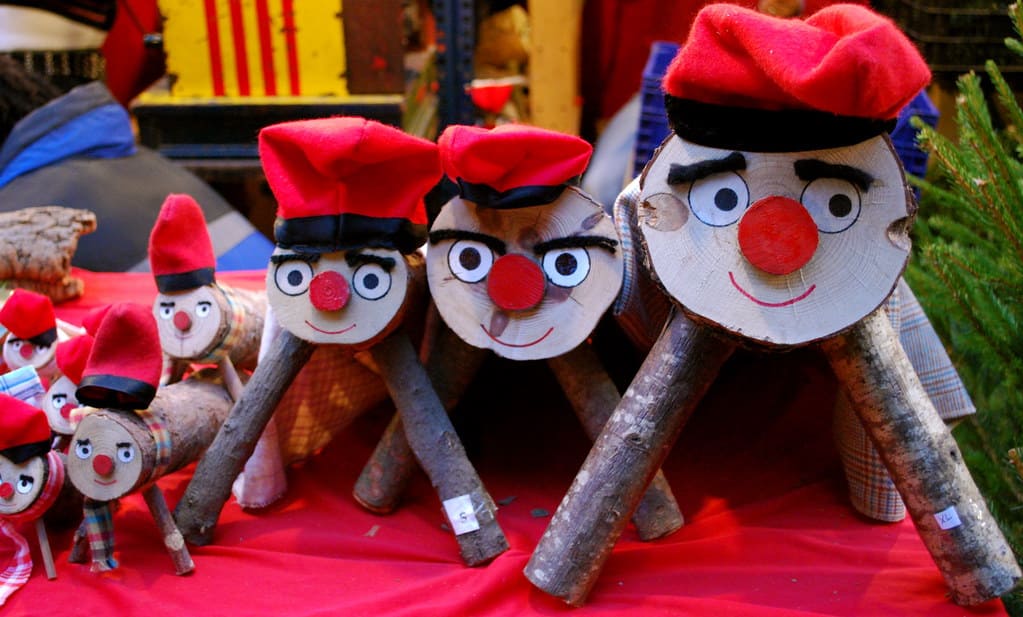 Le caga tió (literally 'poop log'!), is a hollow log standing up on four little stick legs with a smiley face painted on one end and red barretina hat.
From December 8th, (the Feast of the Immaculate Conception – bank holiday in Spain so many shops closed) he is given something to "eat" every day and covered with a blanket to keep him warm at night.
On Christmas Day, he is beaten with sticks to make him drop the sweets, gifts and torrons (turrón in Spanish and torró in Catalan) placed inside him.
Le Turron
The turrón is a type of nougat of Moorish origins, typically made of honey, sugar, and egg white, with toasted almonds or other nuts, with many variations. It is eaten particularly at Christmas in Catalonia but of course there is nothing to stop you nibbling it at any time of the year if you have a sweet tooth!
Sants Innocents (Day of the Innocents) – 28th December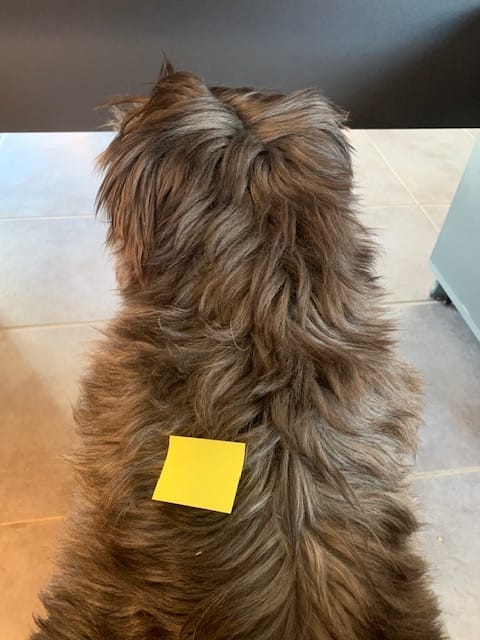 Of pagan origin, this was the beginning of many days of festivity, culminating in a Carnival. "Por San Antón Carnestolendas son" and also known as the 'Festival of the Crazy'
Today, the festival is more for young children – practical jokes and silly stories, much like April Fool's Day in Britain. These pranks are usually innocent and funny, like sticking stickers on people's clothes without them knowing, and the newspapers sometimes take advantage of this day to invent news, so don't believe everything you read!
The 'Home dels Nassos – 31st December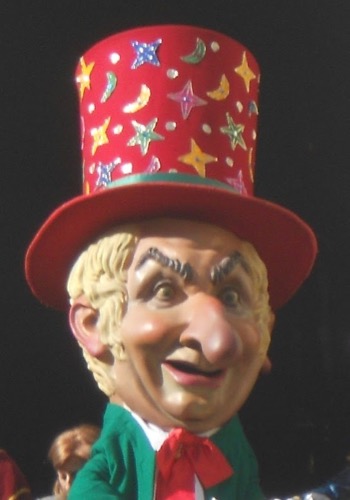 The 'home dels nassos' (man of noses) is a curious character in Catalan tradition, who appears on the streets only on the 31st December, day of Saint Sylvester, and is said to have 'as many noses on his face as days remaining in the year'! One of his relatives is the 'home de les orelles', the man of ears, who appears on the 30th.
Dia De Los Reyes (The Day of the Three Kings) – 5th January

This is a big celebration for children telling of the arrival of the kings who lavish children with toys and sweets. The children go to bed and leave shoes and a snack near the window or on the balcony. On the morning of the 6th, the children find the gifts, which the kings have left for them, sometimes accompanied by a piece of coal, if they have not been well behaved!
Processions and parades on camel back often take place through the streets on this day as the Three Kings ride though town, distributing sweets and small gifts.