Birthday: 11th May (1904 – 1989)
A DALI DAY OUT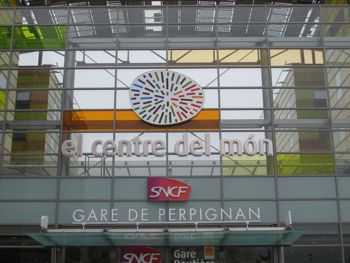 Salvador Dalì (1904 – 1989) once claimed that Perpignan Railway Station was the "Centre of the Universe, because its waiting room is where he got all his best ideas."
Needless to say, it is for this quote that he is best known in the P-O. To learn a little more and to enjoy an unusual day out one needs to start by driving to Cap Creùs.
---
Declared a Parc Naturel in 1998, it is on this wild and spectacularly beautiful coast, at Port Lligat, that, in 1930, Dali and his beloved Gaya bought seven tiny cottages from some local fishermen.
This was to be where he would live and work till 1982 when, upon Gala's death, he took up residence at Púbol Castle.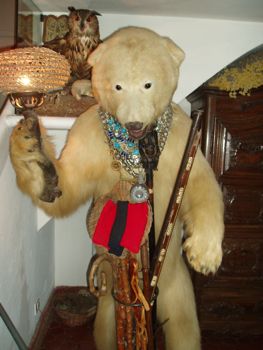 Over the course of forty years he created a labyrinthine home, kitsch in the extreme, fascinating and fantastic as only Dali could have made it.
Attracted initially by the light, the landscape and wild isolation of the place, all the rooms have windows of different shapes and proportions, framing that landscape, a constant source of inspiration.
A stuffed fully-grown polar bear greets you in the Bear Lobby. A succession of rooms and zones, changes of levels, blind passageways follow and, as you wander through the maze, you get intimate glimpses of the couple's private life.
You are shown the eccentricity of the library where all the books are deliberately out of reach, the phallic swimming pool carpeted with sea urchins, the temple and altar around which he received his friends, the sofa in the form of Mae West's lips, the matador fountain, Pirelli tyres…

Figueres and Dali's Theatre Museum is the next stop.
You can't miss it, a rose coloured circular building crowned by huge eggs.
The full diversity of his artistic repertoire is displayed within.
A skilled draughtsman and spectacular artist with a sense of the absurd more absurd than most. A bizarre man, he was born and died in Figueres and opened his Museum there in 1974.
Not many living artists have Museums dedicated to them…. but then Salvador Dali was a most unusual artist.
At the age of seven he painted his first picture and declared he wished to be Napoleon Bonaparte when he grew up. In fact, he grew up to be a world famous surrealist painter, a sculptor and cineaste.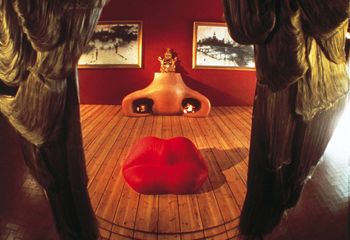 In 1926 he met Gaya, wife of fellow artist Paul Eluard.
Dali disliked women, declaring them to be preying mantises. But he had dreamed of painting Gaya before he met her and, she was to be the woman with whom he was to share his life.
He seemed to many to be dramatically narcissistic but denied the accusation, declaring he made of his whole life a work of art so that he himself existed only its reflection in the eyes of others. He certainly lives on in the Teatre-Museu that bears his name.
HOUSE-MUSEUM PORT-LLIGAT (expect changes post-COVID)


Reservations restricted to up to eight persons per visit every ten minutes and must always be made in advance. 0033 972 25 10 15, or by e-mail to pllgrups@ dali-estate.org and you must pick up your ticket 30 minutes before the hour stated. Late arrival means that you will lose the right to enter the museum and your ticket will be sold.

THEATRE-MUSEUM FIGUERES


No 5, Placa Gala-Salvador Dali, 17600 Figueres. 0033 972 677500