What a summer of sport! Firstly France lift the Football World Cup, then the Welsh "domestique" Geraint Thomas pulled off the incredible achievment of winning the Tour de France, now the massive underdogs the Catalan Dragons have won the 117th Rugby League Challenge Cup Final. The Catalans became the first non English club to triumph in the sports oldest competition.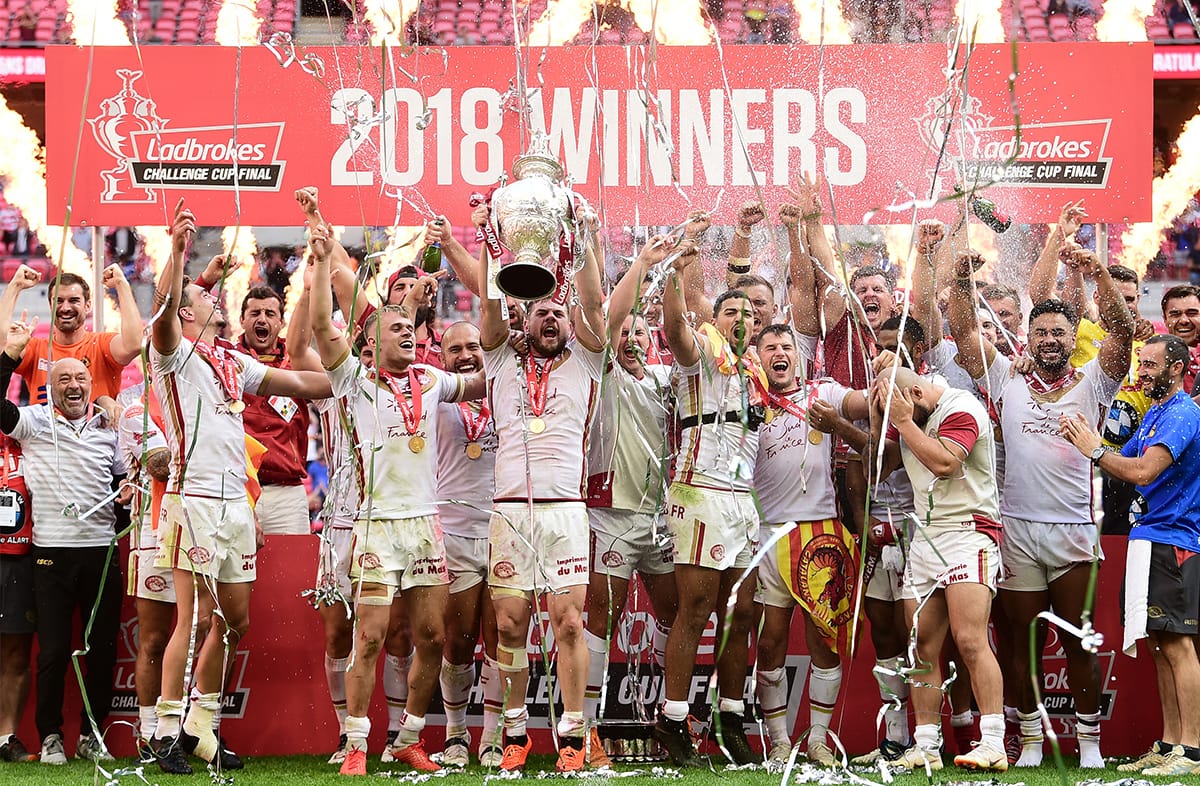 Much credit must be given to the former England National Coach Steve Macnamarra who is now at the helm with the Dragons. He has transformed "no hopers" into a ferociously competitive and succesful outfit. His masterstroke in my view was to bring the brilliant Josh Drinkwater from the obscurity of an Australian building site, to mastermind the most succesful campaign in the Dragons' history. Despite one "horrendous howler" on Saturday, he was my man of the match because of his vision, timing and game management. What a player! Lets hope that "Les Drags" can hold on to him for next season.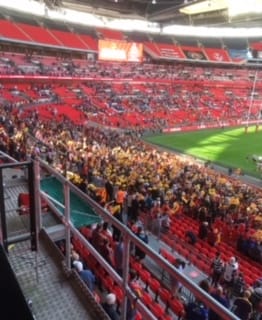 In similar fashion to their semi final against St Helens, the Dragons tore into the opposition from the outset. All Warrington attacks were hammered back with aggressive and well organised defence: further credit to Mr Macnamarra. Garcia, Casty and Mcilorum were always in the thick of things.
The Catalans took an early lead through their Scottish International Lewis Tierney who exhibited some of his famous father's elusiveness in squirming his way over for the first try. Jason Robinson must be very proud of him. Lewis also won £120 for your Rugby Correspondent who put £10 on him to score the first try. Drinkwater converted and soon after succesfully kicked a penalty to make the score 8-0. Warrington clawed their way back to 8-6 after a Catalan mistake. This was through a Murdoch-Masilas try converted by Roberts. "Les Drags" were not to be denied however, and before half time, Garcia the impressive powerhouse from Narbonne smashed his way over for a try coverted by Drinkwater. This made the score 14-6 at the halfway point to our lads.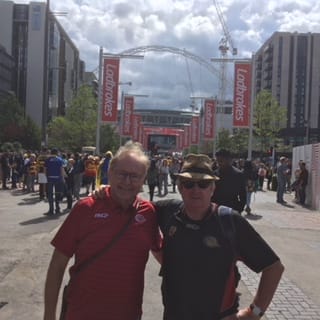 The second half was a nervous and exciting affair with Williame getting over the whitewash for the Dragons and King for the Wolves. Drinkwater and Roberts converted. The final whistle was greeted with emotional approval by the 4,000 strong Catalan support. Amongst them were the passionate Deprade Jorda brothers and Messrs Harbord and Thomas from Sorède. Wembley was awash with Catalan flags, French berets and chants of "CATALAN/CATALAN…." The atmosphere was extraordinary and it was noticeable that all neutrals were "Catalans" for the day.
A great day was had by all and the future looks bright for the Catalans. Unfortunately USAP, our Rugby Union representatives could not emulate the Dragons as they took a severe trouncing from the Paris outfit Stade Francais. It appears that a tough season beckons.