by Mike and Johanna Darley

Who has not come across this intriguing character with the improbable look, in the city centre of Perpignan? Wearing a plaid jacket, topped with his 'barretina' bonnet, with shaggy hair and a beard, dressed with improbable clothes, trinkets on his fingers, mismatched socks, Emile Mustacchi is a prominent figure in the town.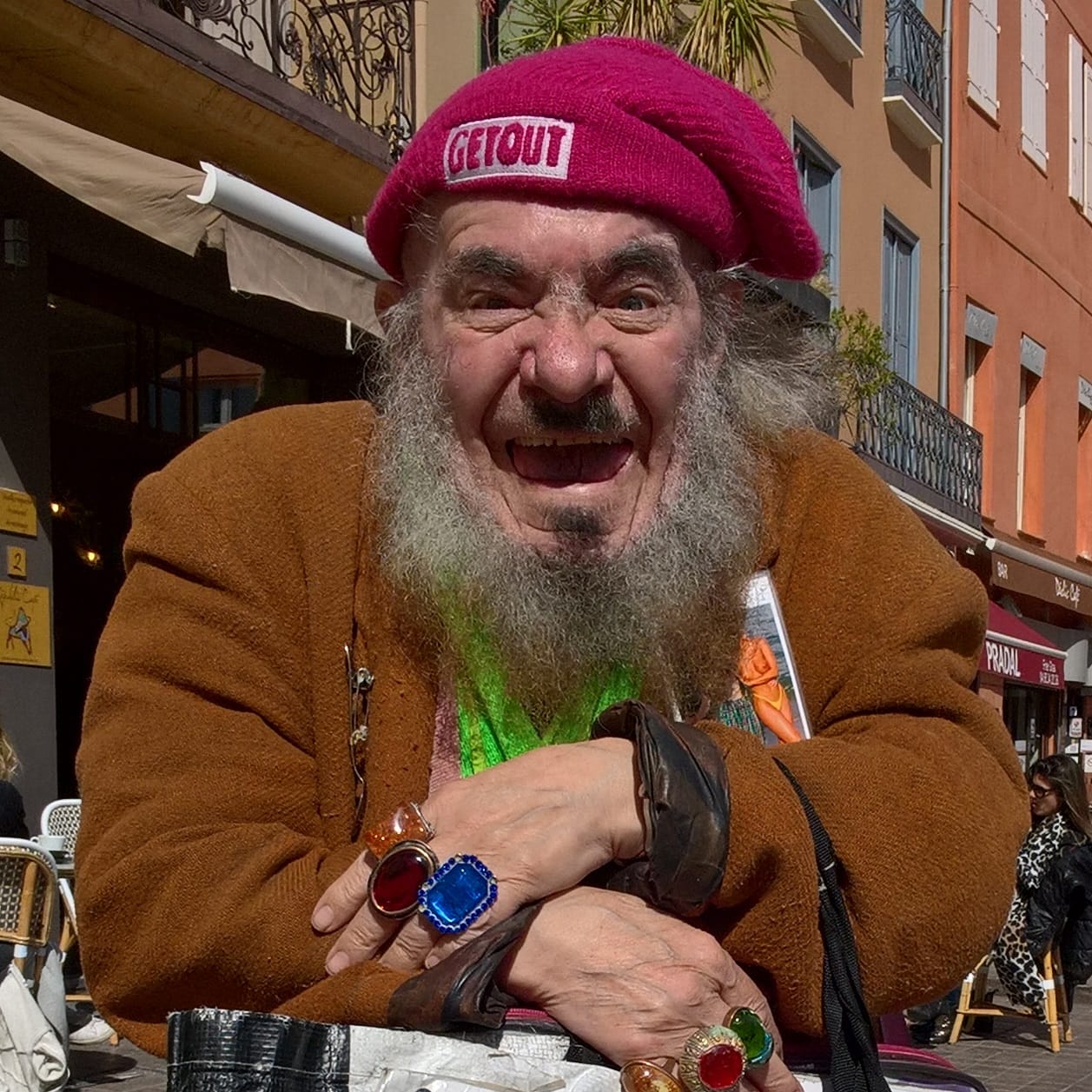 An inimitable draw that conceals an uncommon course and talent. A portrait of a man who refuses to conform.
He intrigues, challenges, sometimes disturbs, without ever leaving anyone indifferent. There are many who insist on smoothing their appearances to stick to codes of compliance. However, the unclassifiable Emile, cultivates his crazy, offbeat, eccentric or atypical look. Isn't this the genius of going against the tide of their time? What kind of person hides behind this wacky look
Emile is not just an appearance. Under these traits lurks a huge artist with a talent that is little recognised.
A great admirer of Dali, Rembrandt and Rubens, he specialises in the art of portraiture and caricature. "Living off my drawings is difficult. I don't know how to do anything else. When we have no money, we are marginalised, condemned to loneliness," he laments. Who would suspect behind these whimsical appearances such sensitivity?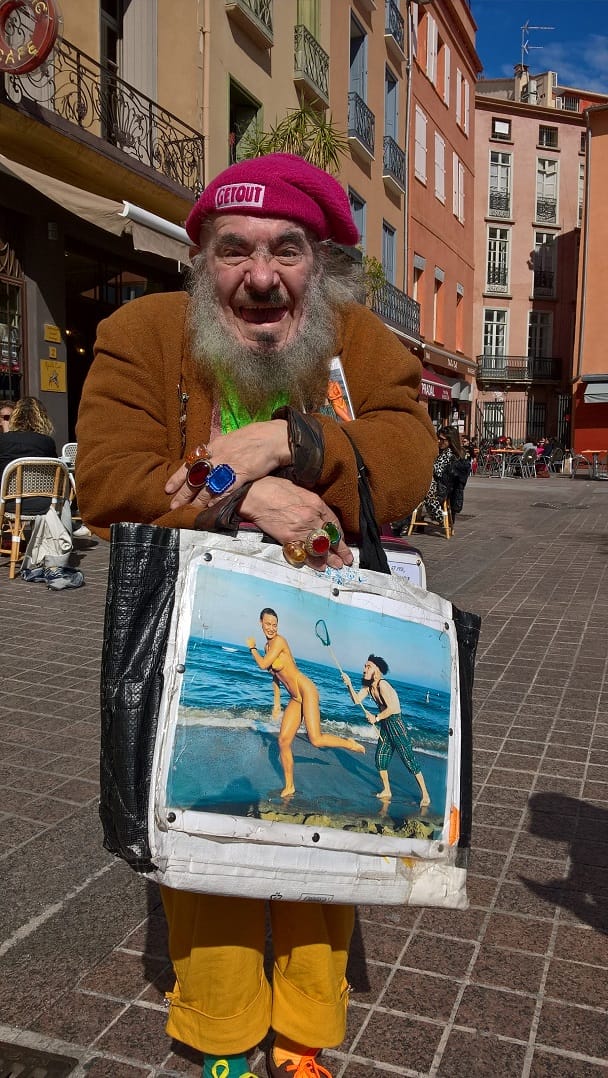 Emile Mustacchi is a delightful endearing character, his clear glance reveals an extreme kindness. Yet for many good people, he inspires fear, suspicion, even scorn! Many have taken advantage of the kindness of his natural candor: "I have been scammed several times by people from here who are well known on the street. Thanks to them (they know who they are) I found myself penniless".
Emile Mustacchi continues his art, living off a very small disability pension.
The son of a modest family, his father was a mason, nothing predestined him to painting. "I was born on 3rd September 1944 in Palermo, Sicily, the domain of the Mafia!" he emphasised. "I left Italy with my family when I was only 3 years old, to reach Belgium where my father worked in a mine. A few years later, I followed my family to Morocco where we lived for many years.
The kid, Emile drew for hours. Then, at the age of 14, a lady offered him a painting box; this detail produced his destiny.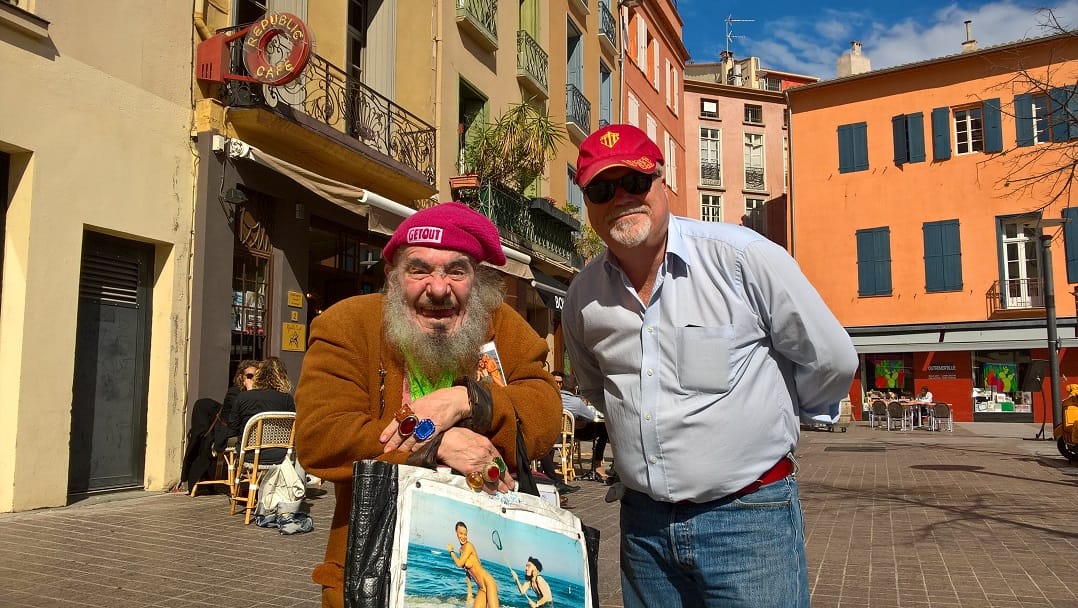 From then on he began to paint alone, copying the great masters. This self-taught artist had never attended the 'Beaux-Arts' or any painting school. His innate talent was a gift that he would cultivate. A talent for drawing and painting that has been maintained ever since.
After Morocco, he returned to Brussels where he was presented to the Royal family of Belgium. His artistic gifts captivated them, and at Belvedere Castle he painted portraits of the children of Princess Paola. He began to carve out a solid reputation, and the nobility were his clients. His reputation was sealed! He became famous. The Belgian aristocracy loved his work.
But first a disappointment was to hit the artist: he was forced to join his parents in Aubagne. "This shattered my career." Yet he continued to draw, always without taking classes, always self-taught. He won the gold medal for painting in Aubagne for the painting of a bare-breasted young girl with milky white skin. His work of colours and lights was remarkable.
After that, the family settled in Perpignan in the district of Haut Vernet. It was then that the caricature work fell on him almost by chance. "I had never done a caricature. It was the first year of the Caricature Festival of Saint-Estève. So I said to myself, I'll give it a try. I made two or three cartoons. I got the first prize with the head of Yves Moroso as a punk."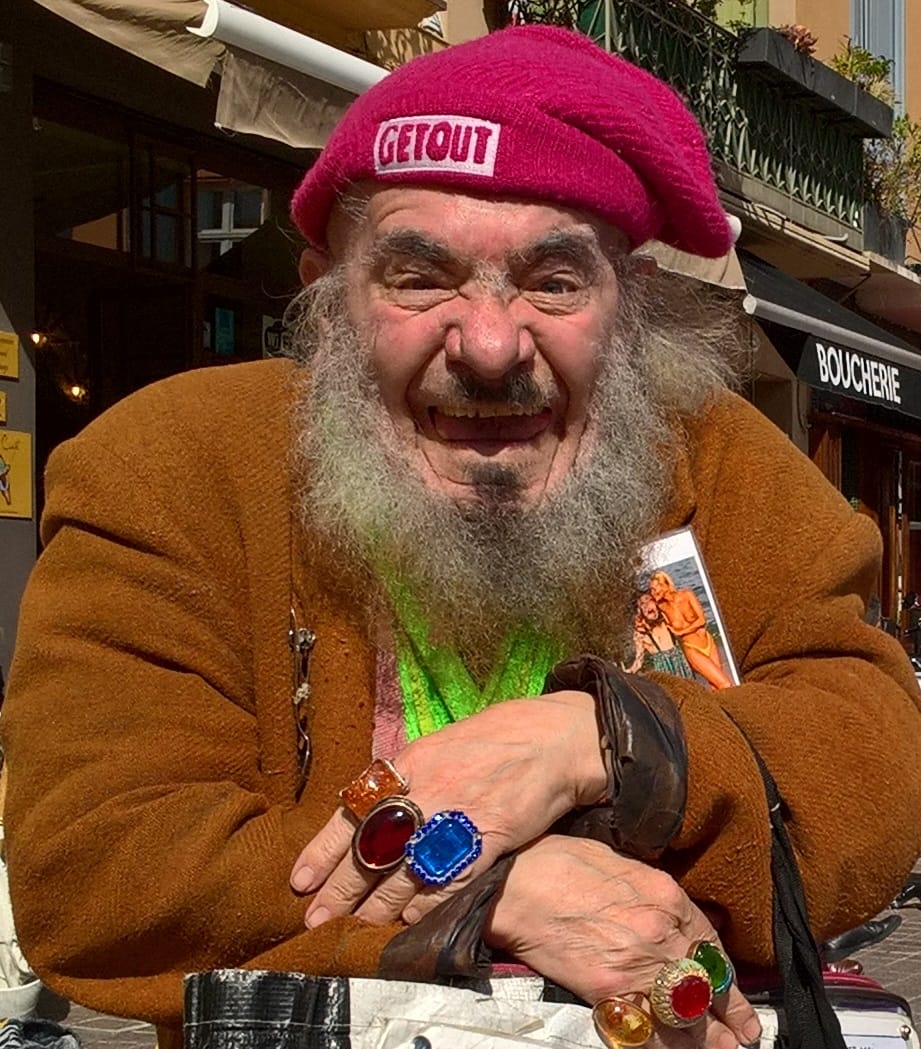 The following year, he again won the first prize of the festival. According to Emile, for a successful caricature "one needs to know the person very well. They must be alive, expressive. The subject I prefer is women, without a doubt. So Emile paints women. During a sitting, he manages to surround himself with pretty models that he positions in suggestive poses, more or less stripped. Portraits or caricatures, women are everywhere in his work. But Emile also takes the stage himself, representing his own character in the midst of the nymphs. He also has a slight tendency to prefer blondes. "In Belgium, I had blonde comrades, maybe that's why I love blondes so much. If I were to travel today, it would be to Sweden."
Alas! Emile as many artists of today, lives meagrely, his precarious health hardly allows him to paint. In these times when everything is standardised, formatted, this emblematic figure of Perpignan, this colourful character brings a note of freshness, even to those who casually take the time to meet him! For some time, suffering, penniless, this immense artist is no longer able to create. "I may soon become homeless. The City of Perpignan does not care for me, as if I did not exist!"