Food for Thought with Suzanne Dunaway
Easy apéro
Apéros in summer are my favorite way to entertain, without cooking for elaborate dinner parties and offering too many courses that no one wants on a warm evening.
And, there are so many lovely rosé wines in this part of the Pyrenees-Orientale that go well with the simple and easy to prepare recipes that I have come to love over my years France. The ubiquitous smoked salmon, salmon caviar, cold soups, guacamole, and more, all cool and refreshing for this very unpredictable summer. But we're told it might be up near 40°C, so having all the fixings for a quick get-together is going to serve you well.
I have found that almost anything can be puréed and spread on little "toasts" or crackers. One evening I had only a bowl of escalivada leftover in the fridge and whipped it up with a spoon of Greek yogurt and voilà! Canapés.
Have fun thinking up things that you do NOT have to cook or that require elaborate prep. I am an automaton when making salmon crackers – first the caper butter, then the little pieces of salmon, then the sprinkle of pepper or chopped parsley. I used to garnish my salmon on top with capers, but they all fell on the floor or in guests' laps so I invented caper butter.
Takes no time at all to spread the butter, plus in the end there are those little odd-shaped pieces of salmon that someone just has to make disappear! Cook's privilege…
These appetizers are only a few I use regularly to accompanied the toasted almonds, maison, and the wonderful olives from our open market vendors. The sky's the limit…especially if you have purée-able leftovers in the fridge.
And the truffes are easily made anytime at all and kept in fridge or frozen until use.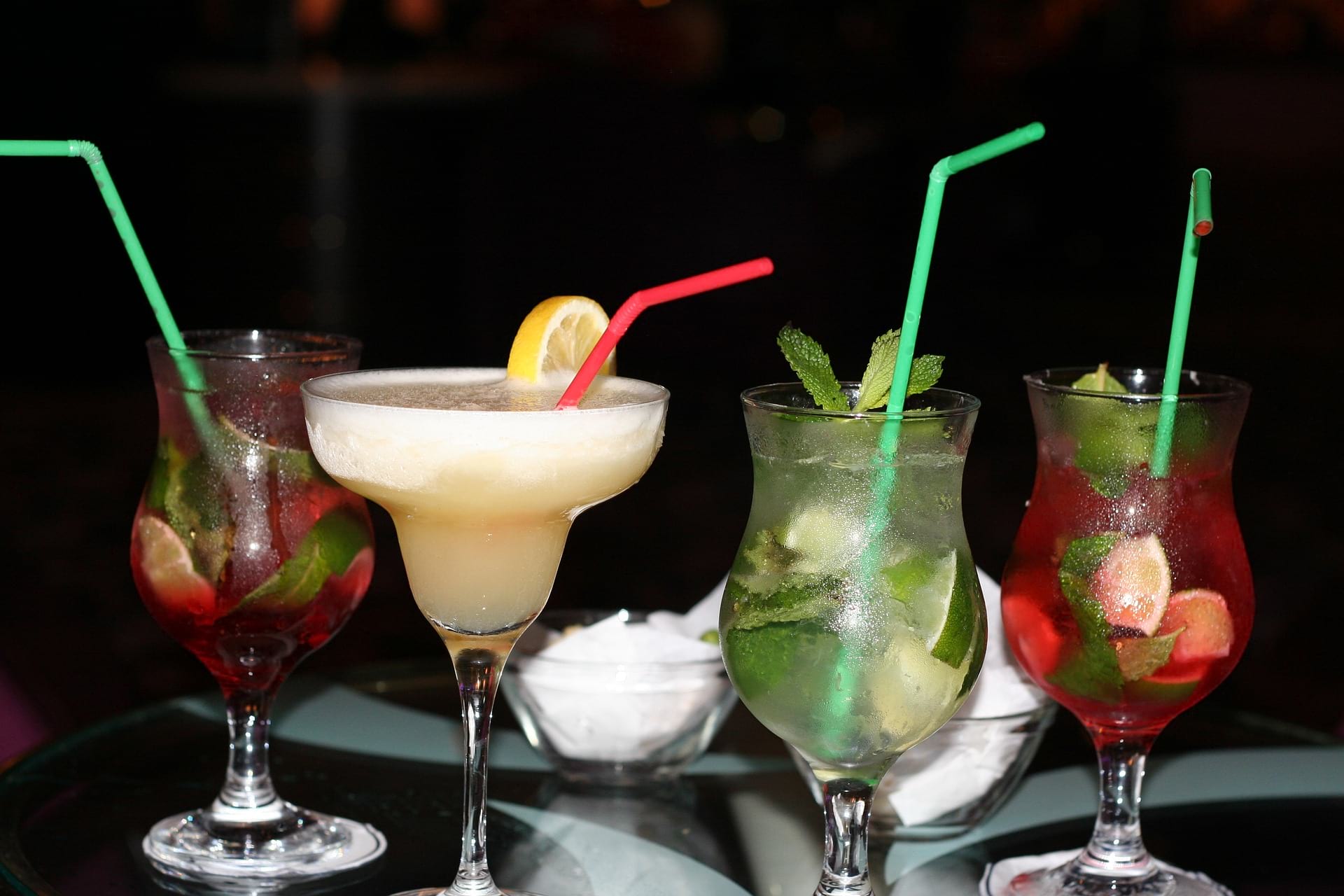 Saumon fumé on crackers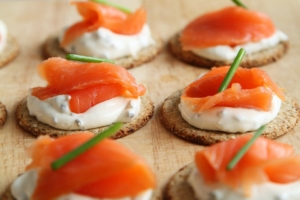 Add a spoon or two of capers to ½ cup soft butter to be the first layer on the crackers. Cut salmon in small squares to fit the cracker shape. Place on top of the butter layer, sprinkle with chopped parsley and just before serving, sprinkle with lemon juice.
Fromage avec piment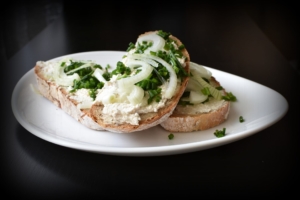 In the bowl of a food processor, pulse 2 cups of any leftover pieces of semi-hard or not-too-soft cheese you like, add a splash of white wine or beer, ½ cup of roasted or sautéed sweet red peppers, a scant teaspoon of Dijon mustard and about 6 tablespoons of mayonnaise. Blend well and spread on crackers.
Rice salad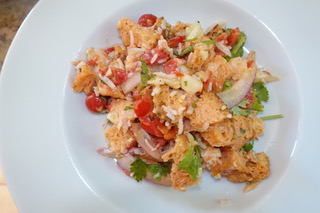 Mix 2 cups of leftover cooked rice with 1 sweet onion, a few ciboulettes, a few fresh basil leaves, 1 large or two medium-sized ripe tomatoes, and a small bunch of fresh cilantro, all chopped fine. You may also use small fresh bread cubes to the mix. (I use my rosemary focaccia). Toss well with at least ½ cup/100g of extra virgin olive oil, the juice of a large lemon, and salt and pepper to taste. Serve at room temp in individual cups or glasses with a small spoon.
Caviar de saumon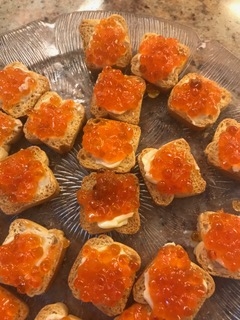 Spread soft butter or crème fraîche on crackers and top with a spoon of salmon caviar. Sprinkle with lemon juice before serving. You can mix the salmon eggs with hard-cooked egg, chopped very fine or grated but I think there are more purists that love caviar plain and simple.
Grissini maison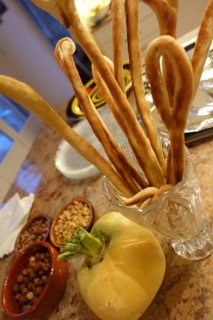 More prep here but worth it.
In a mixing bowl, stir 1 cup warm water, ½ package of dry yeast, 2 generous cups flour, 1 teaspoon of salt and ½ teaspoon pepper until everything is incorporated into a smooth dough. Let rise until double, about 30 minutes or so. Turn out the dough on a floured surface and break off pieces of dough the size of a ping-pong or golf ball. Roll each piece as you did in kindergarten, pulling slightly toward the ends to form a long thin baton. Brush with olive oil and roll in sesame seeds and place on a bake sheet. You can now bend the batons into any shape you wish, leaving a straight part to go into the serving vase. Bake until golden at 185C/375F and let cool.
Serve with any soft dip you like or simply as something to munch on.
Soupe froide aux tomates et basilque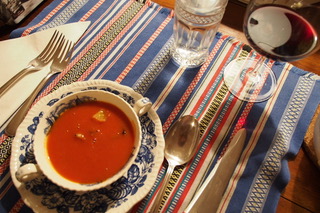 In the bowl of a food processor or blender, mix 4 ripe tomatoes, 3 sprigs of fresh basil, the juice from a small lemon, a pinch of sugar, ½ teaspoon of salt, and 4 spoons of extra virgin olive oil. Blend until very, very smooth or put through a passoire for a more silky texture. Chill well and serve in little cups with a small dollop of Greek yogurt or crème fraîche on top. I have added cilantro or mint to this when blending, but I think the basil is best.
Macedoine des fruits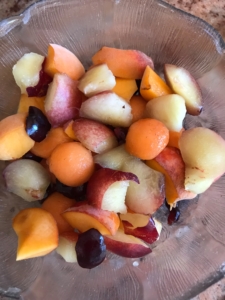 In a large bowl, mix cut up summer fruits in small dice: melons, nectarines, peaches, apricots, cherries (no seeds – a bit laborious to dice but what the heck), not-too-ripe bananas, mangoes, whatever ripe fruits you like. Sprinkle with lemon juice and 1 teaspoon of vanilla extract. You may add mint, chopped very fine, as a garnish. Serve in small cups or glasses.
Truffles au chocolate
(No butter, no eggs!)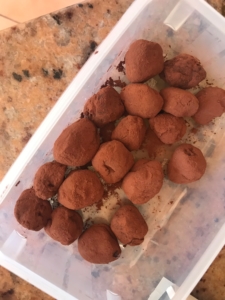 I use Lindt chocolate, 85% and 90%, but there are many acceptable chocolate sources in France. For a nice supply of long-lasting truffles, start with 2 bars, 100g each of 85 and 90%, broken up in a heavy pot. Over low, low heat, stir in 10cl of heavy cream (a little more than half a 20cl carton of crème entière) and about and ½ cup/100g of sugar, until the consistency is shiny and very thick.
Turn off the heat immediately so the chocolate will not separate, and stir in 1 teaspoon vanilla and a couple of teaspoons of Cognac, if you wish. If the chocolate appears to separate from its fat, whisk in a couple of spoons of cold heavy cream and it will pull back together. Taste for sweetness, but I love bittersweet truffles.
Let the mixture cool and refrigerate for 2 hours to achieve the perfect texture for easily forming the truffles. Scoop out a teaspoon of the chocolate and form it with one hand into a small irregular "ball". Toss in dark cocoa. Refrigerate or freeze until use.
All content and recipes are copyright of Suzanne Dunaway.