Food for Thought from Suzanne Dunaway
P-O Life reader, Suzanne Dunaway, has cooked since she was 5 years old, when she made cinnamon pinwheels from her mother's pastry dough.
She LOVES to cook. Some might say she LIVES to cook. The smells, the tastes, the textures…
She is a firm believer in simplicity and creates her recipes in the ethos of 'anyone can cook'.
After years of experience in her own kitchen, cooking schools and private classes all over the world, in this weekly blog, Suzanne shares with us her PO-inspired creations.
With many strings to her bow, she is also an artist and columnist, with two published cookbooks.
All content and recipes are copyright of Suzanne Dunaway.
Fish and chips : no muss, no fuss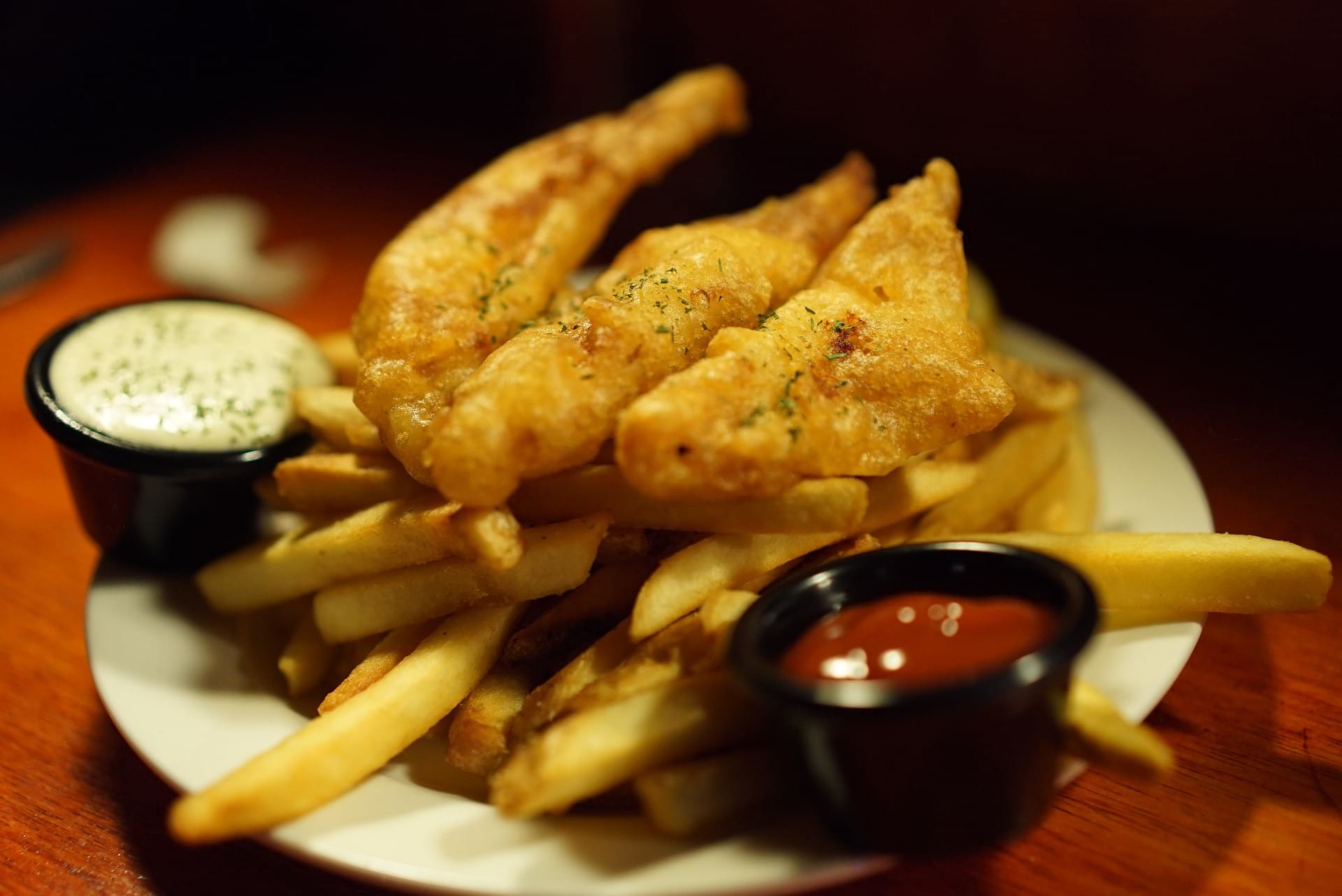 I adore fish and chips and have long-ago sweet London memories of lovely hake or haddock, in a cone of newspaper, sprinkled with malt vinegar. Shopping in the wonderful seafood markets here, I tasted my way through several fishies to find the one that holds together best in this easy recipe. So let's hear it for the firm cabillaud (which also cooks quickly) at Intermarché in Argelès sur Mer.
To think that I forewent (is that a word?) my beloved spaghetti alle vongole (pasta with clams) for too many pandemic months because of trepidation about fish markets, but this last Friday we ordered online from Intermarché using DRIVE and loved our beautiful pale pink fish. Perhaps fish on Friday still prevails, and after the next pick-up, I will laud the clams/coques in a pasta column. If you live nearer Le Poissonerie or have a fish market open near you, I'm sure their cabillaud will be just fine for this dish.
Here's the rub. my fish and chips do not require deep-frying, coping with splashes of oil over the stovetop, and the inevitable clean-up. I use a large, flat skillet, shallow oil, and the chips are crisped in the oven after having been boiled (whole) until tender. You don't have to do that with the potatoes, but I find it useful to have already-boiled potatoes in the fridge for many dishes – soups, omelettes, purées and more.
And here's a trick that makes batter stick! Give your fish pieces a little dusting of corn flour before dipping them in the batter, and you will have crispiest, most delicious fish without the crust having a mind of its own and slipping away into the oil. It will also last longer.
Pine no more for your homeland, UK dwellers. Or at least enjoy a tasty reminder of it in your own kitchen!
The recipe
Serves 2 (so just double everything up for 4)
Ingredients
600 g fresh cabillaud, cut into 4 serving pieces. If the fish is thick, slice it horizontally, adding another piece
½ cup flour for light coating
For the batter:
1 egg white
¾ cup flour
2 teaspoon of corn flour
½ teaspoon of baking powder
A can of cold beer, fresh or flat
Salt and pepper
½ cup olive oil
Method
Mix the flour, corn flour, baking powder, salt and pepper and beat in the egg white thoroughly and enough cold beer to make a batter with a heavy cream consistency, a bit like crêpe batter but a bit thicker. In a shallow skillet, heat the olive oil until just before it smokes.
Dust the pieces of fish with corn flour, then coat them well with the beer batter and slide them gently into the hot oil. They will crisp and turn golden brown on the edges in about 2-3 minutes and you may then turn them over with a fork or spatula to brown well on the other side. Drain on paper towels. Serve with oven chips.
Oven chips:
Heat the oven to 200°C.
You may first boil two large potatoes until a knife slips in easily, or skip this step and simply cut the potatoes lengthwise and then again lengthwise into ½-inch strips. Or, if you are not a purist, cut them into ½ thick rounds. Both will taste wonderful.
In a baking pan, place the potatoes, brushed generously with olive oil, and bake for about 20 minutes or until they are nicely browned and crisp.
Don't laugh, but these are my excuse for having ketchup, not an everyday item on my taste bud favorites list, but it's hard to resist when your grandkids are dipping their chips into it!
Top tip: Loup de mer, merlan, lieu noir, all can be used for fish and chips. And there are wonderful frozen portions of various white fish at PICARD, several of which I keep for this seemingly endless stay-at-home time.