P-O residents probably don't look twice anymore at the striking plane sitting abandoned on the tarmac at the approach to Perpignan airport, but did you know that this Airbus 340 once belonged to hated Libyan dictator Muammar Gaddafi ?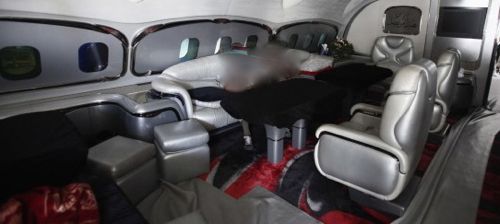 Plane enthusiasts will be disappointed to hear that no guided tours around this sumptuous airplane are on offer so we can only imagine for now the hot tub, the private cinema, the mirror-lined master bedroom, the silver leather sofas, and the jacuzzi of this luxury flying palace, purchased second hand in 2006 from a Saudi prince for a mere 120million dollars, but estimated in 2015 to be worth only around 60 million!



After the fall of the Gaddafi regime in 2011, the plane was delivered to France for repair of gunfire damage. Since then, it has been the object of a legal battle between Kuwaiti company Al-Kharafi and the new at-the-time Libyan government. Until the affair is resolved, the plane can be seen (but only from the outside!) at Perpignan airport.
Badly damaged in the crossfire at Tripoli airport in 2011, the plane limped through a 900-mile trip to France at a third of the normal cruising altitude for repair and repaint, and was ready to fly again by 2013, put back into service by the Libyan government.
Just one year later, the aircraft was back in Perpignan, caught up in on different kind of firing line – a complex legal battle of ownership, still ongoing today, 2021.
As the dispute has progressed, so have the costs of storage, refitting and maintenance, estimated at around €3 million five years ago.
Apparently its engines are fired up every now and then to ensure it will be able to fly once the lucky winner of the legal battle pays the bill.
Tested last in late 2020, so it's believed to be totally airworthy. Personally, I think I will stick with Ryanair for now for my next flight out of Perpignan.