A marriage made in France!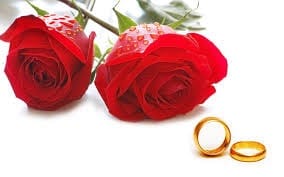 Every wedding celebrates a love story, but getting married in the south of France has to rate up there at the top of the list of dream wedding destinations, the icing on the gateau – and it's not so difficult to do, once you know the options.
A marriage performed under French law is recognised in the UK so this gives you the choice of having the whole wedding, both legal ceremony and reception, in France. The civil ceremony is the only legally binding part of a marriage, although many follow it with a religious wedding.
Having your gateau and eating it!
However, because of France's residency requirements, (see below), many non residents choose to have the legal ceremony in their own country, followed by a fantastic Mediterranean wedding reception with blessing, a celebration of a life full of sunshine ahead.
This also means that those unable to travel will not miss out on the wedding itself.
Value for money
And of course, as we know, man (and woman) does not live on love alone and much as we would love to splurge freely, price is a VERY important factor. There is less hype in the French wedding industry compared to Britain. Caterers, cake makers, car hire and photographers don't add on that extra percentage for weddings, in the knowledge that we will pay whatever it takes for that perfect day, so an average reception in France is far cheaper.

Paperwork
If you do choose the whole marriage in France, bear in mind that French paperwork should never be underestimated!
Documents needed for the civil ceremony (only originals or certified copies accepted)
☛ Passport
☛ Full birth certificate (issued within three months of your marriage date.)
☛ Certificat de Celibat. (downloadable at www.fco.gov.uk) The Certificate of Celibacy states that you are not already married, and can be obtained from the consulate.
☛ Certificat de Coutume. (downloadable at www.fco.gov.uk) This is a statement from a solicitor to certify that you are both free to marry and your marriage will be recognised in your country of residence.
☛ Medical certificate. A medical examination including blood test must be carried out by a French or Embassy approved doctor.
☛ Justificatifs de Domicile Some kind of proof, such as a utility bill, that one of you has been resident in France for at least 40 days.
☛ Certificat du Notaire – This is only if you wish for a prenuptial agreement.
Banns must be published at the mairie where the marriage will take place. The wheels of French bureaucracy are not always speedy so it is essential that you contact the mairie well in advance to check out their documentary requirements (not all mairies will ask for ALL the above documents).
So….great value for money, fine cuisine, sunshine, good quality wine…and a great atmosphere. (After all, your guests are on holiday too!) No contest really. Organising a wedding abroad can be somewhat challenging of course, so hiring someone over here to take care of all the details and do all the hard work, will leave you free to enjoy the day. And it is actually much cheaper than you would expect.
Useful vocab
Stag night – enterrement de vie de jeune garçon
hen night – enterrement de vie de jeune fille
Toast – lever son verre
engagement – fiançailles
guest – invité/e
honeymoon – lune de miel
several-tier cake – pièce montée
un mariage civil a civil wedding
bride – la mariée
groom – le marié
newly-wed – jeune marié/e
witness – le témoin
best man – le garçon d'honneur
bridesmaid – la demoiselle d'honneur
wedding…..
…day – jour des noces;
…dress – robe de mariée
…night – nuit de noces
…reception – repas de mariage
…ring – alliance
…vows – vœux
Un bon mariage serait celui d'une femme aveugle et d'un homme sourd
(Montaigne)
(aveugle – blind sourd – deaf)