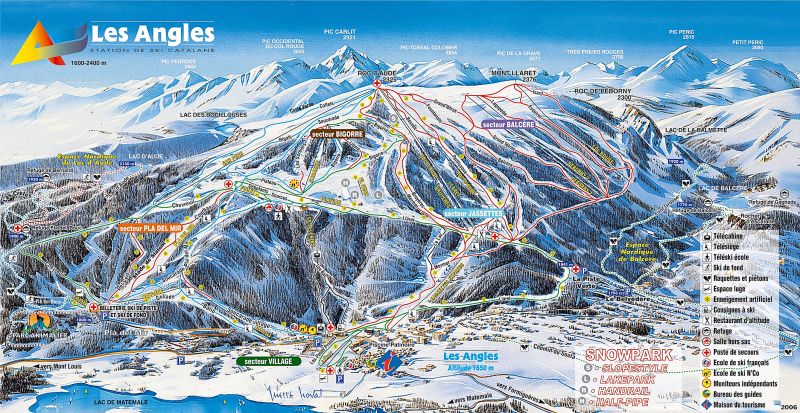 THE RESORT
Ringed by mountains, Lake Matmale glistening in front of the village, Les Angles offers 32 downhill pistes catering for all levels, and an impressive Snowpark. From the top of the télécabine, black, red, blue and green ski runs bring you through the pine forests to the village. There are two restaurants on the slopes, warm and welcoming, and a "Salle de Grillade" at the top of the télécabine where you can leave your own barbecue meat at the start of your skiing day and arrive to have it grilled and served for you at lunch-time!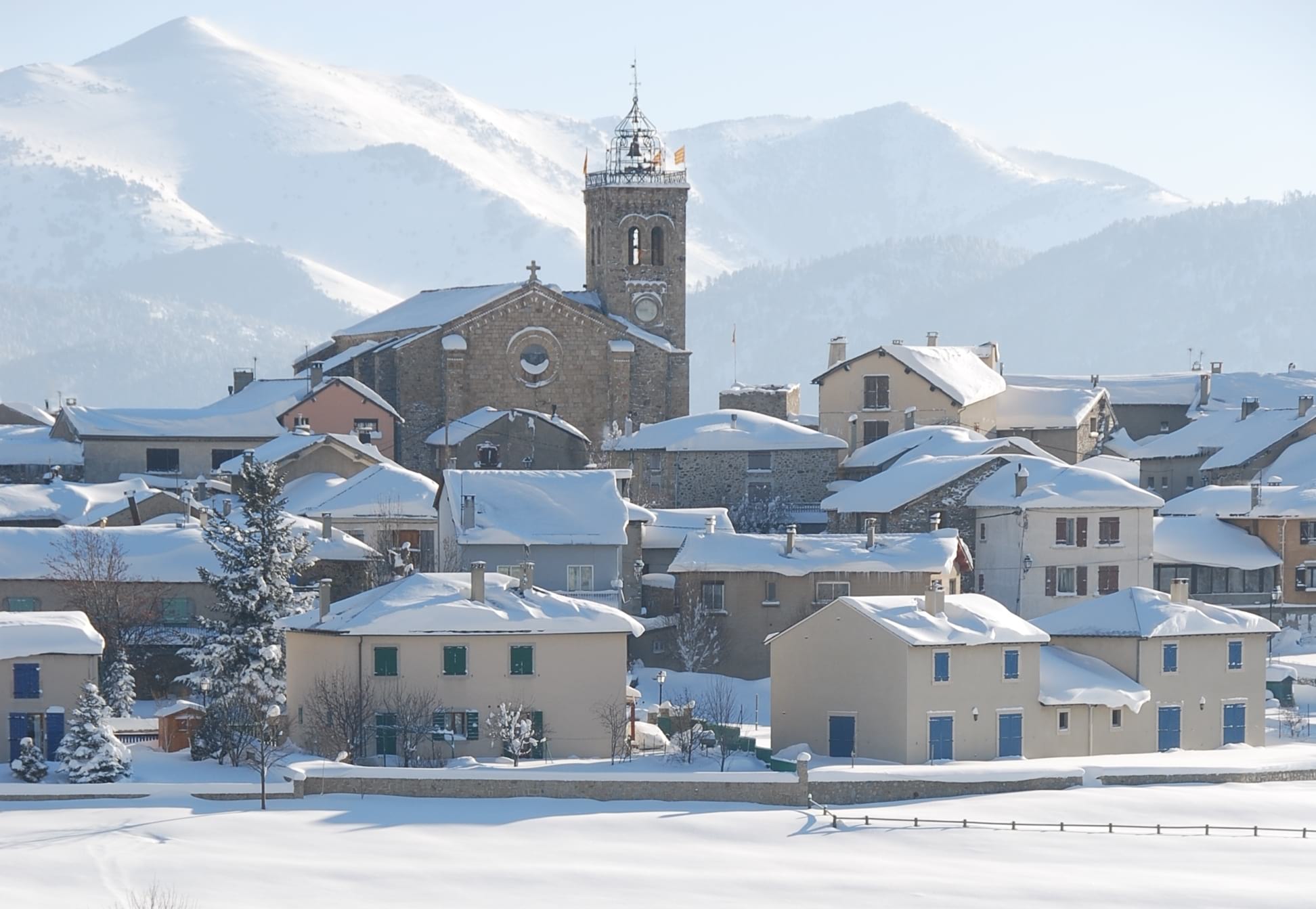 Check out the Costa Verde Alpine secteur, which, despite its colourful name is anything but green right now! With 3 black runs and challenging, wide open tree lined pistes, this exciting addition to Les Angles in 201y ensures that it truly lives up to its reputation as a resort for all abilities.
Don't miss the new LOU BAC MOUNTAIN – Sledge 2000 meters downhill on this monorail, amidst over 430 meters of vertical drop at a max speed of 42 km/h. Breathtaking views – you're in control.
Visit ANGLEO – Balnéo & Spa in the heart of the village. Swim, Steam, Sauna, Salt, Solarium…..or the PARC ANIMALIER – Two
walking circuits through boar, wolf, bison, bear, reindeer, marmotte, izards in spacious enclosures…Beautiful views
of lake and mountains. Take boots!

And if you're up for more challenges, you can try ICE DIVING – DOG PULLED SLEIGH RIDES – BIKE AND SCOOTER IN THE SNOW – SNAKE LUGE ….
THE HISTORY
The old village is centred round the church of St Michel, several fountains and the remains of the XIII century tower of the chateau. Attractive old houses have been turned into gites, restaurants and hotels.
A fairly dynamic village in the early 20th century, the population declined through war and the 'exode rural' as people left agriculture and headed for work in the towns. The ski resort was created in 1964 to restore the economy and bring life back to a fading village – and it worked!
THE NAME
It seems that Les Angles was originally named Podium Angularum (Latin for 'angular summit') after its geographical position. At some point, somebody must have realised that it was a bit of a mouthful and shortened it to Les Angles!
THE PARC ANIMALIER
If skiing is not your thing, why not visit the 'parc animalier' des Angles, where you can see many of the animals of the Pyrenees, in very large enclosures, in their natural surroundings. The one and a half to two hour walk through enclosures of boar, wolf, bison, bear, reindeer, marmotte and izards is a pleasure for all ages. Picnic spots and beautiful views through to the lake and mountains add to the pleasure.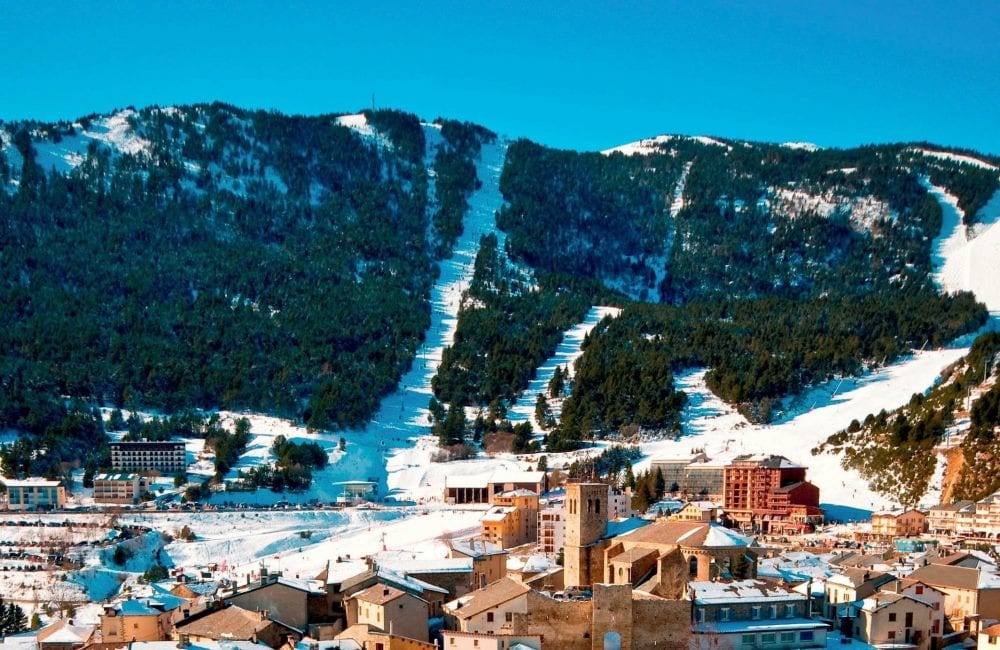 SKI FACT FILE
50 km downhill
36km cross country
Pistes
Green 7
Blue 6
Red 15
Black 6
Hands up for the hands free!
Gone are the days of long shuffling queues, glove in mouth, and ski poles waggling dangerously as you search last minute for your ski pass. The hands free pass remains comfortably in your pocket and operates the turnstiles automatically as you approach, a little like the French motorway 'télépéage' system!
Buy it online at www.lesangles.com, download your photo straight from your computer… and you're good to go! You can either pick up the pass at the ticket office in the resort when you arrive, or have it posted to you in advance (P&P extra). Recharge it anytime by Internet, Smartphone or Iphone
In the future, these same passes will be able to store information and tell you, for example, how many kilometres you have skied during the season.
A high old time with the big airbag
Ideal for both beginners and experienced jumpers, the big airbag is the ultimate, cool way to practice your ski jumps safely. This giant, soft, inflatable cushion is placed in front of the ski-jump, ready to catch any type of fall. It is specially designed to soften and deflate as you land, ensuring minimum risk of injury, from whatever angle you arrive!
It allows you to perfect your techniques, and is a great way to practice until you are ready for 'the real thing'
ACCOMODATION RECOMMENDATIONS:
Mike and Jenny Rhodes.
Delightful barn conversion apartments available at special offers on the edge of the old village of Les Angles.
04 68 04 3728 or 06 79 98 75
mike.rhodes@free.fr
www.pyrenean-trails.com.
RESTAURANT RECOMMENDATION. Our pick of the mountain restaurants.