Fête de la Saint Jean

A week after La Trobada, at midnight on 22nd June, the fire on top of the Canigou is lit with a flame permanently kept alive in the Casa Pairal.
A flaming torch, kept throughout the year at the Castillet in Perpignan, is carried to the top of the mountain and used to light the bonfire which can be seen all over the Conflent.
The next day, relay runners carry the "flamme du Canigou" down onto the plain, lighting torches in all the villages they pass through on the way to Perpignan.
In the evening, these torches light the "Focs de la Sant Joan" or "Feux de la Saint Jean", fires that have been prepared in towns and villages all over the region.
With the arrival of the torch, and the lighting of the fires, the festivities begin.
In Perpignan for example, this consists of :
music and dancing
fireworks
laser display
a giant screen in front of the Castillet showing the procession of the flame
a traditional ceremony with the sharing of the bread (le partage du pain)
and much more besides!
It is a night for celebration and an important symbol of the unity of the Catalan culture and as such, many towns and villages will mark the event in some way. Contact your local Office de Tourisme to find out what's going on near you.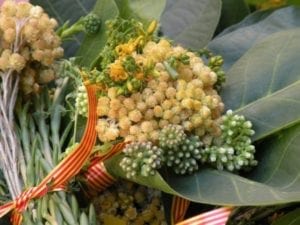 Herbs are traditionally an important part of the Feux de la Saint Jean as it is said that their curative powers are 100 times stronger on this particular evening.
Rosemary, thyme, verbena and other herbs are picked and made into bouquets and garlands.
Verbena in particular is supposed to have mystical properties and act as an aphrodisiac, whilst carlina (a type of thistle shaped like the sun) is also believed to have aphrodisiac qualities.
It is also nailed to the doors to protect from evil spirits and to prevent 'mauvaises fées' (bad fairies) from entering the house.
PAST YEARS
A selection of typical yearly events throughout the region on 23rd June. Please check with local tourist offices
Argelès sur Mer
Music with cobla
Arrival of the Saint Jean flame with parade accompanied by the Gegants d'Argeles, les Cantaïres, le Foment de la Sardane and singers
Sardane
Fireworks
Bal
Banyuls-sur-Mer
Parades and arrival of the flame
Bonfire and music on the beach
Sardanes sur la place Paul Reig
Canet
Music and dancing
Arrival of the flame and dégustation (tasting)
Bal
Le Boulou
Music and dancing
Arrival of the flame and dégustation (tasting)
Maureillas-las-Illas
Music and fireworks at Prats de la Farga
Port Vendres
Arrival of the flame
Sardane in place de l'Obélisque
Fireworks, music and dancing
Prats de Mollo
Music and bonfire in the square
Saint Cyprien
Arrival of the flame
Sardanes
Grillade (BBQ)
Thuir
Sardanes
Tastings of traditional Catalan food and wine
Villeneuve de la Raho
Fireworks and bal on lakeside