By Ellen Turner Hall

L'ISBA, an art gallery in the middle of a quiet residential street in Perpignan, is the result of a collaboration between Isabelle Bagnouls and Sophie Phéline.
Their gallery, both laboratory and playground, provides a showcase for contemporary artists from diverse backgrounds, working in various techniques.
Reflecting their very different but complimentary characters, Isabelle and Sophie design each exhibit around two contrasting artists. Their aim is to question, intrigue and beguile.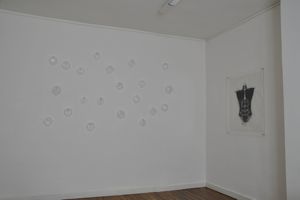 The present show juxtaposes the paintings of Sylvie Fajfrowska with the glasswork and embroidery of Emmanuelle Etienne.
Big eyes stare from many of Sylvie's works.
Are they innocent or merely bland?
The paintings are almost cartoonish in their flatness.
Playing off abstraction, surrealism, pop art, or new realism, the artist aims to reduce energy and chaos to a state of inertia and recognizable images.
The subjects are iconic: a hand gun, an angel, a row of skulls. Yet they exist in the abstract vacuum of their own world.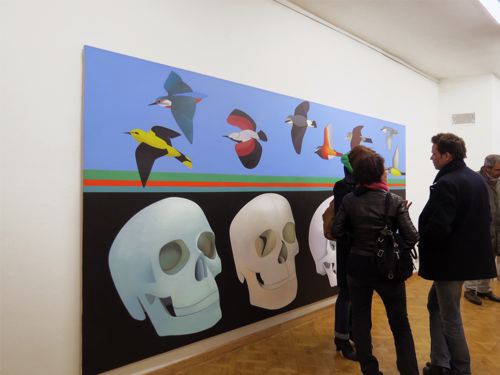 The quaint almost lost art of hand embroidery has inspired Emmanuelle, whose silken threads are a legacy from her grandmother.
Giving a modern spin to the mythological figure of Pan, Emmanuelle constructs his goat/man body from irregular swathes which change texture and colour with the light.
Equally striking is a wall with 21 heads of blown glass, hung in a pattern which owes its structure to a musical score.
Oddly enough, contemporary art seems right at home in the serene surroundings of this lovely 19th century bourgeois villa: a tribute to the shared "pourquoi pas" double vision of Isabelle and Sophie.
Go see for yourself. You may just come away with a new vision of contemporary art. The gallery is open Thursday, Friday and Saturday afternoons. Further information from: www.lisba.fr.