As the kids are heading back to school in September, Sankéo, public transport providers for Perpignan and its surrounding towns, will unveil their new project: buses on demand!
In a bid to improve the efficiency (and consequently the financial viability) of the region's public transport system, Daniel Mach, vice-president of the transport department, explains, "It's about positioning the right service in the right place at the right time".
Across Agly, Aspres and the Littoral, le Transport sur Reservation (TSR), currently in place for Sundays and public holidays, will be extended to weekday rush hours (9am-11.30am / 2pm-4.30pm) and Saturdays (7am-7pm).
The hope is that the TSR should ease the significant financial burden of the many empty buses that circulate each day, thus making it possible to reinforce the budgets of the region's busiest lines.
These on-demand services, booked the day before, will collect passengers from their village (Opoul, Vingrau, Calce, Cassanyes, Montner, Tauvavel, Llupia, Ponteilla, Nyls, Saint-Nazaire, Sainte-Marie and Torreilles) in cars or mini-buses according to the number of requests.
Passengers will then be dropped off at one of four transport exchanges, situated on the outskirts of Perpignan.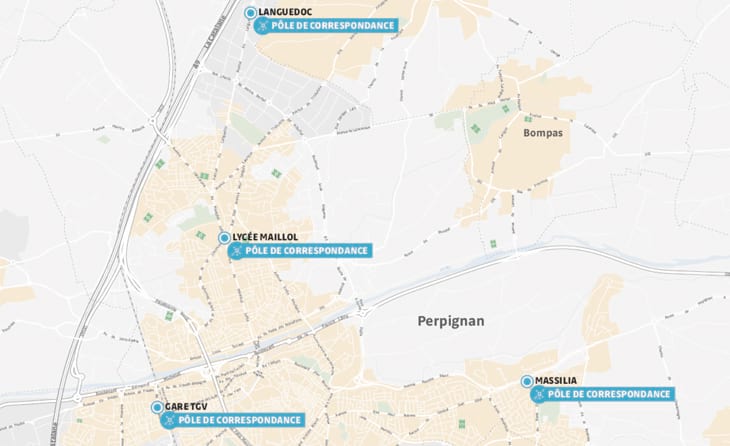 From these "pôles de correspondance", passengers will then join one of 3 bus services to finish their journey.
Lines 2, 4 and 8 currently clock up around 3 million journeys each year, serving the main points of interest in Perpignan: shopping centres, hospitals, colleges, the university and all the major tourist sites.
As of September, the 3 lines will be restructured and renamed A, B and C:
> Ligne A – (currently n° 4 Languedoc – Parc des Sports) will run from 5.30am to 10pm, with a bus every 10 minutes between 7am and 8pm
> Ligne B – (currently n° 2 Mas St Pierre – Cité St Assicle) will run from 6.30am to 9pm, with a bus every 15 minutes from 7am to 8pm
> Ligne C – (currently n° 8 Sankéo – Flandres Dunkerque) will run from 6.30am to 9pm, with a bus every 15 minutes from 7am to 8pm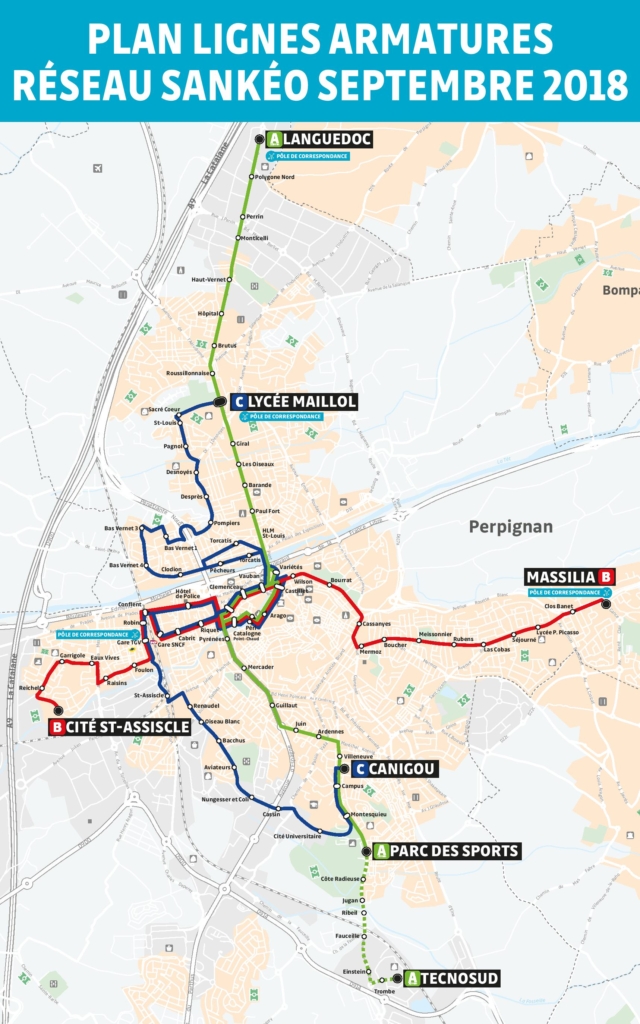 So, to recap: call Sankéo to place your reservation before the day of travel. Users will be grouped according to the number of requests, routes required and time slots. Pick-up and arrival times will be communicated to passengers the day before departure. Prices will be in line with current transport tarifs.
Airport Night Service
Proposals have been put forward for a TSR service from the airport and train station after the regular lines stop in the evening.
It has been suggested that the service will operate 7 days a week, all year round, between 8.30pm and 10.30pm, to cover evening arrivals but at the time of writing, Sankéo customer service could not confirm which, if any, of the surrounding villages will be able to use this service.