We did not intend to buy Angora goats, it just happened. We were visiting a farm in the Dordogne in order to buy a couple of llamas for our land on the outskirts of Ceret.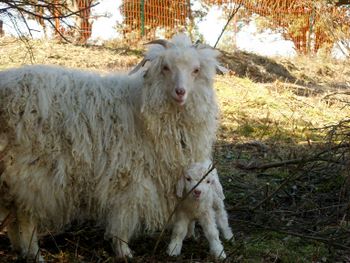 The farm in question was run by an English family: mum, dad and two daughters in their early twenties. The entire family was passionate about ecological living and we were very interested to meet them. It had been a long drive and so they invited us to stay for the night. We spent a very interesting, if rather spooky, evening eating dinner in their kitchen. Animals of all kinds stared down at us as we ate — stuffed foxes, owls, pine martens and otters. The two daughters explained that they were expert taxidermists and makers of medieval clothing. They knew how to make nettle beer and could slaughter and butcher a lamb in twenty minutes. We went to bed rather nervously. The following morning we were given a tour of the small farm and shown various rare breeds of sheep, goats and pigs as well as llamas and percherons. I fell in love with the Angoras at first sight and so we returned to Ceret with not only Opal and Lupin (a pregnant female llama and her daughter) but five of these beautiful and intelligent animals: four pregnant ewes and one very young and delicate-looking billy.
More years ago than I care to remember, Bill and I owned a small flock of sheep. We learned how to shear them and I had taught myself how to spin – but the only result of this had been a single pair of socks. So, passion rekindled, I purchased a spinning wheel and waited anxiously for spring and shearing time.
The Angora goat originates from Turkey, and is the most efficient fibre producer on Earth, producing annually about 25% of its own body weight in wool. Confusingly, the wool is called mohair – it is a rabbit that produces angora wool. The mohair is silky, long and lustrous. Shearings from kids and young goats is usually made into clothing and wool from older animals goes to carpet and textile production.
Because they invest so much energy in wool production the Angora is quite a delicate breed of goat. It needs shelter and good nutrition. When very cold, snowy weather arrived that winter, we brought the animals into the as-yet unrenovated part of our mas for shelter. Twice we found billy knocked unconscious by the females, and had to pamper him quite a lot to bring him back to life. It seemed quite unlikely he would be earning his keep by breeding time.
Winter turned into spring and to our surprise two goats looked pregnant. By then billy had grown and had found new friends – the llamas. They were a little bemused by this strange animal following them around, but they tolerated him and even started to look after him. One day I found him stuck and unable to move, his long locks twisted around some brambles. Ulyss, one of our llamas was most concerned and watched protectively while I cut him free, then shooed him back to where the other animals were grazing.
In the meantime, in between teaching yoga, looking after the garden and helping with renovating the mas, I was practising spinning. Spinning is fairly easy to learn, but I wondered if I would ever get the hang of it again.
In March we welcomed two cute baby goats into the world and felt very proud parents. But Angora goats should be shorn twice a year and it looked as if these had never been parted from their fleeces in their lives, so we had to help the new arrivals find their way through a dense thicket of wool to the milk supply. A set of shears was duly ordered and arrived – just like the ones for humans but five times bigger. We were all very nervous when the first goat was placed on the shearing table and I covered all the vital parts with my hands while Bill gingerly wielded the shears. By the time the last animal was done he had remembered old skills and five goats were feeling much cooler and looking a great deal thinner.
Being new to the south of France we had not realised just how parched the land would become during the summer. Our collection of goats and llamas was growing: as well as the new goats, Opal had her baby, and we had purchased a male llama. We were also learning about llamas fast. They should not have a rich diet, but they do need a diversity of foodstuffs. A diversity our land could not provide.
A friend kept some ponies on some land further up the Tech valley and offered to put our llamas and goats in the same field. We jumped at the offer, and spent a day working on the fencing, filling up holes and making sure the site was suitable. The next day our animals were let loose into what looked to them like a giant salad bowl.
Two days later we received a panicked phone call to tell us that the goats had simply disappeared. We drove up the valley and walked around the field, not quite believing her, but to our dismay it was true. There were no goats but there was a gap in the fencing probably made by wild boar. Goats are escape artists and ours were no exception. You could often see the brains of these intelligent animals whirring as they figured out how to eat the chickens' food. We once found one lying on its back under Bill's anti-goat chicken feeder, with its tongue just able to reach the food container! So seven goats were now wandering around somewhere in the foothills of Canigou, in a forest thousands of hectares in size.
Over the following eight months we regularly drove up to the area with a bucket of food and wandered around, shouting out their names and rattling the bucket. Sometimes we would see a wisp of white fleece on a bramble bush but that was it. The March of the following year saw the heaviest fall of snow in one afternoon that had been experienced in living memory. At Mas Pallagourdi we watched as the snow built and built until we could hardly see out of the windows. We brought the llamas that were still here inside, and thought sadly that our goats were probably dead. As soon as the roads were passable we drove up to the field where the ponies and llamas were living and led them down the mountain, through some pretty deep snow drifts and back home.
Two months later, our friend pulled up in his four-wheel drive outside the mas. "I've got something to help you cut your grass," he said. Thinking he was bringing us some kind of lawnmower, we peered into the back of his vehicle. Peering back, somewhat 'sheepishly' were seven goats. They were bedraggled and thin but alive, and miraculously the next day two of them gave birth. Apparently, our goats had enraged the forest ranger by eating his tree saplings, and so he had put a salt lick in the back of his van and the goats had jumped in. (So that's how you do it!)
In the meantime, my spinning efforts had not been going well. A friend with two small boys had come over for coffee. While we were drinking and sitting in the sun, her sons had dismantled my wheel more thoroughly than I would have believed possible. It never went back together again properly and that was that.
The goat and llama story was also near its end. I had spent countless hours training our llamas so that I could catch and harness them. Two of them could be saddled up with special panniers that would carry a picnic or work tools. But our land was not really suitable for them, and such a hot climate could actually be very dangerous. We offered them to the family who had originally sold them to us for a very good price. They drove down from the Dordogne a few days later, and our llama family and goat family were gone for ever.
At first, it was a relief not to have to look after animals and worry about feeding them. But after a while the fields acquired a rather sad look, it just didn't seem right. But this time, we said to each other, we would not be so impulsive, we would research the kind of animal that would suit us and the land. After a lot of time on the internet we came up with the answer.
Cameroon sheep actually look more like goats than sheep and behave more like deer. They originate from Cameroon and are called 'hair sheep'. This means they do not have a fleece that needs to be shorn every year, their hair coat simply falls off by itself. As a breed that originated in Africa, they can tolerate high temperatures and a poor diet and almost look after themselves. We've had our girls and ram for 4 years now and I never tire of watching new-born lambs race around the field. Our house guests love to see them too!
The pressing question then was how exactly we would part the goats from their lovely fleeces, and a set of shears was duly ordered and arrived – just like the ones for humans but five times bigger! We were all very nervous when the first goat was placed on the shearing table and I covered all the vital parts with my hands while Bill gingerly wielded the shears! But when the last animal was done he had remembered old skills and five goats were feeling much cooler and looking a great deal thinner!
Our little flock of seven goats are now happily clearing our field of bramble and undergrowth, while I am busy washing and spinning the fleeces. I am not sure what the end product will be or when exactly it will materialise, but I have found a very interesting and therapeutic hobby that will run and run!