With Polly Cannie
---
It's going to be a feast for the eyes and palate today (with a bit of culture and possibly retail therapy thrown in), so set off after breakfast, choose a clear, sunny day and make sure you've got a good appetite for a late lunch.
We're driving along the D115 through Ceret (no stopping there today, behave!) Amélie and Arles-sur-Tech right up into the Haut Vallespir and over into Spain.
You'll already be catching glimpses of the stunning scenery as you do this, taking a left turn onto the D3 towards St Laurent and Coustouges, and winding slowly upwards. There are occasional pulling over points for photo opportunities but none better than when you arrive at the main car park in the village centre of St Laurent.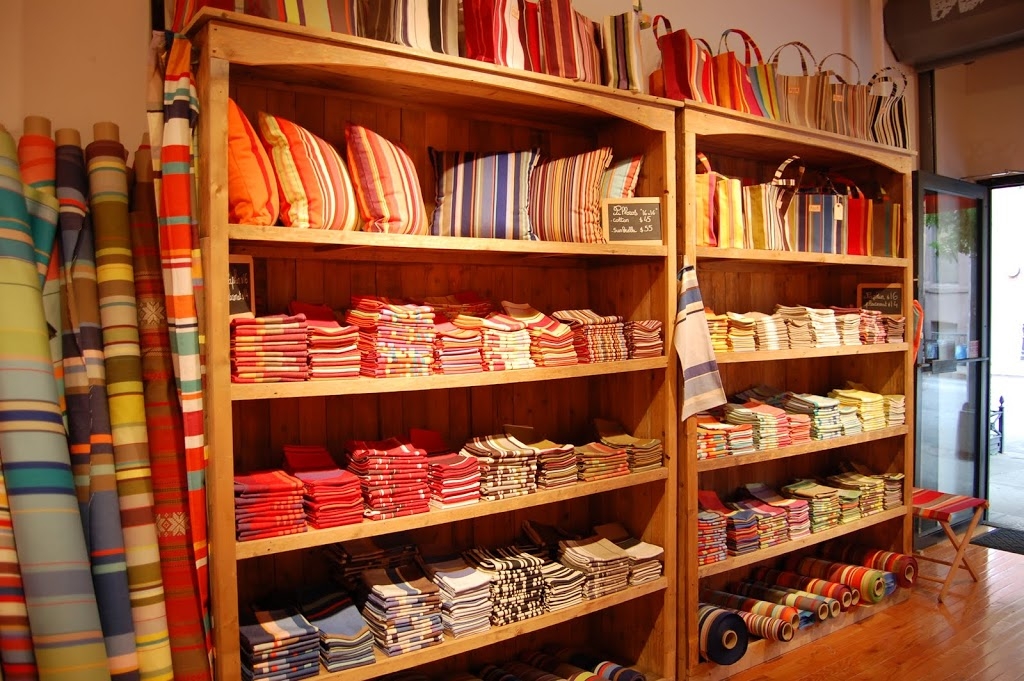 In fact, we're stopping here to walk the short distance to the Toiles du Soleil fabric and accessories shop, home of the brightly coloured Catalan stripey fabric produced on ancient industrial revolution machines in the Dickensian factory behind the shop. Have your credit cards ready for gorgeous goodies – at a price! (Check opening times on www.toiles-du-soleil.com).The 'Toiles' is actually 50 years old this year, 2022.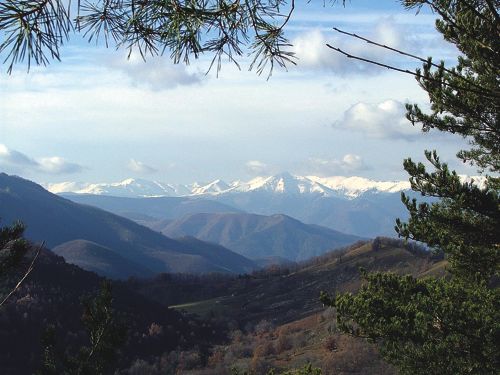 A short walk down the hill brings you to the little cinema and Retirada museum – not as harrowing as the main museum in La Jonquera, but informative and well presented. You can also find information here on walking the Cami de Retirada, the route many escapees took over this part of the Pyrenees.
By now it'll be the magic hour of midday and everything will shut for at least two hours, so refreshment time and we're heading out of the village towards Coustouges.
Just as you leave St Laurent take the turning to the right signposted Domaine de Falgos and after around 5kms of winding road it opens out into the wonderful golf resort and spa where you can enjoy a drink and nibbles in comfortable surroundings with stunning views in all directions.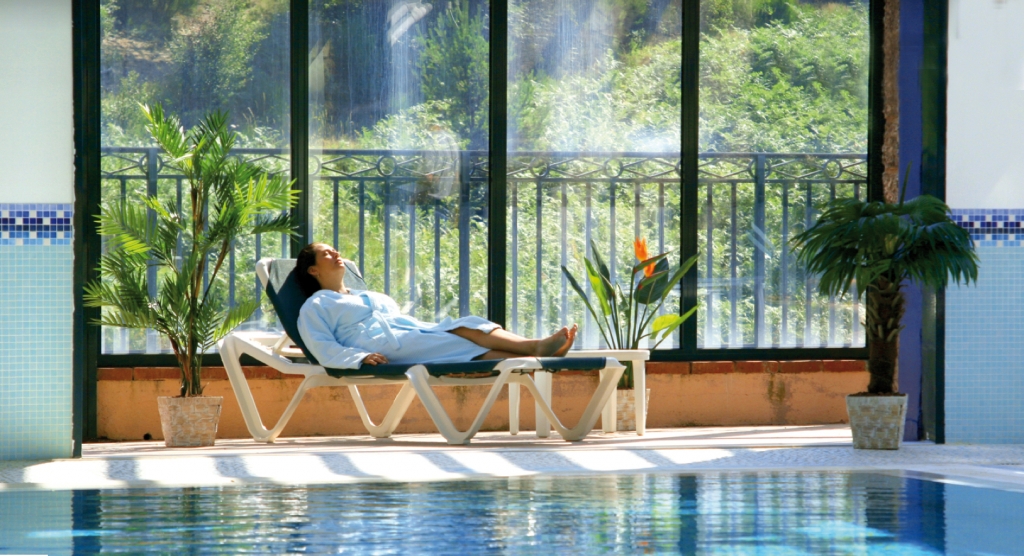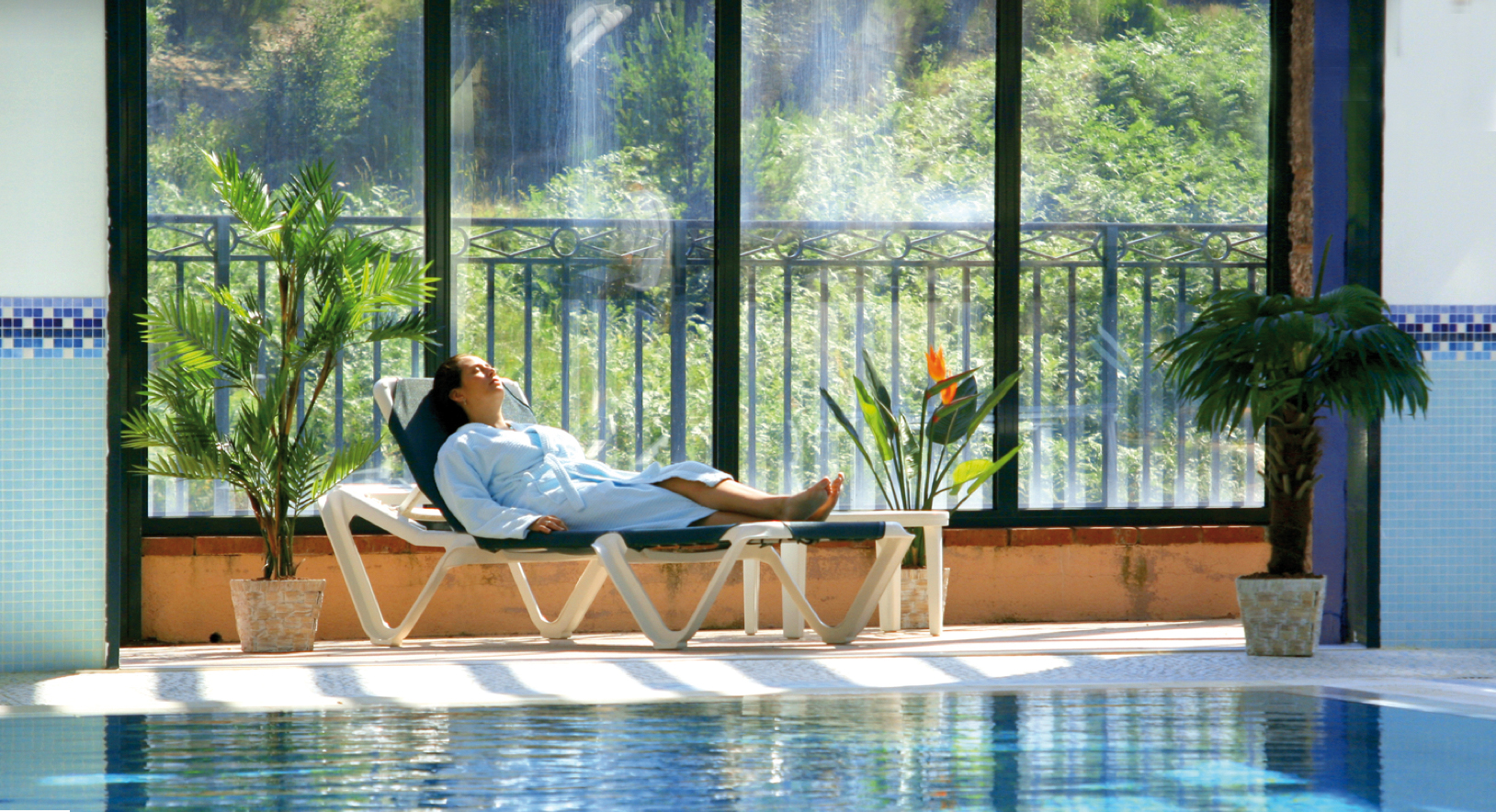 With heated indoor pool, steam, sauna, jacuzzi and outdoor sun terrace, golfers and non golfers alike may wish to bookmark this for a longer visit another day, because we're off again back to the main road and a right turn towards Coustouges, a very pretty hilltop village, worth stopping in the car park on the right and wandering through past the church and into a little lane with truly magnificent views into Spain.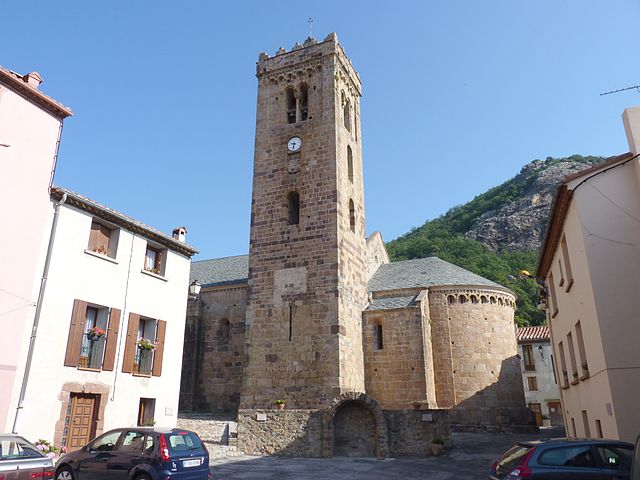 Residents will tell you this is the southernmost village in France but it's beaten by a short head by Lamanère, truly the end of the road, which is beyond Serralongue.
Almost time for lunch, driving downhill and out of France and into Spain, and oh! the views!!
Fifteen minutes later will find you in Tapis and there on the left is Can Mach, a traditional Catalan restaurant, with rooms and a well-stocked shop for all your must-have local fare. It's very popular, very lively, and the food is delicious, filling and extremely reasonably priced – see the menu on their website to whet your appetite, maybe best to book – and lunch can go on and on and on; we usually roll out about four o'clock!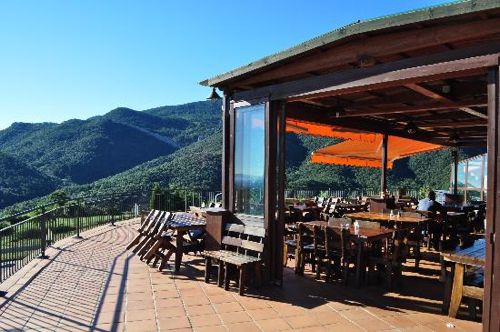 Various options for you now – carrying on downhill to explore the pretty village of Macenet with its 12th century, Romanesque church, or go a little further on to Darnius where you take a right turn to the lake at Boadella for a lovely stroll to work off that lunch.
From Darnius you're almost back at the main N11 and other choices – turn right for an evening in Figueres or Roses or turn left towards La Jonquera where you'll find the new Gran Jonquera shopping outlet on the right for some retail therapy, food or clothing – although the latter isn't always as cheap as you'd hoped – open until 9 pm.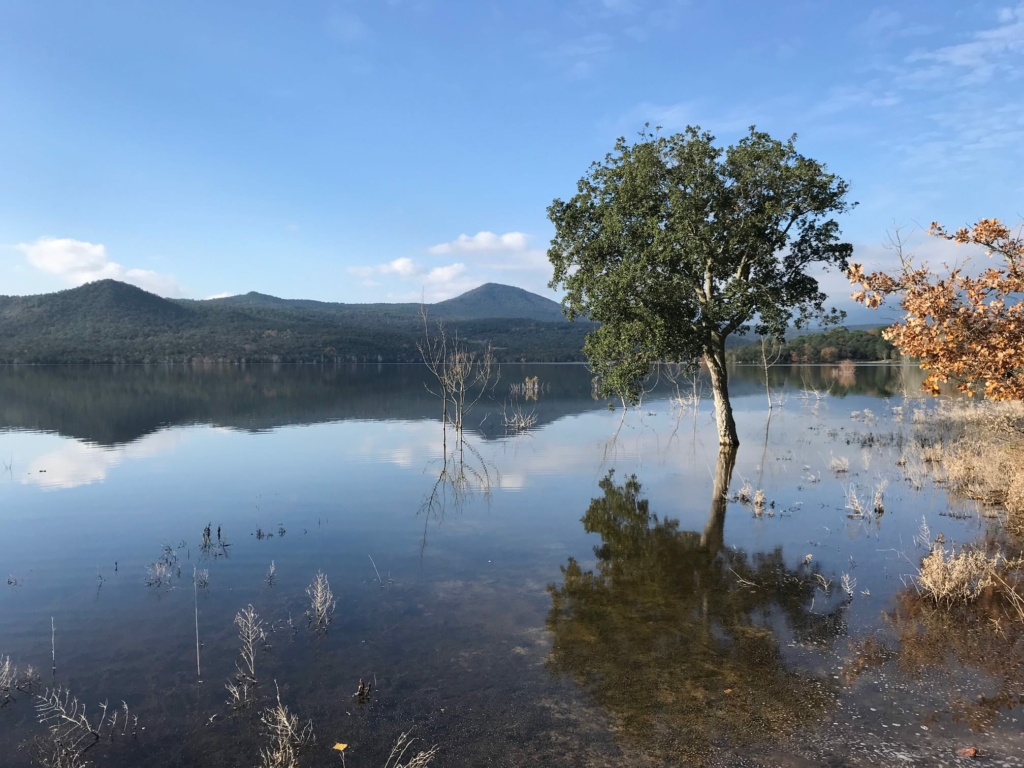 From here it's back to the border at Le Boulou either on the N11 or switching to the A9 motorway perhaps if your destination is more towards Perpignan. I hope this has been an enjoyable mix of activities and that you'll join us again for some more travels through the southernmost valley in France.