Céret's Museum of Modern Art is a must for art lovers
Find out how the town came to have such an impressive collection
The town of Céret became a magnet for great artists in the early 20th Century and Céret's Museum of Modern Art was the brainchild of one of them.
At the beginning of the 20th century, Céret, capital of the Vallespir, was a small town of 3800 inhabitants, with tall, narrow houses and cobbled streets. Lucky to have some cottage industry, (espadrille, fabrics, barrels, cork…..), the town attracted visitors from all around with its festivals, corridas and bandas.
Just around the corner, the little fishing port of Collioure became the centre of fauvism when Henri Matisse and André Derain spent time there between 1906 and 1914, joined by friends Marquet, Manguin and Camoin.
Céret quickly became part of this great artistic adventure and in 1910 Catalan sculptor Manolo Hugué, (known as Manolo) painter Frank Burty Haviland and composer Déodat de Séverac settled in Céret.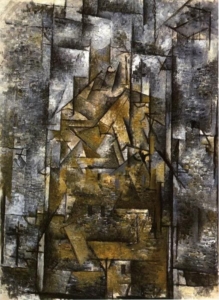 Between 1911 and 1913, at the height of the Cubist period, they were joined by their friends from Montmartre: Pablo Picasso, Georges Braque, Juan Gris, Auguste Herbin, Max Jacob and Jean Marchand, amongst others, all spent time in Céret.
Dubbed the "Mecque du cubisme" (Mecca of cubism) by André Salmon, Céret took its honoured place in cubist history.
After the First World War several of these artists, including Auguste Herbin, Manolo, Juan Gris, returned, joined by new artists from Montparnasse including André Masson, Marc Chagall, Pinkus Kremegne Chaïm Soutine and Pierre Brune.
The latter dreamed of creating a museum of modern art which would retrace the town's history of art and artists.
Thanks to the assistance of Picasso and Matisse, and with the support of other artists, collectors and interested parties, he eventually succeeded in assembling a fine collection of art and winning over the municipality.
During the Second World War, a third wave of artists fleeing from Nazism took refuge in the town including Raoul Dufy, Tristan Tzara, Jean Dubuffet and Albert Marquet.
Céret's Museum of Modern Art was inaugurated on 18th June 1950 in the rooms of a 17th century Carmelite convent. As the years passed, its reputation grew. In the 1980s, the town decided to enlarge and renovate it and entrusted Joséphine Matamoros with the project.
The new museum was inaugurated on 17th December 1993 by the President of France. The permanent collection of more than 250 great works, painted by more than 50 artists, allows the visitor to wander through the great painting movements (cubism, expressionism, figuration, abstract) that have marked the region through the 20th century and to see on canvas, within the gallery, the magnificent scenery around us.
Céret's Museum of Modern Art is a real gem and worth a visit if you are living or holidaying in the region.
Currently closed for extension and renovation, the museum will reopen sometime in 2020. Check the museum's website for updates.