Millas, on the N116 between Perpignan and Ille sur Tet, has a rather lovely church, full of great Baroque art, plenty of shops and cafés – but today we are heading up to the Col de la Bataille, ancient battle ground and poignant memorial to members of the resistance group Henri Barbusse, whose leader Julien Panchot, along with other members of the group, was interrogated, tortured and shot by the Germans whilst defending the villagers of Valmanya.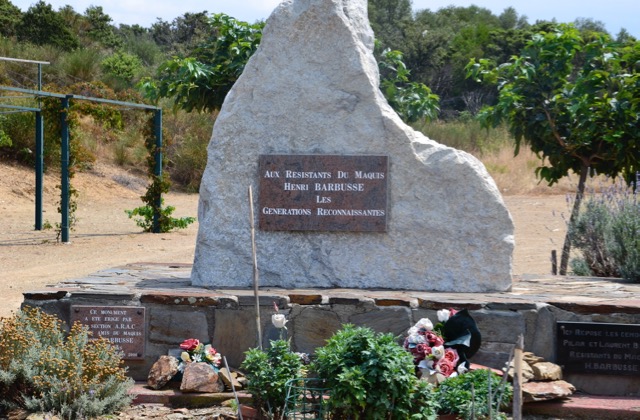 Archive records state "il lui ont brisé les tibias avec une barre a mine attachèe sur une table pour le faire parlè".
After the treaty of Bayonne, which set the borders between France and Spain, the King of Aragon, Jean II, handed over the Roussillon and the Cerdagne to Louis XI of France. Years later, Louis's successor, Charles VIII, decided that the rebellious Roussillonnais were a nuisance – he no longer wanted them, and handed them back to Spain!
In 1496 this fickle king changed his mind again, marched back into the Roussillon and waged war to win back the region, a decisive battle which took place on the Col de la Bataille, as it was subsequently named.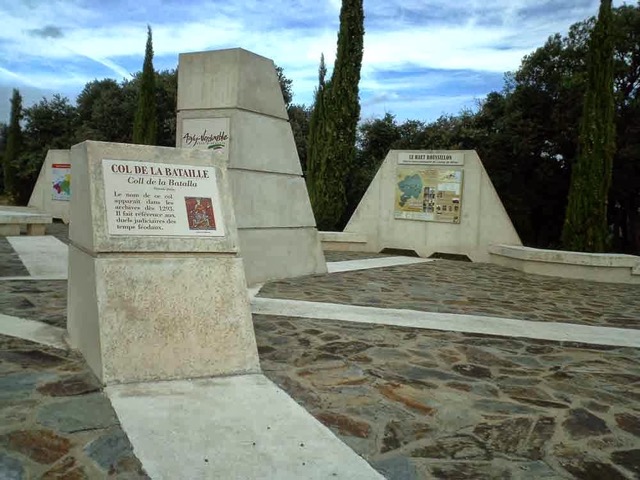 It is on this spot that you will find the memorial to the maquis Henri Barbusse. Symbol of Catalan resistance. The village of Valmanya (Great valley in Latin) near Vinça, was totally destroyed by the Germans in August 1944, in reprisal against resistance fighters operating in the area.
Villagers who were unable to flee to the safety of the mountains were machine gunned. From this 'maquis' stronghold, Captain Julien Panchot, later to be brutally tortured and killed, led brave resistance fighters who sheltered in the nearby mines of La Pinosa and set up the Sainte Jeanne escape route for refugees. The village was rebuilt but the ruins of the mines remain.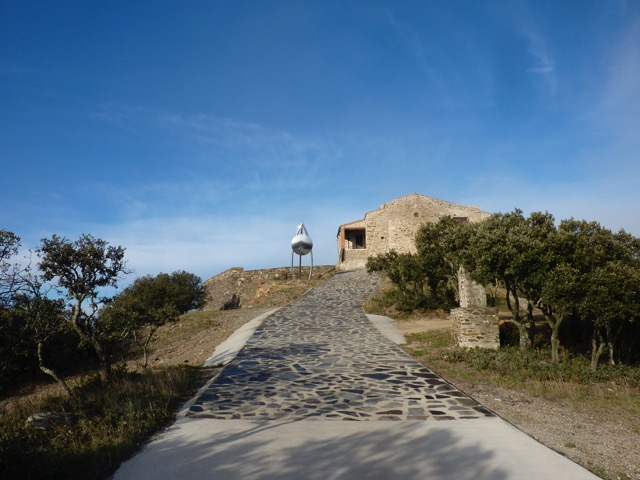 Let's lighten the mood a little. Before you head back down for a drink, or if you've packed a picnic, follow the winding road up to the large free car park and a five minute tarmac climb will take you up to Força Réal.
Pretty chapel with orientation table, fascinating polished steel convex mirror, the original signal tower and small fort, constructed on two adjacent hills, was destroyed in the 17th century. Transformed into an hermitage and 'Conjurador', its function was to appease the elements and chase away storms and summer drought.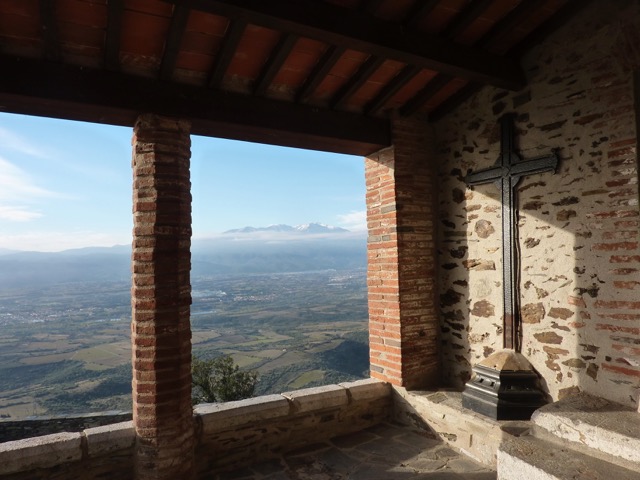 Stunning views along the coastline from Port-Vendres to Leucate, across the Agly and Têt valleys, over the Albères, Canigo, Carlit make it well worth the visit.
For the more energetic, there is a labyrinth of well signed walks for all levels, with 'sentier botanique' identifying trees and shrubs around this former signal tower and small fort, built in 1258.
On a clear day, the view will take your breath away.