Marcos Peinado Exhibition
The Catalan artist, painter Marcos Peinado from Barcelona will have his artwork featured in a solo exhibition at the Château Royal of Collioure from September 08th to October 15th 2017.
Entitled Méditerranée, translated to Mediterranean, his exhibition, organized in collaboration with the Pyrénées-Orientales regional Board, is a vibrant and very personal tribute to both North and South Catalonia.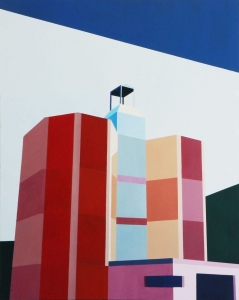 Peinado depicts numerous regional landmarks, including the "Castillet" in Perpignan, the Royal Castle of Collioure, the lighthouse of Port-Vendres, the Notre Dame de la Salette Chapel in Banyuls sur Mer and the Eixample district in Barcelona.
These heritage emblems of the "Blood& Gold" Country have often been inspiration for artists from many different styles and schools so finding a unique angle can be a challenge.
Marcos Peinado approached the challenge with humility. His only preoccupation was to transpose with sensitivity and truth what the eye sees, and what the heart feels.
The result: large "geometrical, synthetic, colorful" canvas, said Marcos. The ex-student of the Fine Arts School of Barcelona is paring down his work to avoid any barrier between the painting and the viewer.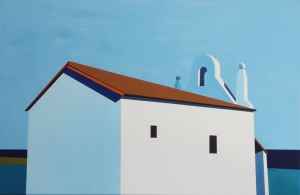 Only the essential is available to the eyes, like scientific evidence. "Some people found my painting very relaxing, therapeutic and [a] source of serenity. This is one of the best compliments that can be said to me".
Others like the bright colors and the luminosity that radiate from each of the locations." I love the Mediterranean Sea and… the 2 Catalonias, north and south. Their luminosity [is] very rich and generous, bringing out the architectural lines of the buildings. [This] inspires me a lot"
Art lovers will find in Marcos' work, the influences of various artists and movements. "Magritte, surrealism, colors from Matisse, the Bauhaus, The Russian Constructivism, North American Expressionism from the 50's, the … Chiaroscuro of artists from the Baroque school".
But there is no hint of copying, no plagiarism: all the influences are perfectly assimilated to feed a internationally-appreciated originality that has been successfully exhibited in great art centres such as Barcelona and Berlin.
Peinado also has a very personal approach to the creation process. "When I start a project… first of all, I take a lot of [photos] of the building from different angles. Then I want to know everything about it, the architect, its history, etc… I become like an investigator, I look [in] books, reviews, on the internet…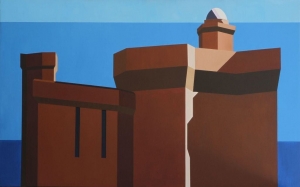 After processing all this preparation, I start to draw a lot of sketches/drafts with acrylics. At this point, my duty as an artist is not to copy and paste a picture, but to enhance that one".