Transfers Perpignan Airport → Railway Station (Gare TGV) → Bus Station (Gare Routière)
WITH POLLY CANNIE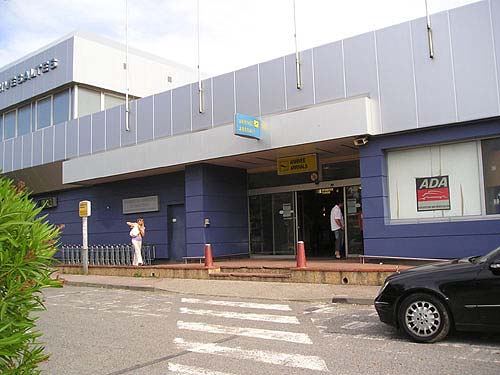 The observant, and yes, it has to be said, the dismayed amongst us, will have noticed the absence over the last couple of years of the old and trusted Navette, with its cheery lady driver, which used to connect the railway/bus station in Perpignan to the airport.
So how have we been managing – kind friends offering lifts (maybe a slight gnashing of teeth there now and again)?
Taxi to and fro? Well, if you haven't tried this transfer under your own steam and have a flight coming up, have an away-day into Perpignan on the €1 bus and have a go before you have to travel; it's easy peasy and will only cost you about €1.20 single on the city bus, so happy days!
To the airport: The No 7 service runs half-hourly (much reduced on Sundays and Bank Holidays) between the centre of Perpignan (La Catalogne/FNAC) and the airport and its timetable is available to download from the airport website.
If you're arriving on your local bus at the Gare Routière you will then need to hop on a bus from the main Gare TGV entrance (same side of the road and they're adjacent to each other) down to La Catalogne/FNAC unless you're happy to do the 15 minute walk along Avenue Charles de Gaulle.
You'll need either a 2 (going to Mas St Pierre), a 9 (going to St Marie Plage), a 13 (going to Le Barcarès), a 14 (going to Torreilles Plage) or a 15 (going to Bompas – lovely name!).
They'll pull into the one-way system at La Catalogne (Point Chaud) and you'll have to walk in front of FNAC to the other side of the one-way system and wait at the No 7 shelter (Catalogne Brasserie).
HANG ON TO YOUR TICKET to present to the driver (it's valid within an hour and a half of the first journey).
Your No 7 bus will have either Aéroport or Peyrestortes on the front. The journey takes around 20 minutes, a slightly scenic route around Perpignan rather than along the dual carriageway.
From the airport: Go across to the bus stop by the entrance to the car park and wait for the No 7 bus which will say Cabestany on the front (no other local buses come here, so little margin for error; if it happens to say Peyrestortes don't get on it – it just has to go down the road to complete its journey and will return to the airport about 10 minutes later). Again, a 20 minute journey, Robert est ton oncle, into the city centre.
Keep hold of your ticket and hop off at La Catalogne (indicated on the timetable as Catalogne Point Chaud) and cross over in front of the FNAC building/fountains to the other side of the one-way system and wait at the bus shelter known as Catalogne Brasserie indicating bus numbers 2 (going to St Assiscle), 9 (going to Catalunya) or 15 (going to Canohès), 13 or 14 (going to Gare TGV).
There are mini timetables displayed in the bus shelter showing the bus times for each route, but it's highly unlikely you'll have to wait for more than 10 minutes.
Again, your ticket will be valid on this stretch of the journey if you're making the connection within an hour and a half.
Buses take about 5 or 6 minutes to the station and most, if not all, stop in front of the Gare SNCF if you have an onward train journey but will then carry on round to the front of the new Gare TGV which is more convenient for the new bus station.
Worst case scenario (or best, depending on your state of mind before or after a typically windy take off/landing at Perpignan) is to take a taxi which will cost in the region of €22.
Starting from the station these seem to be more in evidence at the Gare TGV entrance rather than round the other side at the Gare SNCF but they are plentiful at the airport.
Just a quick mention about trains – if you're new to all this don't be put off by flights to/from Carcassonne, Nîmes, Béziers and Montpellier.
Each of these airports provide a Navette to/from the city centre and trains are fairly frequent and reasonably priced. You may need to change at Narbonne, particularly for Carcassonne.
Personally I find this option is preferable to using trains to Girona or Barcelona and making connections out to the airport but if you're a whizz at doing this ………..then please let us know!!