High above the village of Sorède, you will find the ruggedly impressive ruins of the Château d'Ultrera – the Castle of the Vulture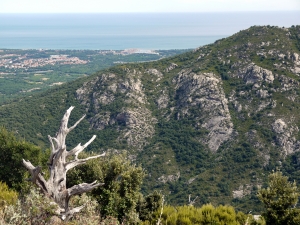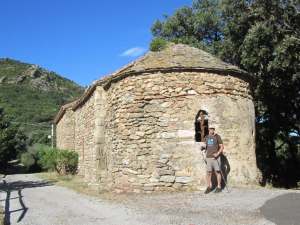 From the centre of Sorède, cross the bridge, direction Argelès, take the first right, signposted to the château, and keep left when you arrive at the aptly named Place du Christ.
It is possible to drive to within the last hundred or so metres of Notre-Dame du Château, ancient chapel and hermitage below the ruins, but the road is bumpy and rutted in parts and a stout heart and sturdy vehicle are recommended.
If you don't have either, you should park at the bottom, just before the road turns left and becomes track – and prepare for a 3 mile hike there, and back.
A further scramble from the chapel up to 530 metres, where the ruins of this old castle dominate the Albères from their rocky piton, is well worth the effort.
Views over the Vallée de la Massane, the plain of Roussillon and the Med, a distant, sparkling blanket of blue on a clear winter's day, will soothe the soul.
The long history of the château began in Roman times, continued with the Visigoths, and came to a head relatively recently in the 17th century, when local lords came to blows and destroyed the castle along with its chapel.
Sadly there is not much left standing, but the outlines of some buildings and walls are still perched precariously on the craggy peak.
The chapel and adjoining Hermitage were built below the ruins shortly after that.
Destroyed once again in 2001, this time by fire, the building has been restored and the chapel, with its dramatic art and baroque altar, is open to the public.
It is rumoured that honey and a book telling of the first ever solar oven, created nearby, can be bought from the resident hermit priest. I saw no evidence of this on my recent visits there, but the picnic and barbecue area, shaded by tall plane trees, just begs you to rest awhile, reflect, enjoy the views….. And maybe a picnic, a glass of wine?
After all, it's all downhill from here!
A rather lovely mural on an external wall records the pilgrimages, which still take place to this little chapel, and if you enjoy mass in the mountains, services take place at Christmas, Easter and a handful of other dates throughout the year.