We love publishing your reviews. They're honest (mostly!) objective, (hopefully) unrelated to advertising (bien sûr!) and cover a wide range of tastes, prices, and places. You might not always agree, the chef might be having a bad day, your standards might be higher….or lower – but they give you an idea of what's available.
Once again, we start by going back over a few past reviews and picking out some choice phrases. We've checked they are still open. Over to you now to see if the review still fits the restaurant.


L'AMPHITYRON, COLLIOURE.…..
with Daniele
L'Amphytrion has long been one of our favourite haunts, with its great situation by the beach and the beautiful view. The 15€ menu of 3 courses is great value, changes weekly and main dishes come with potatoes (meat) or rice (fish) plus an interesting mix of various vegetables. There is a very good 24€ menu (and a more expensive but excellent one at 34€), and a la carte – on our last visit we splashed out a little and my husband had the most delicious and tender pièce de boeuf (22€), and I enjoyed a creamy bourride of lotte and gambas (20€). Food always appears piping hot, wine is in carafes as well as bottles, and the service is attentive but not intrusive. As dusk falls, diners have an uninterrupted view of the lights of Collioure twinkling across the bay.
Rue Jean Bart
Collioure
Tel: 04 68 82 36 00
---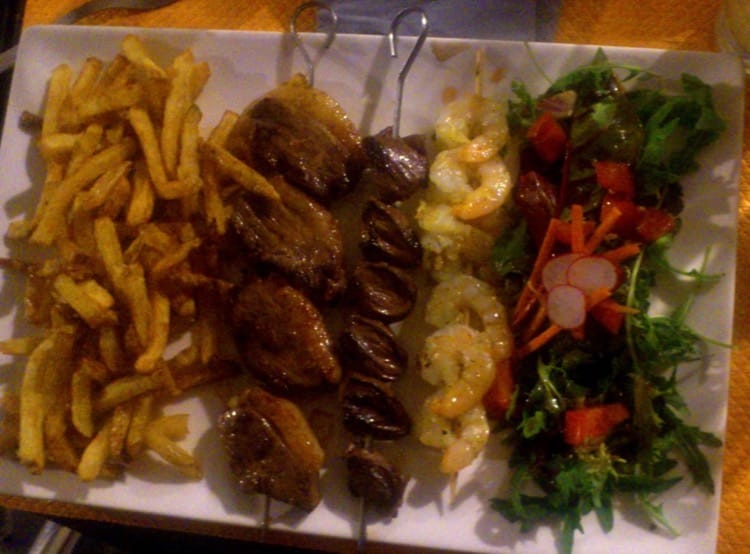 LE SQUARE, ILLE SUR TÊT….
with Michelle
Tasteful modern style, beautifully presented, delicious dishes…..the cuisine has modern "Masterchef" touches without being overly fussy.
Scallops with leeks and a tasty lightly seared salmon slice, perfectly cooked beef fillet in a mouthwatering jus, and the catch of the day, Dorade from Argelès, came with pearls of Banyuls vinegar which burst in your mouth in an explosion of flavour.
Great value from a talented chef.
55 avenue Pasteur,
ILLE-SUR-TET
04 68 61 48 40
---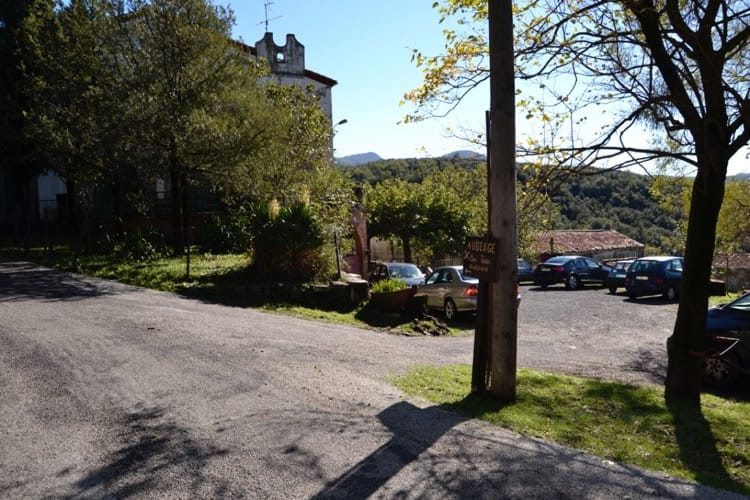 AUBERGE CAN JOAN, ST JEAN D'ALBÈRE…..
with Paul
A pleasant, light restaurant with good space between the tables, and option of outdoor, semi- outdoor (in veranda) or indoor seating.
We selected from the medium-priced menu at €26.90. Other evening menus were available at €19.90 and around €35 with a 3 course lunch for €15.30Magret de Canard, pieces of succulent duck breast fillet wrapped in bacon, accompanied by Banyuls sauce, Entrecôte, grilled exactly to requirement and very lean, Duo of Sea-Bass and Gambas in a Langoustine Sauce, Moules-frites, Paëlla royale, Zarzuela, a good selection of the usual desserts…..something for everyone.
We enjoyed a most convivial evening, and will certainly return to L'Auberge des Albères
St Jean d'Albère
04 68 83 60 92
---

ALLANTOINE, RIVESALTES…. with John & Pam
Just off the main square (near Crédit Agricole), a simple façade reveals an attractive and welcoming interior. Antoine does the cooking, leaving Nathalie to handle the front of house. He uses only local and seasonal produce and makes all the terrines, pâtés and desserts himself (which are delicious!). The choice of dishes, whilst not extensive, is interesting and appealing. The lunch-time 'Bistrot' menu is 18,50€ or 13,00€ for the Plat du Jour. The 3-course evening 'Terroir' menu is reasonably priced at 35€ or 6€ less for just 2 courses. Hearty dishes to eat in or take away include Bouillabaisse, Zarzuela and Poulet aux Gambas.
12 rue Simon Bonafos
Rivesaltes
04 30 19 70 72
---
AND THE NEW (TO P-O LIFE) KIDS ON THE BLOCK…..
with Kate and (Facebook) Mates

L'INTERMÈDE , PERPIGNAN….
with Eliane
Fantastic new place in Perpignan, not far from Galeries Lafayette. Fresh food, beautifully prepared and excellent value for money. Definitely "restau gastronomique" but including set menus for lunch (around 15 euros) and dinner (We enjoyed the 4 course dinner at 32 Euros – to die for). Friendly service. Don't be put off by front of restaurant! Chef and waiter are keen to please.
3 rue Pierre Rameil
Perpignan
09 52 07 40 65
---

LA TABLE DU COIN, ARGELES PORT…
with Rosy and Allan
True to its title, a little bit back from the main line of restaurants along the port but worth seeking out for its delicious food and friendly service,. Clean and roomy, with well chosen house wines which say a lot about a restaurant. Superb home made pea soup deserves a special mention! Three courses for 100€ for 5 people including wine, Badoit, coffee. Highly recommend.
58/59 esplanade du Nouveau Monde
Port-Argeles
04 68 55 46 54
---

VALLES'PIERRE, ST LAURENT DE CERDANS….

with Jackie
An unassuming restaurant where I had the best entrecôte I have ever eaten in France or Spain. We chose the 23€ menu and each course was really tasty. They also serve tapas, snacks, burgers etc and a children's menu. Everything was cooked to order so you will need a couple of hours. Seats 40, situated near the museum. Definitely recommend.
Rue Joseph Nivet
Saint-Laurent-de-Cerdans
04 68 81 00 04
---

CAN PLA, COLLIOURE….
with Peter
CAN PLA, COLLIOURE….with Peter
Tucked away at 7 bis rue Voltaire near the restaurant "Dali" and "la Plage aux Mouettes" with open terrace, a good size interior and a pleasant, relaxed ambience. The food is good value local Catalan fare and, in the many times we have visited, we have never been let down (not least when taking visitors including our soon to be in-laws).
I would thoroughly recommend you seeking out this gem as you will not regret it.
7 bis rue Voltaire
Collioure
---
LE JARDIN, CÉRET….

with Kate
New this year on the Céret restaurant scene, 'Le Jardin' refers to the pleasant and spacious walled secret garden for outside dining , unusual for central Céret. The menu du jour is excellent value for money at €13.00 for 2 courses or €16.50 for 3, as is the evening 3 course menu for 25€50. Service is friendly, décor is contemporary and original, and food is fresh, tasty and thoughtfully presented with plenty of choice for all tastes. Will definitely go back.
7 rue de la Republique
Ceret
04 11 64 41 12
---

APPART'HOTEL CASTEL EMERAUDE, AMELIE-LES-BAINS …
with Fiona
Not far from the town centre by car, yet situated in a world of its own, with stunning, lush mountain views. You don't have to be resident to enjoy their delicious and most, generous cold meat platters served all day long – great value at 16€ for 2, nor their buffet breakfast at just 8,90€ (served until 11.00am weekends). The accent is on local, fresh produce served with a smile.
Route de la Corniche
Arles-sur-Tech (but in Amélie!)
04 68 88 34 89
---
LES CAPELLANS CENTRE COMMERCIAL, SAINT CYPRIEN
Something for everyone! Impressive selection of pizzas to eat in or take away, but also meat and fish dishes, grandes salades, tapas, burgers … and home-made desserts.
I chose the very reasonable 3-course menu at just 14,80€ (there is another at 19,00€): a tender and flavoursome pièce du boucher with steaming fries followed a delicious, home-made fish soup starter, rounded off by a delicate Crème Catalane.
Good service and friendly atmosphere with a smile.
---
BON APPETIT!