with Linda Razzell
Zarzuela de mariscos
It's hard to resist a recipe with such a saucy sounding name! If it conjured up visions of gypsy dancers with flashing eyes you wouldn't be far wrong, because zarzuela (sar-soo-EH-lah) means operetta or variety show in Catalan. Think Carmen meets Nigella Lawson. Basically a seafood stew, this is a dish traditionally served on Christmas Eve to fortify people through the late night mass. The more variety of seafood you can fit in, the better.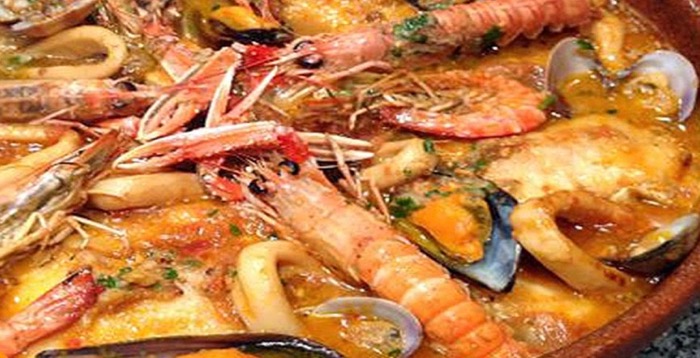 It's an economical dish which can easily be stretched to fit in extra guests with the help of a crusty loaf or two. Cava is the usual accompaniment. In a Catalan home, expect a heated debate about some of the finer points – sherry or wine, ground almonds v. hazelnuts, whether saffron or cinnamon brings out the flavour better. Time to serve some more cava!
Ingredients for four

---
♣ In total about 2 kilos of fish and seafood:
♣ Mussels or clams
♣ Large prawns, peeled (leave four unpeeled for garnish)
♣ Squid rings
♣ Firm white fish, like monkfish or sea bass
♣ Cooked lobster or langoustines (it's Christmas, after all)
To save time you could even use a bag of frozen seafood mix meant for paella
About 3 cups fish stock (packet is fine)
♣ 2 medium onions, roughly chopped
♣ 1 large red pepper, chopped (or a jar)
♣ 4 cloves garlic, crushed
♣ 400g tin tomatoes
♣ 1 cup white wine
♣ 1 pinch of saffron
♣ 1 bay leaf
♣ 1 teaspoon of paprika
♣ Half a cup ground almonds
♣ Olive oil
---
Sauté the onion, pepper and garlic in the olive oil until soft

Add the saffron, bay leaf, almonds, paprika and tomatoes; simmer for 5 minutes or until amalgamated

In another pan, toss the seafood and pieces of fish briefly in the olive oil for 2 minutes

Add the wine to the sauce, then the fish and seafood, and stock to cover

Simmer until the fish and seafood are cooked through – about 5 minutes
Serve with lemon wedges and chopped parsley. And cava – did I mention cava?
Neules
After this, a light desert is usually eaten, for instance, neules. A neula is a rolled wafer biscuit rather like the French cigarette russe, said to have been invented by a thirteenth century nun who was distracted while making communion wafers. They are very delicious so I assume the distraction was a pleasant one. Most people buy them but they aren't difficult to make.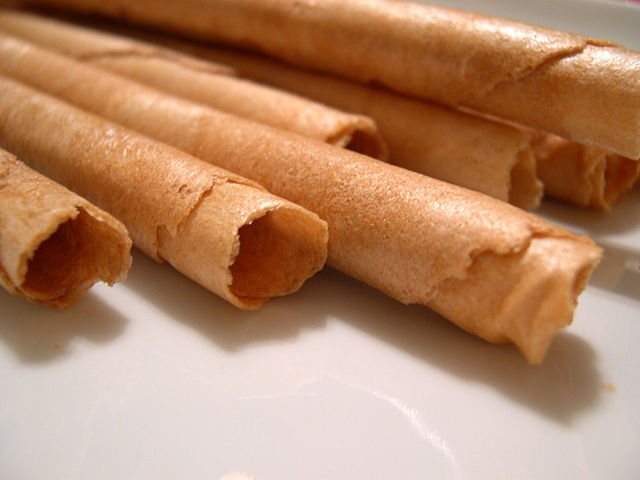 Ingredients

---
♣ 250g plain flour
♣ 250g sugar
♣ milk
♣ 1 egg yolk
♣ 1 beaten egg white
♣ 30g olive oil
♣ vanilla essence to taste
---
1 Combine all ingredients with enough milk to make a thin batter
2 heat a wafer maker or a frying pan, and make small thin pancakes
3 when they are crisp, slide each one off and wrap around a wooden spoon handle
– and eat them dipped in cava! Followed by turon – that heavenly chewy almond nougat sweet that nobody makes at home – a thimble full of a desert wine like the ruby coloured Anubis, Garnatxa de l'Emporda. And a black coffee.
Christmas Day: if you want to give your turkey a Catalan flavour, add raisins, dates and pine nuts to the stuffing. Roll your roast potatoes in chopped almonds before putting them in the oven. Slice brussels sprouts thinly and sauté with chopped roasted hazelnuts – together with roast chestnuts, of course. Thicken your bread sauce with ground almonds.