AT A GLANCE April 2019
---
1st April 2019

-

30th April 2019
Event Navigation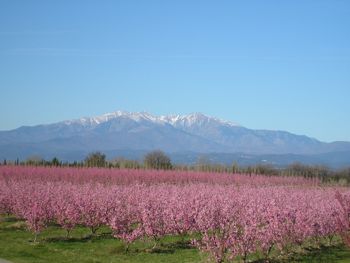 Around the region April 2019
WHEN & WHERE?
WHAT?
Throughout April
Saint Cyprien
Les Cypriales.
Wednesday 3rd 7.30pm
Théâtre de l'Archipel, Perpignan
On Goldberg Variations/Variations.
Thursday 4th 2.30pm
Maison de l'Histoire, Le Boulou
Calligraphy workshop. To celebrate the April festival of Sant Jordi, the Médiathèque of le Boulou is organising a FREE calligraphy workshop with expert, Gérard Caye. For more info or to sign up, contact the Office de Tourisme.
Saturday 6th 8.30pm
Théâtre de l'Etang, Saint Estève
Danser Gainsbourg 2 & Barbarian 2.
Wednesday 10th – Sunday 20th
Perpignan
Festival de Musique Sacrée.
Friday 12th – Saturday 13th
Lycée Bourquin, Argelès sur Mer
Terr'Arôme.
Saturday 13th 5pm
Salle polyvalent, St Génis des Fontaines
Film screening & conference: La vie commence à 60 ans. With her 60th birthday fast approaching, Corinne L'Hérisson, practiontioner at la Terre de pleine conscience, decided to walk the GR10 in 60 days. Discover her journey and learn tools to deal with everyday stress at this screening/conference.
Saturday 13th 9pm
Campo Santo, Perpignan
Nocturnal guided visit. As part of the Sacred Music Festival, discover the mythical Campo Santo with a free guided tour, embellished by the traditional and polyphonic singing students from the Conservatoire. Call the Office de Tourisme for info and reservations.
Saturday 13th – Sunday 14th
Céret
Compétition du Roussillon. Departmental parapente competition, take-off and landing areas open to public. For more info call 06 11 64 48 18.
Sunday 14th
Céret
Cavallada.
Sunday 14th 11am & 4pm
Théâtre des Aspres, Thuir
Un balcon entre ciel et terre.
Sunday 14th 2pm & 5.30pm
Palais des Congrès, Perpignan
Irish Celtic.
Sunday 14th – Sunday 21st
Across the region
La semaine sainte & Easter. The Easter week is a big celebration in Spanish and Catalan cultures, contact your local Office de Tourisme for details of masses and religious events near you.
Tuesday 16th 8.30pm
Théâtre de l'Archipel, Perpignan
Passion selon Saint Jean.
Thursday 18th 8.30pm
Théâtre de l'Etang, Saint Estève
Avoir du Vian entre les oreilles.
Friday 19th 3pm
Perpignan
Procession de la Sanch.
Saturday 20th – Sunday 21st
Salle de l'Union, Céret
Focus Danse. On Saturday morning, learn from the pros with a contemporary jazz workshop (call 04 68 87 38 34 to register), then sit back and watch the masters work as they showcase jazz, hip hop, classical and contemporary at 7pm. On Sunday watch them compete from 11am during the Concours international. Contact the Office de Tourisme for more info.
Saturday 20th – Sunday 22nd
Centre Plage, Argelès sur Mer
Fête américaine.
Saturday 20th – Monday 22nd
Grand Stade les Capellans, Saint Cyprien
Salon du bien-être. Health and well-being expo bringing together practitioners and experts. Programme available from the Office de Tourisme.
Sunday 21st 8am
Ille sur Tet
Reginas de Coll et Colomer.
Sunday 21st – Monday 22nd
Rivesaltes – Axat
Easter egg train.
Sunday 21st – Wednesday 24th
Place Henri Guitard, Céret
Acrobatic display. Each day, marvel at the gravity-defying spectacle. Sunday & Monday 4pm, Tuesday 8am, Wednesday 3pm. For more info contact the Office de Tourisme.
Tuesday 23rd
Across Catalonia
Sant Jordi.
Tuesday 23rd – Friday 3rd May
Espace Méditerranée, Canet
Festi'Kids.
Friday 26th – Sunday 28th
Château Valmy, Argelès sur Mer
Argelès Nature Trail.
Saturday 27th
Perpignan
Sant Jordi.
Saturday 27th – Wednesday 1st May
Riunoguès

Silent meditation retreat.
Tuesday 30th 8.30pm
Théâtre de l'Archipel, Perpignan
Paulo Freso/A Filetta & Daniele di Bonaventura.
ANY EVENTS TO ADD? REGISTER AND ADD YOUR OWN EVENTS BELOW, OR SEND THEM TO US.