Liber-T badge – péage without pain
Motorway remote control
French motorway operator, Sanef, has extended its Liber-t automatic toll payment service to UK motorists. All you need to do is register on their UK website and they will send you the electronic transponder (tag). You will receive an invoice the following month and then around 15 days later payment will be collected via direct debit from your UK bank account.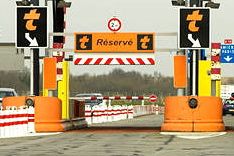 Sitting in a queue at the motorway 'péage' is no fun at all. Nor is driving a right hand drive car alone, and trying to reach over through the passenger window to pay your toll – particularly if you're a bit of a titch
Regular users of French 'autoroutes', or those with right hand drive cars, can solve their problems by investing in a "Liber-T badge" which allows you to sail through the péage without having to stop or collect a ticket. Payment is 2 euros per month, or 20€ per year (with different price options available) which is only charged for months used, (ie if you don't use it at all for one month, you don't pay the fee) plus of course the toll itself.
How it works
When you register, you will receive a remote control 'beeper' to place on a bracket (also supplied) in your windscreen. As you approach the reserved lanes (orange T), reduce your speed and stop briefly. Your details will automatically be recorded, you will hear a beep, and the barrier will rise in response to a signal from your beeper. Many péages now have lanes for "Liber-T" badge holders where you do not actually have to stop, but simply slow down to 20 or 30km. It takes a bit of courage, as the barrier opens at the very last minute!
Charges are invoiced and taken from your bank or credit card account once a month and you will receive a monthly detailed invoice.
Advantages
You can pay via most UK bank accounts or credit cards
Your passenger can sleep throughout the journey!
You can use it in any car
On your birthday, you can travel on any motorway free of charge!
You can park free in most Vinci car parks (unfortunately this does not include Perpignan!)
You qualify for free journeys for frequent usage, special offers and various discounts on car hire etc
You can have the remote sent to your address in the UK
Things to think about…..
✒ Use the bleeper on all motorways in France, but NOT YET in Spain.
✒ Check the battery occasionally to avoid embarrassment if it doesn't work and you have to back out (you can also use it through the manned 'péage' booths if the worst comes to the worst!)
✒ Put it out of sight when you are away from the car as it is a target for thieves
How to register (see forum tips below)

*Register with ASF at the toll booth of Perpignan sud (just before Rivesaltes) taking with you a RIB (bank details), ID and proof of home address.
*Apply and register on line at www.asf-telepeage.fr. (some banks may also require you to send them a copy of the details to confirm the direct debit) or Sanef
SOME USEFUL VOCAB
Un badge télépéage – remote control
La barrière de péage – the toll barrier
Un signal sonore -a 'beep'
Je voudrais m'abonner au télépéage – I would like to register for the télépéage
Pouvez vous m'envoyer mon badge en Angleterre (Irelande, Norvège…?) – Could you send the remote control to England (Ireland, Norway…?)