Walk or Drive …Pic Neoulous
Specially adapted for those with mobility issues, wheelchairs, prams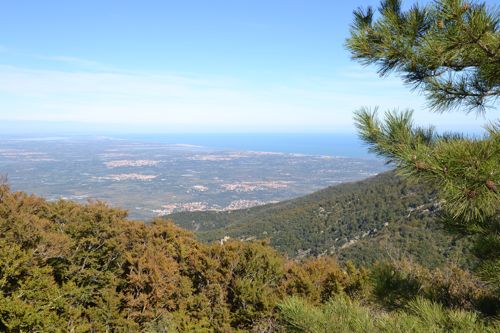 This delightful drive twists and turns ever upwards through ancient, gnarled cork oaks, chestnuts, and beech till you arrive at the top of the world – or so it seems.
Take the RN9, le Boulou – Le Perthus road, and just before entering Le Perthus, look out for the filter lane on the left, the D71 towards St Jean d'Albère.
The narrow but spectacular tree lined route, criss-crossed by well trodden footpaths formed over the years by escapees, smugglers, refugees, and shepherds, will tempt you back another time, for another visit. For now, continue past the hamlet of St Jean d'Albere (see restaurant review), and a left hand turn will soon put you on the approach to your destination, the Col l'Ouillat.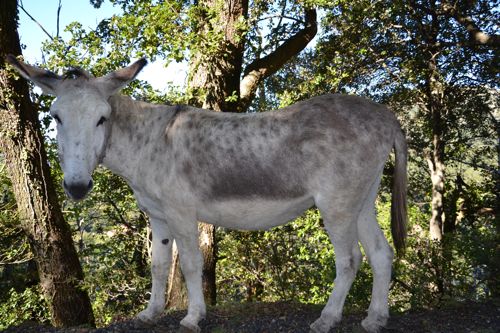 Listen out for the bells – you will very likely need to slow down or stop for the pretty, unhurried cows that graze free along the road side, or their stubborn donkey friend, who will let you pass only when HE is ready. All part of the charm of the drive.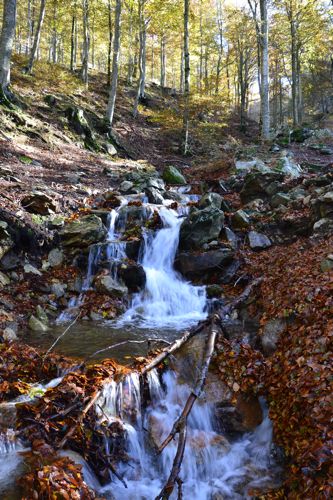 Suddenly the tree lined road opens up to wide and spectacular views. Keep climbing and you will arrive at a perfect picnic and BBQ area. Park up, grab some of that winter sun, light up a fire for your steaks, unpack your sandwiches and wine, sit on the terrace of the on-site 'Chalet de L'Albère', where there are loos for the disabled, with a warm drink or a cold beer….. or continue straight on until disabled signs welcome you to a small parking area.
The newly created path on your left has been specially adapted and equipped for the disabled, prams, wheelchairs, or those just wanting a short, easy trot in idyllic surroundings. A flat, ten minute woodland stroll past tables and benches, sparkling waterfalls, tree identification signs, brings you out at a stunning viewpoint with orientation panel. The whole of the P-O and beyond lies at your feet, edged by miles of sparkling blue Mediterranean. On any day, it is spectacular. On a clear day, it will take your breath away.