Riverchurch in Perpignan had a new pastor with effect from January this year, a Scotsman Moray McKay. Before moving to France in 1998, Moray was for nine years full-time leader of an Ichthus Christian Fellowship congregation in Carshalton, London. He trained at Moorlands College, Christchurch, Dorset from 1986-89 having previously worked for HSBC bank in London.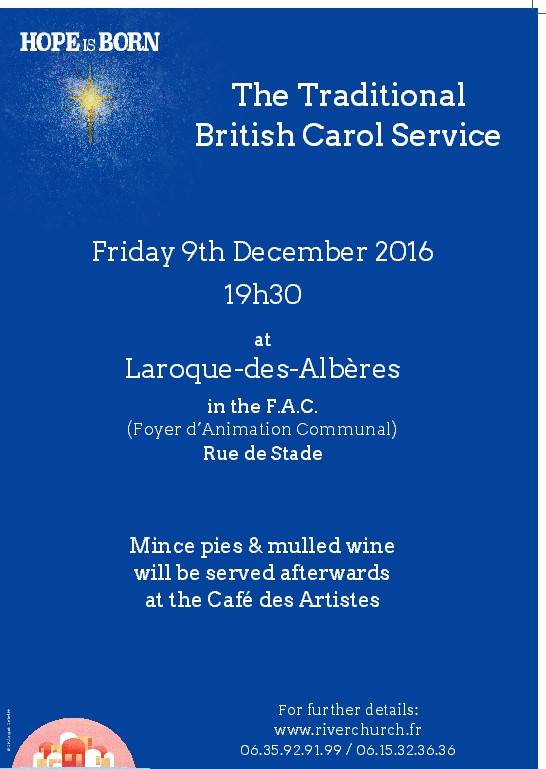 He has a strong desire to see people in the region transformed by the Lord Jesus. His gifting in teaching, preaching and admin – as well as being bilingual in French – means that he is able to lead the church on in its outreach to both English and French speakers. Moray and Ann originally came to Perpignan 19 years ago to help lead a large French protestant church where Moray was Associate Pastor while Ann led worship and the children's work and was part of the pastoral team.
Moray joined Riverchurch 2 years ago as an Associate Pastor and was ideally placed to take over as Pastor when his predecessor David Archer returned to the UK in December. Ann began helping with the worship at Riverchurch several years earlier and, now that she and Moray are fully invested in the life of the church, she has taken on responsibility for the worship team as well as being church treasurer. Ann has a TEFL qualification and teaches English to French and Spanish students of all ages.
Riverchurch is made up of young families, retirees, those in between, those new in the faith, mature, seeking, English-speaking, French-speaking, tea drinkers, coffee drinkers, lovers of French wine, or teetotal. God's love is what all have in common.
Riverchurch meets every Sunday morning, unless otherwise stated on the website, at Eglise Saint Vincent de Paul, Avenue de Gérone, close to Auchan in Perpignan. Services begin at 10:45am with refreshments served from 10:30am. Parking is available at the church and everyone from whatever church background is welcome. Children have their own activity during the second half of the service.
For more details about Riverchurch, its leadership team, coming events or what we believe, please check the Riverchurch website or contact Moray on 06 15 32 36 36.