Some days out are just for fun. Any day you choose to take the Yellow Train is guaranteed to be just that, and springtime is the perfect season! Board the connecting train at Perpignan at 7.46 or the Yellow Train at Villefranche de Conflent at 9.30, sit back and relax. (There are other trains times but this is the one to take if you want to make a day of it).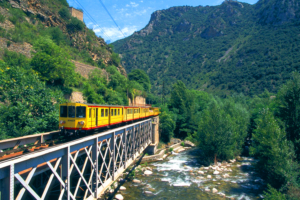 Free navettes will transport you from stations along the way to the ski resorts, reduced prices apply at the Hot baths of St Thomas (get off at Fontpedrouse) or at the ski stations of St Pierre de Forcats (off at Mont Louis) or Eyne ( off at Bolquere Eyne the highest station in France).
Stop in Bourg Madame and you can stroll into Spain for a leisurely lunch in Puigcerda. At this time of year, the snow should be melting, masses of fresh mountain air, meadows full of grazing horses, snowy peaks and a different perspective on the landscape from driving up the road. The line is a hundred years old, the pace fits its vintage, more charm than comfort maybe but for a great day out, hard to beat.