Languedoc-Roussillon
By Hortense Hargreaves
From "Le Ciel est Bleu and other poems"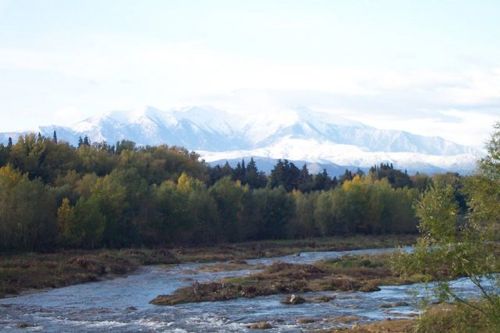 February
Hills.
Through the snow mimosa stretches.
Branch upon branch of glistening yellow
Reaches towards 'Canigou',
mountain of church-like splendour.
So many dark days lived by all.
Forgotten? Not yet.
Cherry orchards.
A paradise of fruit so red, so dark,
so utterly devoid of shame, waiting
for the right moment to please, nodding
towards the pine trees, palm trees,
majestic and statuesque flirting
coyly in the breeze.
And then the vines.
Pruned to perfection and kissed by the sun
like soldiers, ready to serve
and soon
in triumph will offer the fruit – but not yet.
Come, see for yourself
this land hammered from rock
its people chiselled from history.
Above the towns
bold symbols of ancient conflicts
the fortresses squat benignly now.
Gold and red, the colours of honour
as we hear the sounds of the 'Cobla'.
The planes fetch and carry
and we think we know – but do we?