Les Arbres Remarquables
Remarkable Trees, in lovely places
With Lynn Hall
---
Whilst cork oaks (chênes lieges) are plentiful in this southern part of France, few reach such a majestic size as this magnificent tree in the grounds of Mas Santol, Reynès, believed to be the largest in the P.O.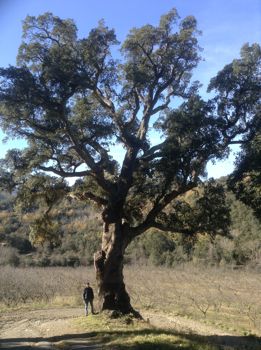 The owners, M. & Mme Arnaudiès, are so proud of their fine tree that visitors are welcome to come and admire. There are a number of cork oaks in the same glade, but this splendid specimen has a girth of 5.10 metres and an approximate height of 20 metres. Unlike many in southern France, it is sufficiently sheltered from strong winds for the canopy to have also achieved an impressive spread.
The estimated age of the tree is between 250 and 300 years. This is generally viewed as the maximum age for a cork oak.
---
Mas Santol directions: from Céret either take the scenic route via Col de Boussells heading towards Reynès village on the D15 or from Céret's Pont du Diable take the D115 direction Amélie, through La Cabanasse and turn left on the D15 towards Reynès village, then take a left fork at the sign for Col de Boussells and continue until you see a sign for Mas Santol on the left. Map: Carte de Randonnées No. 10 Canigou. The Mas is well signposted and is included in a circular walk of 13 km included in the free guide 'le Petit Guide Rando', available in Céret and le Boulou tourist offices.
---



For another favourite, visit the small village of Taillet, perched on the edge of the Vallespir, to admire the views, visit the church of St Valentin, and if on a Sunday, (or by rendezvous, tel. Tel. 06 85 42 24 26.) check out the charming boutique of 'artisane globe troteuse' Pétrouchka.
Whilst there, walk down the slope past the Mairie and, ahead of you, see another giant among cork oaks. This has a girth of 3.80 metres, a height of approximately 16- 18 metres and a similar spread to the canopy. Local opinion puts the age at least 200 years.
---
Taillet directions: from Thuir/Fourques follow the D615, turn left at the Col de Llauro (D13), drive on through Oms and turn left onto the D63 at the sign for Taillet. (Approximately 20 minutes from Col de Llauro). Or, from Céret (about 25 minutes) take the D115 direction Amélie, cross the Tech at Pont de Reynès, head towards le Vila and take the right hand fork onto the D63, sign-posted Taillet.
---
Turn this into a scenic afternoon circuit by returning via the village of Oms.
As seen after the extensive forest fire just across the border in 2012, cork oaks have an amazing ability to regenerate after appearing to be completely destroyed. Trees with carbonised bark are now displaying plenty of leaves, whilst nearby pines and many deciduous oaks are completely dead.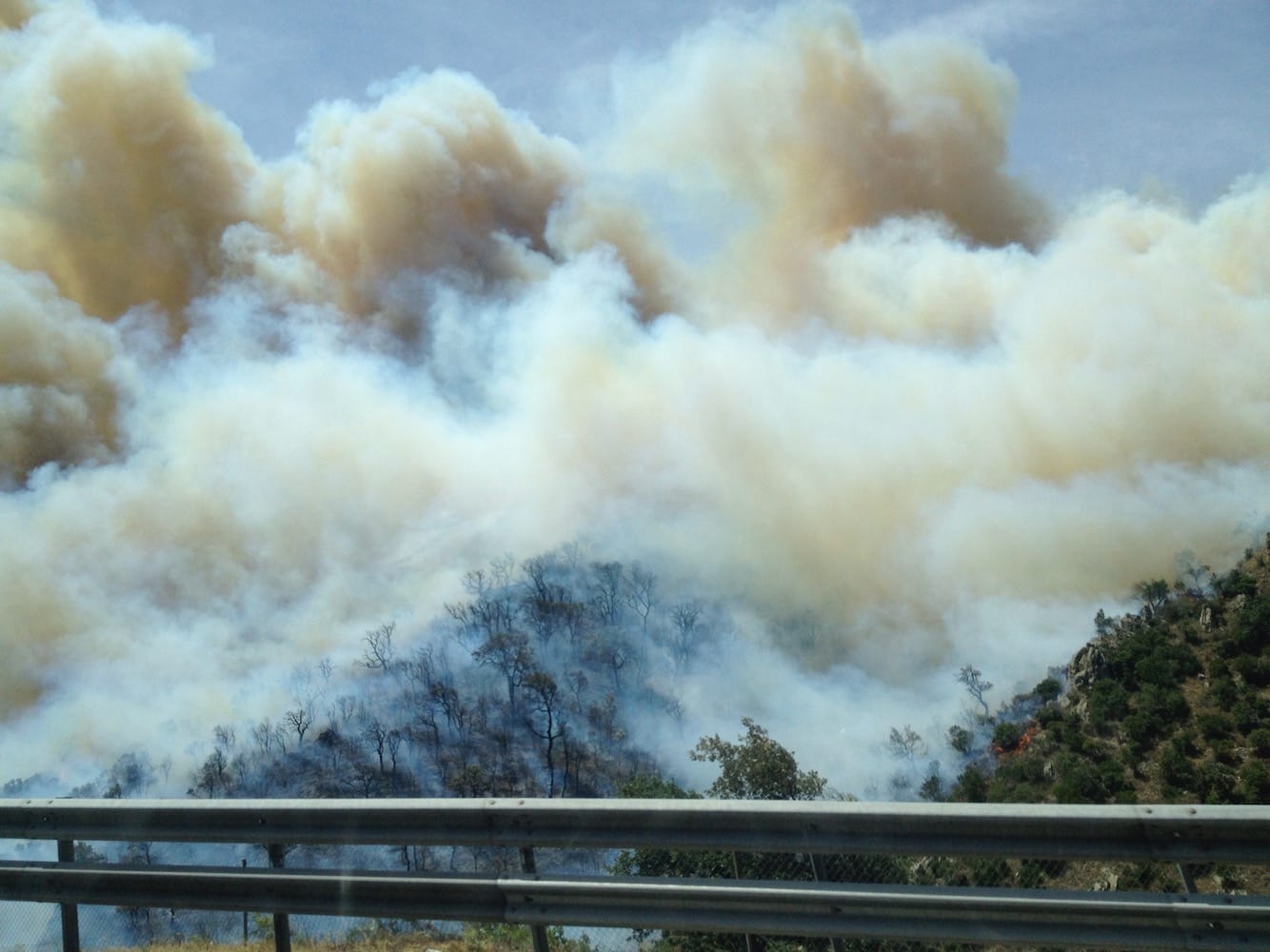 The bark of the cork oak has benefitted humankind since Roman times or earlier. Cork can provide insulation material, fishing floats, insoles for shoes, fishing rod grips, notice boards, flooring, gaskets and washers – and, of course, stoppers for wine and champagne bottles. The latter still an important industry in the Vallespir. Cork production has declined over recent decades, but increasing interest in renewable sources promises a renewed vitality for this ancient trade.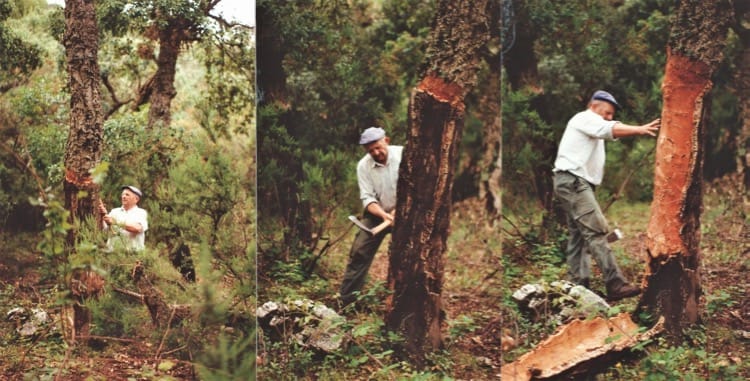 The orange trunks of recently harvested cork oaks have a beauty all of their own. The bark can be removed every 10 to 14 years. The actual interval depends on local conditions. Portugal and Spain are responsible for over half of all cork production. Portugal's' advantage over France is that of higher rainfall in the prime growing regions.
---



Surrounded by cork oaks, there is an interesting museum in Maureillas, unique in Europe, dedicated to cork, the main village industry in the past. From tree to finished cork, there are videos, ancient machines and tools, mini-sculptures in cork, cork art and furniture…..and the biggest cork in the world, 2,40 metres high with a diamètre of 1,30 metre.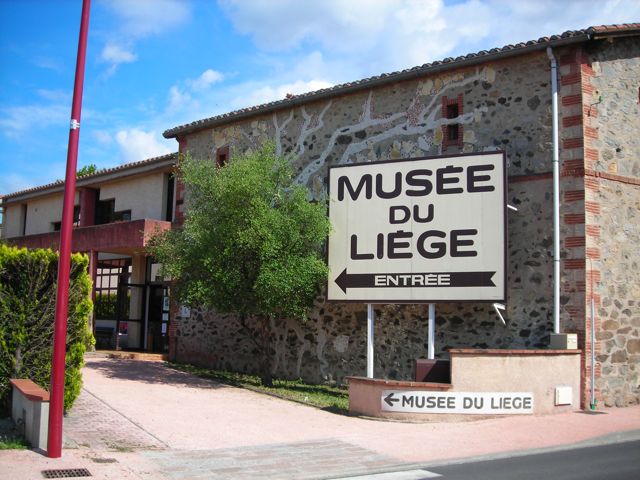 To learn more about these beautiful and useful trees visit the Musée du Liège in Maureillas 04.68.83.15.41
Cork Manufacturing in Céret

Cork manufacturing has been an important industry in the Vallespir since the 1930's, but started to decline when many wine makers began using plastic corks. Now, thanks to Céret-based company DIAM that decline has been reversed.
As part of the global company Oeneo, the intensive research programme conducted by Diam over many years saw the development of a revolutionary patented process which enables them to manufacture a new style of cork closure. This process eliminates the two greatest problems that might be caused when using this otherwise excellent renewable resource. These were a musty-smelling taint caused when a cork is infected by a substance called trichloroanisole (TCA); and secondly variations in porosity to air, which can affect the oxidation of wine as it ages in the bottle.
Diam has two main sites for cork manufacturing – one in Spain near the border with Portugal, and the impressive new plant in Zone Tech Oulrich, completed in 2014 and which was built on the site of their original base. Great news for Céret – and wine lovers everywhere.
For wine buffs who would like to know more – check out their website: www.diam-closures.com