La Pierranne
Reviewed by John Fairclough in 2012
Despite being the brunt of many cheap jokes over the years, the good people of Belgium have had the last laugh where food and drink are concerned. For example, Brussels has relatively more Michelin starred restaurants than either Paris or London. Chips, or 'French Fries', are, in fact a Belgian invention, and Belgium's beers routinely win far more prizes than the output of UK or German breweries..
So when I discovered that the owners of the " Pierranne " restaurant in Villelongue dels Monts are Belgian, I was very optimistic. Having visited it several times now, my optimism was not misplaced. Well sited in a modern row of shops in the heart of the Albères village, it's easy to find and park. Peter and Anna who, like all Flemish Belgians, speak flawless English, are very friendly, welcoming hosts, and there is a warm atmosphere in the small dining room.

During the summer, food choices surround fresh market ingredients. A 3 course small set lunchtime formule costs 13€90, varied every day, and is remarkable value.
Every day there is plat du jour at 9€50, available lunch and evening, when the menu options range from 19, 26 , and 32€ .
On our most recent visit, the 26€ menu offered, amongst its starters, salmon tartare with a very interesting curry infused oil dressing, mixed local charcuterie, and the ever-popular moules gratinées. Mains featured a tender entrecote steak with choice of sauces, grilled fillets of red mullet with lemon reduction and fennel, and a delicious osso bucco, done to Anna's recipe, which she was rather cagey about divulging!
Every day, on all menus, in addition to healthy Mediterranean and classic French fare there is always a Belgian speciality. This time it was chicken vol au vent, but other regular ones are Carbonnade Flamande (beef cooked in beer) or Waterzooi (a creamy chicken stew from Ghent) .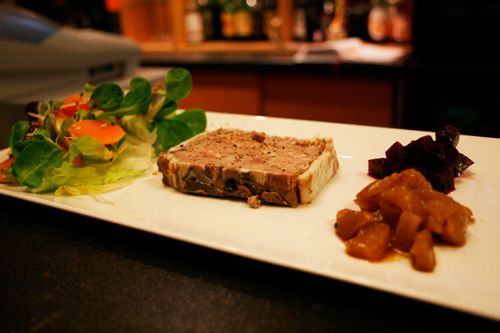 Sweets were varied, with the popular Belgian chocolate Dame Blanche or Noire, and Apple Crumble with pain epicé ice cream worthy of mention. Cheese is also an option, and this varies from day to day, too. The 32€ menu runs very much along the same lines, but clearly features more expensive ingredients , such as foie gras and fillet of beef.
Wines are on a small, but well chosen list; the vast majority from producers in the local Albères region, and starting at a very reasonable 14€ a bottle. an excellent pichet wine is also available at 7€50 per half litre. Some fine Spanish cava is there too. Being Belgian, Peter and Anna also regard beer as an integral part of the meal, with Jupiler draught, plus 13 other bottled examples from all over the country on offer, including some of the famous ones made by Trappist monks!
Of course, in addition to those wishing to eat a full meal, anyone who' d like to just pop in for a wine, beer, a nibble and a chat is equally welcome.
In summary, I'd say that La Pierranne offers something distinctly different on the local dining scene, particularly for lovers of Belgian cuisine and beer. All in a very welcoming and convivial atmosphere. The restaurant is small (max 10 tables), so, particularly at busy times, I'd recommend booking or phoning in advance to check.
.[/vc_cta][/vc_column][/vc_row]