Spring Restaurant Reviews
We love publishing your reviews. They're honest (mostly!), objective (hopefully!), unrelated to advertising (bien sûr!) and cover a wide range of tastes, prices and places.
You might not always agree, the chef might be having a bad day, your standards might be higher… or lower… but they give you an idea of what's available across the region.
YAY IT'S SPRING AND OPEN AIR EATING IS BACK ON THE MENU!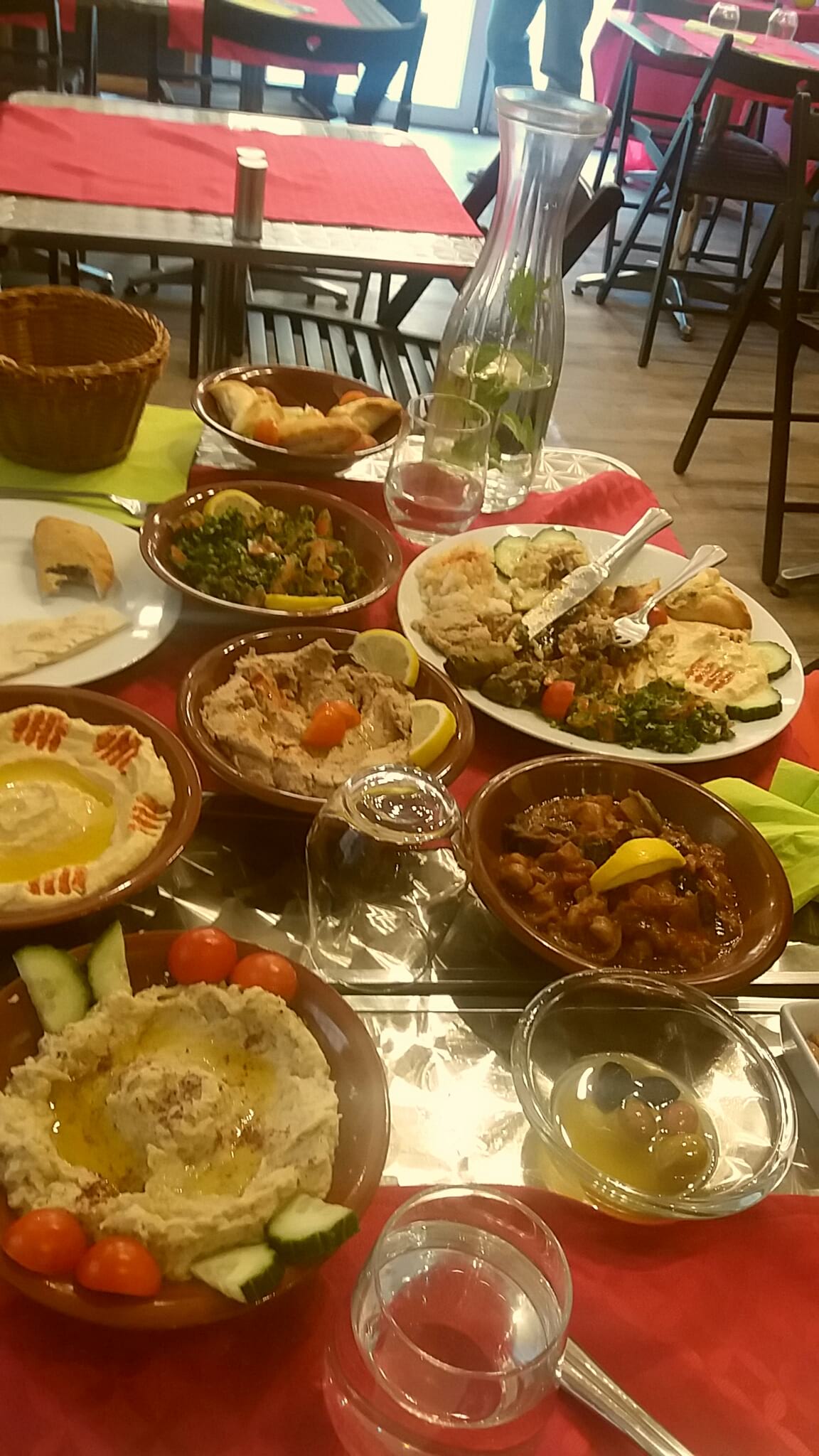 LE LIBANAIS, PERPIGNAN…..
with Suzanne
Lebanese chef, Mehdi Reda, recently opened this spotlessly clean, modern and relaxed restaurant. Something for everyone including vegan and vegetarian. Cold or hot starters such as fish caviar or lentil salad at 4€ and 4,50€, hearty main of couscous (vegetarian, boulettes, poulet or merguez), marinated fish or a chawarma at 10€ and 12,50€.
We tried the Mezze plates (a combination of hot and cold appetizers). What a feast! My favourites were the falafels, spinach wraps and beef chawarma. Everything is made with the freshest of ingredients. Desserts including cajou nut baklawa and Libanais flan, looked delicious and were just 1€! No, this is not a misprint ! I recommend without hesitation.
45 rue Foch
Perpignan
Tel 0769 2826 10
(No reservation needed)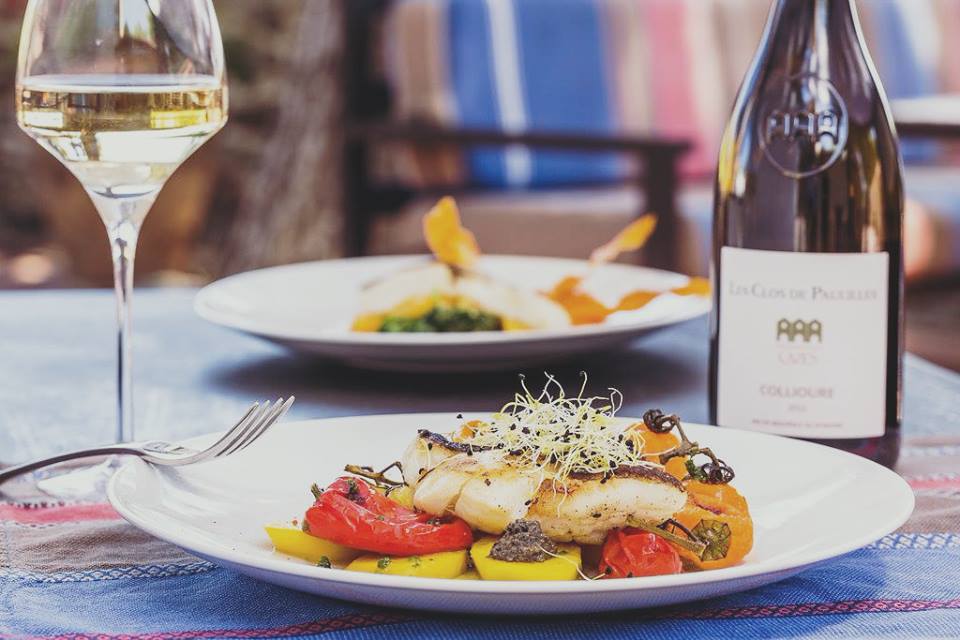 LES CLOS DE PAULILLES, PORT-VENDRES…..
with Gillian and Mark
Idyllic setting for lunch or dinner. We chose the lunch Menu of the Day for 32€ for 3 courses but there are different priced menus to suit everyone. A glass of rosé at the outdoor bar adjacent to the vineyard with views to the sea was a delightful start. The actual restaurant seating is set in a tree covered courtyard, surrounded by old stone walls. The walls have long rectangular viewing slots cut at seating height providing views over the vines.
The food on each visit was extremely well presented and delicious. The staff were helpful, not too attentive and very pleasant even though it was busy each time we were there. Definitely a restaurant I would recommend. I think it would be lovely in the winter as there is a fireplace inside the main restaurant.
Baie de Paulilles
Port-Vendres
Tel 04 68 81 49 79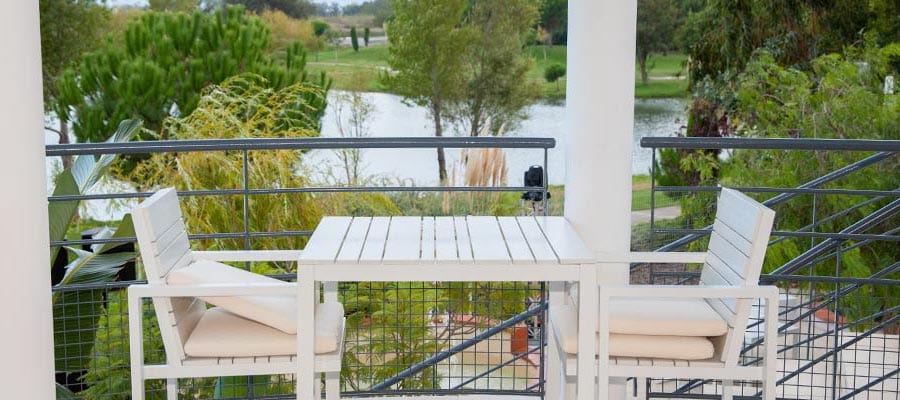 LE GLOBE, SALEILLES…..
with Malcolm
I'm tempted to keep this to myself! You'd certainly be unlikely to stumble across it. Take the voie rapide Argelès- Perpignan, come off at the sign for Saleilles, turn right and right again. The industrial looking building with a blue wave frontage is the Globe. It looks closed as you play with the doors but it isn't. Inside it's huge with an enormous ship shaped bar and gallery staircase to the restaurant and a landscaped lake and walkways at the back.
Large, comfortable seats and generous tables with friendly staff. We ordered the lunch menu du jour at 18.90€ with a well executed duo of slow poached eggs served with smoked salmon and wholegrain toast, confit du canard and a sharp and lovely citrus ice cream and meringue desert. All excellent and good value for money in spacious surroundings. A good stop into or out of Perpignan or if you're going to the cinema. Now my secret is out.
16 Rue de la Cerdagne
Saleilles
Tel 04 68 22 22 22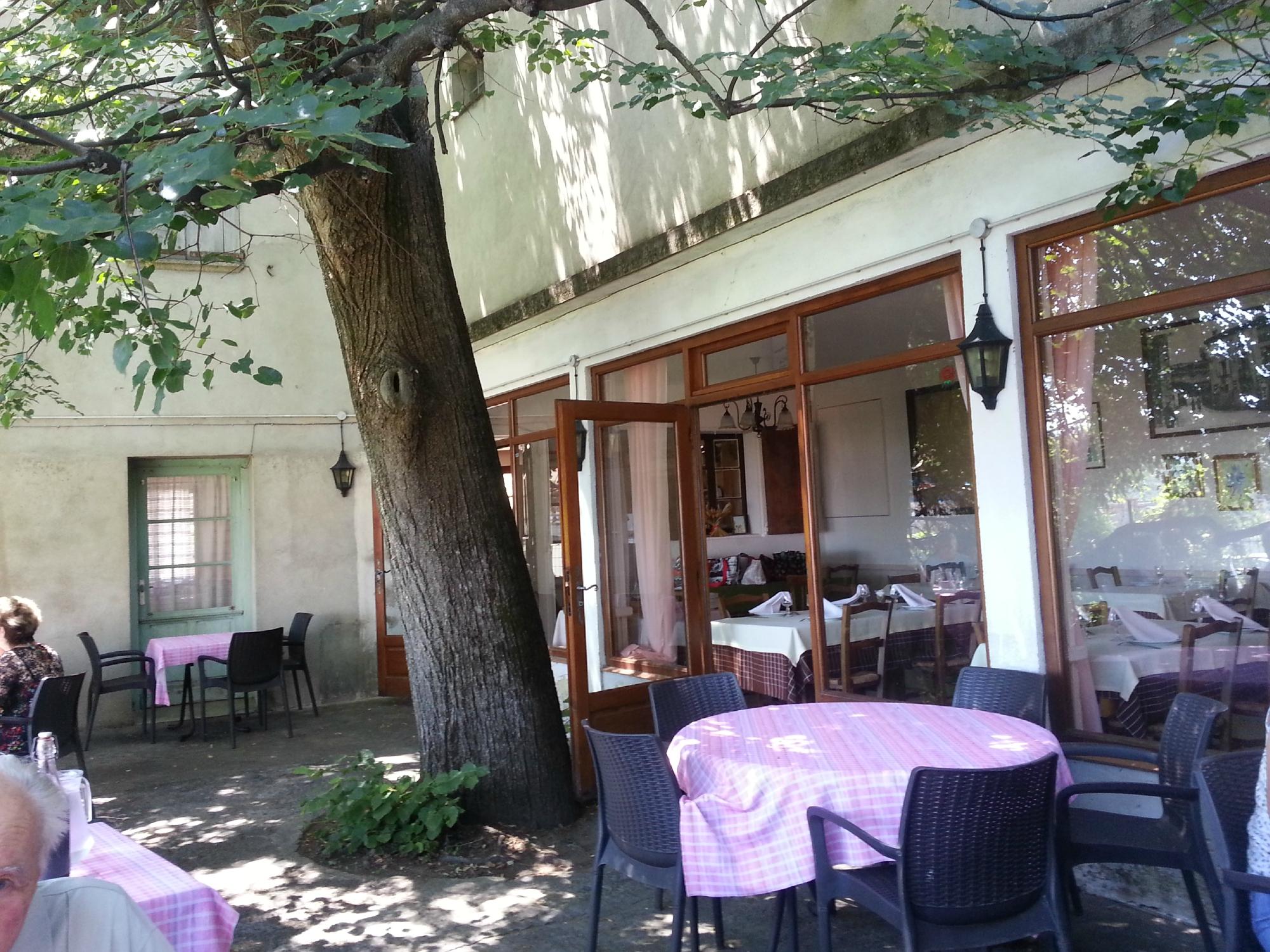 CHEZ FRANÇOISE, CORSAVY…..
with Jeff
In the back room of a grocery store, 5 or 6 course meal, all local products, all very good (best carrots we have ever tasted), with wine included usually costs around €32. Well worth it if you can afford it. Corsavy is 850 metres above sea level and there is a wonderful panorama from the restaurant. If you ask, the owner will give you the key to the church in the village and you can visit it. Better to call in advance to be certain that it is open.
Rue Baptiste Pams
Corsavy
Tel 04 68 39 12 04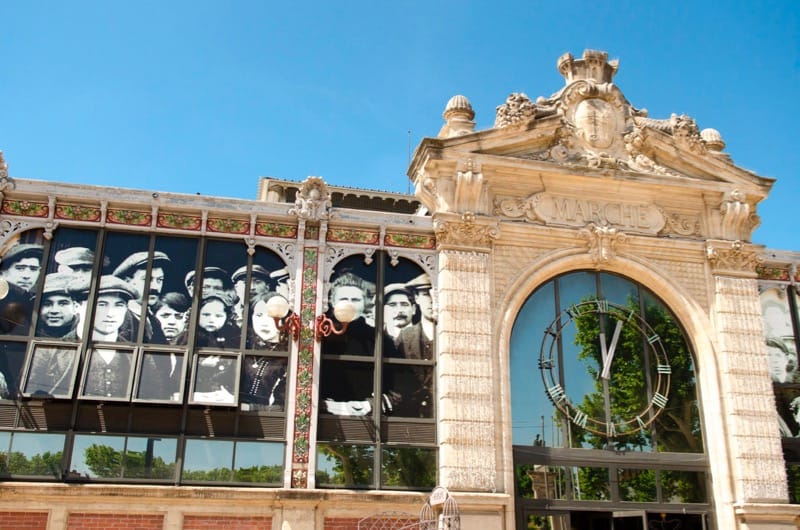 LES HALLES, LE HAUT & LE BAS, CANET PLAGE…..
with Kate
Formerly Mar I Bouddha, this restaurant has been taken over by Pierrot, Canet born and bred, who used to work alongside Heston Blumenthal at the Fat Duck.
Friendly, spacious, clean and several interesting twists in the food, the 'cadre' is fabulous, with boats coming in and out of the port mouth, the sandy beach on one side and the marina on the other. Meat and fish are set out market style (Les Halles – indoor market) for you to see and choose and everything is fresh of course.
Menus priced at 18€ and 24€ + à la carte and an upstairs terrace and cocktail bar with comfy chairs and cushions is the perfect setting to watch the sun sink down over the ocean surrounded by sea, sand and sails.
Promenade Al Cudia
Parking d'Ajaccio
Canet en Roussillon
Tel 06 70 61 51 33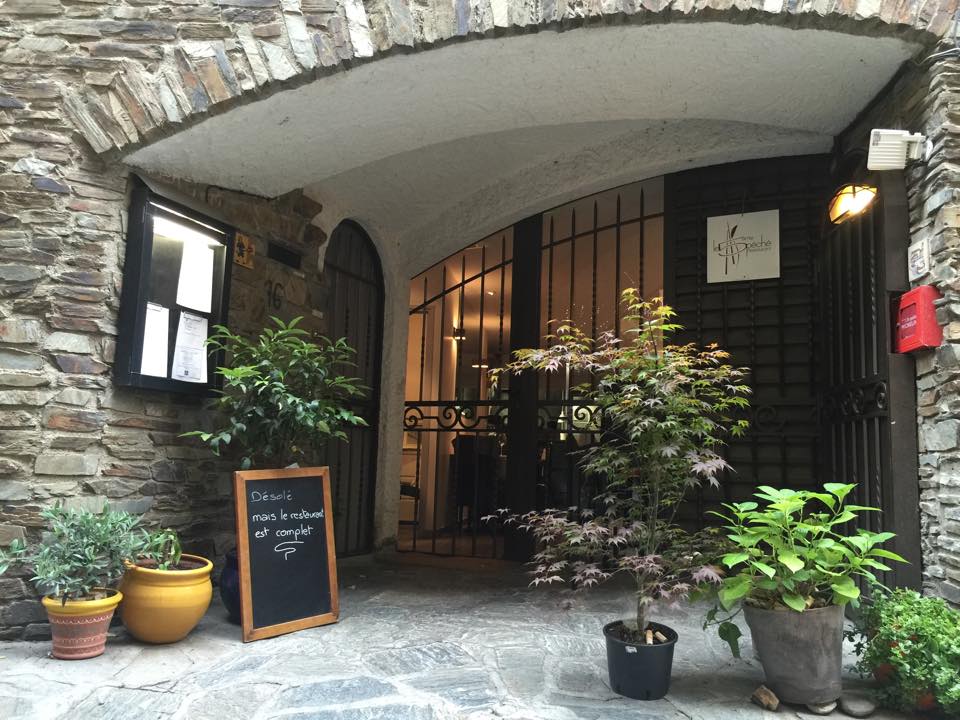 LE 5ÈME PÉCHÉ, COLLIOURE…..
with Richard and Sharon
Japanese owner/chef, Masashi Iijima, delivers creative fusion of Japanese and Catalan flavours. I am not generally a fan of fusion, but this is done beautifully and it works. Alchemy with food!
It is not cheap eats, but I think it is decent value considering the quality. My guess is he will gain a Michelin star before too long, so maybe worth trying before it inevitably gets more expensive.
A tip: if you enjoy watching a talented chef work his magic, ask for a seat at the counter rather than a table. Most ingredients are locally sourced – except the flying fish that is. We've not spotted them in the bay lately!
16 Rue de la Fraternité
Collioure
Tel 04 68 98 09 76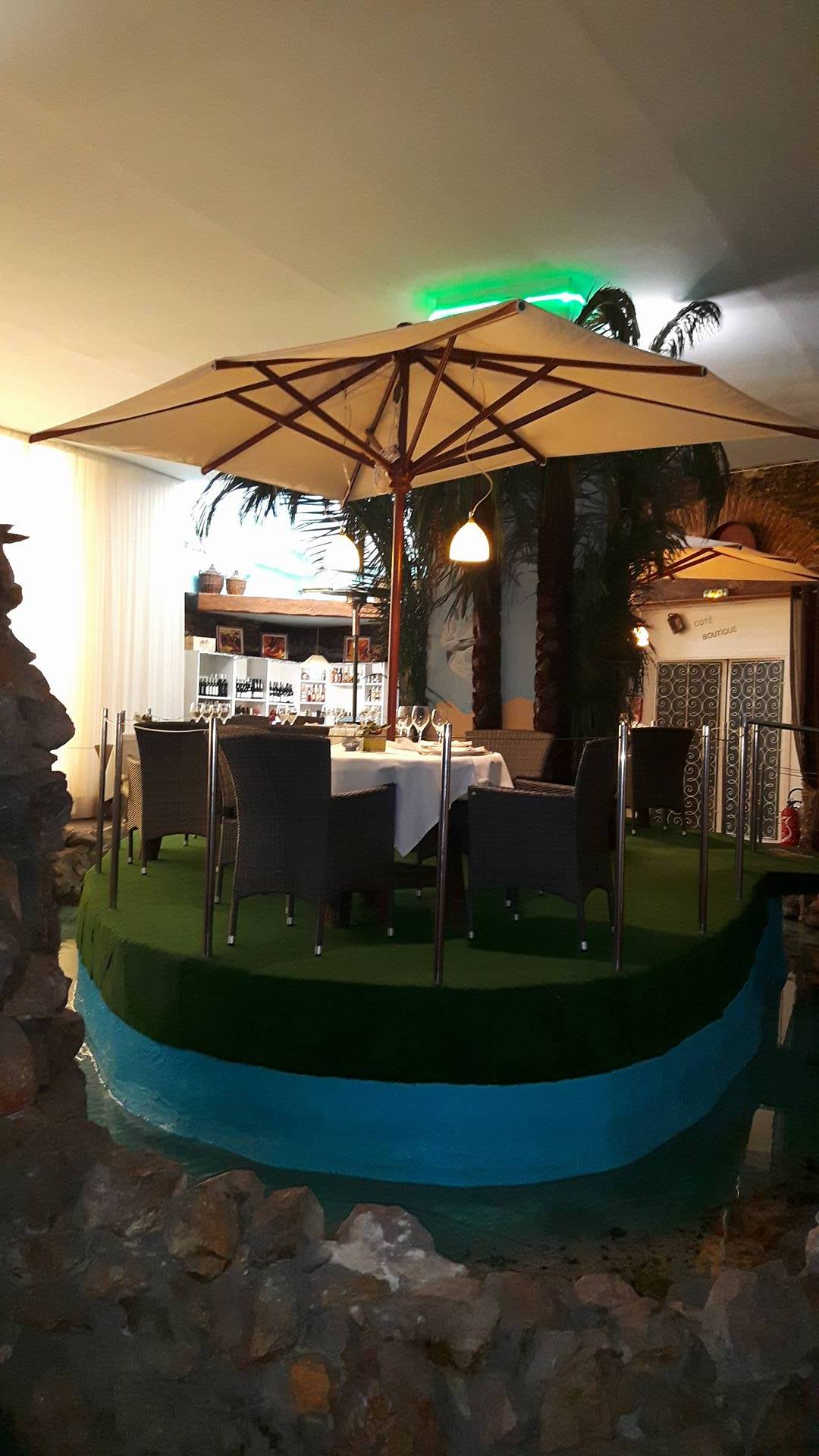 L'ARCHIPEL, PORT-VENDRES…..
with Fiona
Situated on the shady side of Port-Vendres, this is a real find. I went recently with friends and we had a truly delicious meal, served with a smile from Elisabeth. Good range of menus, plus à la carte at excellent prices. The fresh fish of the day and the duck in a Banyul's sauce come highly recommended. If you're rather partial to Banyuls, then you won't want to miss the 'Pruneaux Marinés Maison au Banyuls et sa glace' to follow. There is also a rather tempting huge, home-made profiterole. The setting is exotic, with tables set amongst foliage and a bridge over water.
6 Quai de la Douane République
Port-Vendres
Tel 04 68 82 23 26
LONDON BUS CAFÉ,
CASTELLÓ D'EMPÚRIES

…..

with Peter

If you yearn for good old UK cooking then you'll love the red London Bus Café (exactly that: a London bus) as it serves up excellent traditional Sunday roast dinners and the best fish and chips this side of the channel. They also provide good local menu options with the accent on Catalan cuisine. Jez runs the show and Sam does the cooking and you also get a superb pint of Guinness. Situated on the golf pitch and putt near Castelló del Empúries, there is golf for those who partake, great shopping in nearby Figueras centre, beach at Roses or Empuriabrava…… a great day out.

C/La Closa dels Frares
Castelló D'Empúries
Tel +34 609 78 85 16
CAL SAGRISTA,
PERALADA

…..

with Peter

We found this gem when looking for a restaurant near the Peralada castle before one of their summer concerts. In the backstreets of Peralada with a very nondescript exterior but once inside you will be pleasantly surprised by the menu, the views – and the outstanding dessert trolley. Excellent choice of meals and friendly service.

Carrer de la Rodona, 2
Peralada
Tel +34 972 53 83 01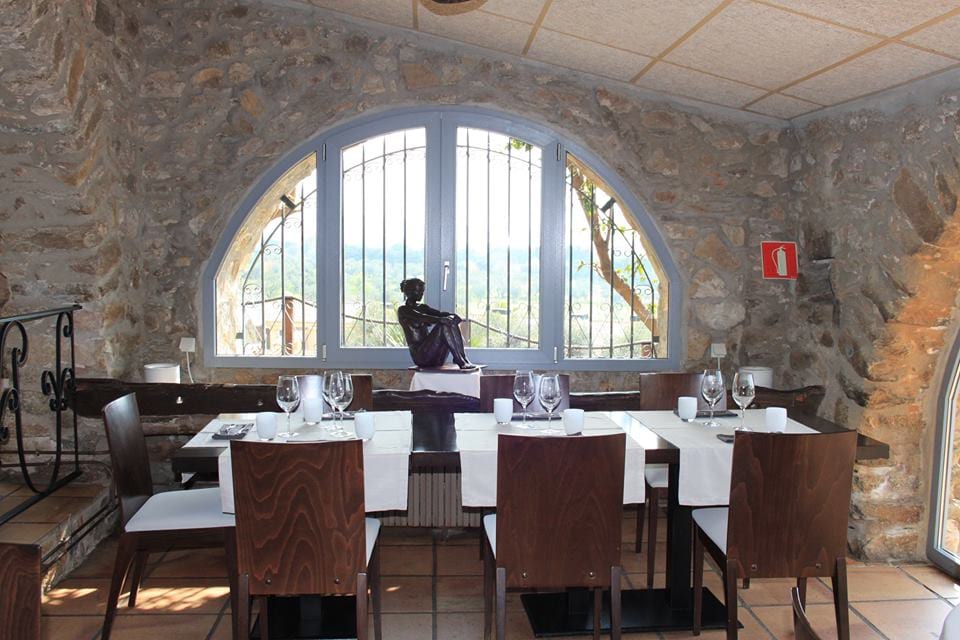 NOU FUSIÓN,
P

ALAU SAVERDERA

…..

with Caroline

A super restaurant in Palau Saverdera, not far from Roses. A fusion of East meets West at very reasonable prices and with superb waiting staff. English spoken!

Urb. Can Isaac, C. Holanda s/n
Palau Saverdera
Tel +34 972 53 07 27