"How do I watch thee, let me count the ways"
An update on UK television in the Pyrénées-Orientales
By Allan Wallis
The satellites that broadcast British terrestrial channels (BBC, ITV etc.) have now all been replaced with newer models. Unfortunately for us, these focus their transmissions on the British Isles, their intended reception area. To receive these channels, we now need a much larger satellite dish, at least 150cm in the North of the region and 180cm South of Perpignan.
However, since the changeover many people have come up with ingenious ways to watch UK television, mostly streamed from the Internet. The principle service used is Filmon, which offers a basic service free of charge, or an upgraded service for a fee. Filmon can be watched on a variety of devices, including PCs, Macs, iPads and Android as well as Smart TVs and Blu-ray players that offer internet connectivity.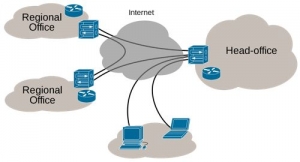 BBC, ITV and the other main broadcasters all offer their programs on-line or as catch-up services – BBC iPlayer, ITV-Player etc. These all require you to be in the UK – or at least appear to be. To fool them you need to subscribe to a VPN (Virtual Private Network) or a SmartDNS. For most people a SmartDNS is the simplest and best option. The main ones are Overplay and UnoTelly but there are many more. My personal preference is for Overplay as I know it works with a wide variety of services but I am sure there are others that are just as good. The average price is around €4 a month.
With a SmartDNS, you have access to a wide variety of TV services including Sky Go if you have a Sky account (or a friend's login details).
Of course you probably don't want to watch TV on a computer and there are many ways of getting the program onto your TV screen. Some devices can by connected to a TV via a cable but to do so wirelessly you generally need an Apple TV, an Android TV box or a Google Chromecast, all devices that you leave permanently connected to your TV. An Android TV box is a self-contained solution, whereas Apple TV and Chromecast are used in conjunction with another device such as an iPad or Android tablet.
Don't throw your dishes away just yet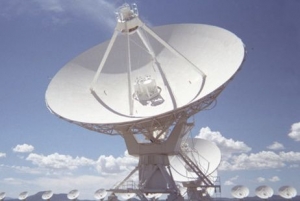 There are still several hundred English language channels available on Sky, you just need a subscription. A Sky subscription starts at £21.50 a month. It cannot directly receive the terrestrial channels but most programs are available on Sky Anytime, their catch-up service. You simply tell it to record a past program and it appears in the program guide like any other recording. The quality is the same as the original broadcast with no buffering. If you are not bothered about watching programs live then this is a very elegant solution and it skips most of the adverts for you.
If you are a bit of a risk-taker, you could gamble on Intelsat 907 which provides a back-up service to Freeview. It is not intended for public use and the system is encrypted, but £150 buys a receiver that can receive and decrypt the channels on a 90cm dish. The dish needs to be turned about 60˚ to the West. The gamble is that the encryption key is changed around 3 times a year so you will lose reception until somebody finds the new code.
Sling your TV.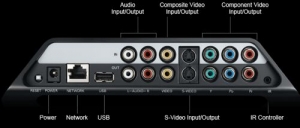 Well not literally, but if you have a home in the UK as well as France then you can plug a device called a Sling Box into your set-top box in the UK and connect it to the internet. You then watch it from anywhere that has an Internet connection. If you have a subscription to Sky or cable TV, you can do everything in France that you could do in Britain, including sub-titles.
To watch it you need a PC, Mac, IOS or Android device. Even if you don't own a home in the UK, a friend or relative might help but remember, you are taking over the box and if someone is watching it in the UK, they might get upset if you change channels!
A lower cost alternative to a Sling Box, is a Belkin @TV Plus, £39 on Amazon, not quite as slick as the Sling box but works perfectly well.
The good thing is that you don't need a fast Internet connection. These work perfectly well at speeds under 1Mb which would render most on-line systems useless, and there is no ongoing cost.
Zattoo may be all you need.
Zattoo is a Switzerland based service that shows UK TV live. Fortunately, clever Overplay easily fools it into thinking you are in Switzerland, at the same time as fooling BBC into thinking you are in the UK. The service is free but you have to put up with adverts every time you change channel. Zattoo really comes into its own however when you pay a subscription ranging from €6.60 for a month to €54 for a full year.
With a subscription you skip the adverts, get a higher quality service, a 7 day catch-up service and almost unlimited recording. You can only subscribe to Zattoo through the Google Play store, or with a Swiss Bank Account. Certainly this is one of the best services that I have looked at, particularly with a subscription.
On-line TV service providers.
If you are a true technophobe and want someone else to set everything up for you then there are lots of services aimed at you. Herman of Sky Digi (www.skydigi.fr/ )was kind enough to loan me a set top box connected to a service provided by Skycards.EU. This provided access to the normally free to view UK channels and it worked pretty well. I connected on a 2MB Orange ADSL line without significant buffering. Changing channels was as easy as pressing channel up or channel down and the lag between choosing a channel and it playing wasn't too bad. Picture quality wasn't marvellous but may have been better on a faster connection.
When I got the box their catch-up service was down but it was restored after a few days, I also had a few problems with the box not starting up when powered on but nothing serious. Sky-Digi charges up to €320 to supply the box and set it up with all necessary cables and connectors, the service is then €18 a month or €200 for a year.
An interesting variant on this is that they will rent boxes for a week at a time for €15 a week, this may well be of interest to people with holiday home owners or agents.