Les Feux de la Saint-Jean & La Trobada du Canigou
On and around June 23rd

2015

–

Perpignan (full programme below

)
14th and 15th June – Trobada del Canigo
21st June – Departure of flame from Perpignan towards the pic du Canigou
and lighting of fire at midnight of 22nd
22nd June – lighting of fires in all the villages and towns as they receive the flame

The first midsummer fire on Canigou in modern times was lit on 23 June 1955 by Francois Poujade and fellow USAP rugby fanatics – both to celebrate his birthday and Perpignan's victory over FC Lourdes in the Yves du Manoir Challenge cup.
Between 1957 and 1963, a local group of young people devoted to good causes, enlarged the event, extending the midnight fires to 20 further hill tops and watch towers. French Catalonia was truly ablaze!
La Trobada
A lovely tradition to celebrate the Summer Solstice of St Jean around the 23rd June is the meeting of Catalans from both sides of the Pyrénées on the summit of the Canigou.
Troops of walkers and representatives of villages and towns throughout Catalonia make their way along the track known as La Piste du Llech (a five hour walk), on foot, by horse, mountain bike or 4x4s, to Les Cortalets (altitude 2,150 metres), below Canigou, about a week before the solstice bonfire. With them they bring faggots of vine cuttings – symbols, like the fire itself, of "love and peace" to be deposited the following morning round the iron cross at the summit of Canigou.This gathering is known as the "Trobada" (a catalan word meaning "meeting" or "reunion").
Communal Feast
Tents pitched, they quickly get down to the serious business of preparing the food.
'Grillades' of pork and lamb chops, belly pork slices, sausages and black puddings braised on huge metal trivets over glowing faggot embers. Olladas, huge stews of pork shin, tails, sagi (salted, slightly rancid pork back fat), black puddings, sausages, cabbage, potatoes, leeks, carrots, celery, dried haricot beans, thyme, bayleaves … simmered for at least two hours, traditionally in an old fashioned 'tupí' or glazed earthenware pot.
There might be el cremat or cinnamon-and- rhum flavoured "burnt" coffee, Xocolotada (or Xicolotada), a posh version of cocoa, which goes well with a sweetened version of fougasse, a flat, sculpted bread handed round on many communal occasions.
Add some guitars and traditional Catalan instruments, and of course, the 'purro' – a sort of glass decanter with a long slim spout from which you pour sweet muscat down your throat before passing it on to your neighbour – and you soon have all the makings of a great party in a fabulous location.
The bonfire
The next morning, after much feasting and very little sleep, the hardier participants make the four-hour climb to the top of Canigou, with their bundles of faggots and copious quantities of ribbons and bands in the famed Catalan colours of sang et or, (blood-red and gold.) The faggots, bearing the name of each commune, are piled and tied to form a huge bonfire round the ancient metal cross on the top of the mountain.
Les feux de la Saint Jean
A week later, at midnight on 22 June, the fire is lit with a flame permanently kept alive in the Casa Pairal. A flaming torch, kept throughout the year at the Castillet in Perpignan, is carried to the top of the mountain and used to light the bonfire which can be seen all over the Conflent. The next day, relay runners carry the "flamme du Canigou" down onto the plain to all the villages they pass through on the way to Perpignan and in the evening, these flames light the "Focs de la Sant Joan" or "Feux de la Saint Jean", fires that have been prepared in towns and villages all over the region. With the arrival of the torch, and the lighting of the fires, the festivities begin.
In Perpignan for example, this consists of music and dancing, fireworks and laser display, a giant screen in front of the Castillet showing the procession of the flame and its presentation by runners, the traditional ceremony of the sharing of the bread (le partage du pain) with shepherds from the Canigou, son et lumière………. but there is some kind of celebration in most towns and villages around the region.
Click here to check out the festivities in Perpignan
It is a night for celebration and an important symbol of the unity of the Catalan culture
Herbs are traditionally an important part of the Feux de la Saint Jean as it is said that their curative powers are 100 times stronger on this particular evening. Rosemary, thyme, verbena and other herbs are picked and made into bouquets and garlands – verbena in particular is supposed to have mystical properties and act as an aphrodisiac, whilst carlina (a type of thistle shaped like the sun) is also believed to have aphrodisiac qualities and is nailed to the doors to protect from evil spirits and to prevent 'mauvaises fées' (bad fairies) from entering the house.
EVENTS
A selection of typical yearly events throughout the region on 23rd June.
Check with your local tourist office for a more accurate and detailed programme on events where you live or are staying.
Canet
Music and dancing
Arrival of the flame and dégustation (tasting)
Feu de la St Jean Place San Marti au château.
Bal
Banyuls-sur-Mer
Parades and arrival of the flame. Bonfire and music on the beach.
Sardanes sur la place Paul Reig
Port Vendres
Place de l'Obélisque – arrival of the flame and sardane
Fireworks, music and dancing
Argelès
Fête des Feux de la Sant Joan.
Total Festum : fête et feux de la Saint-Jean Llevant de taula
Music with cobla
Veillée catalane at 20h15
Arrival of the Saint Jean torch and concert
sardane
Foc de Sant Joan
Arrival of the flame with parade accompanied by the Gegants d'Argeles, les Cantaïres, le Foment de la Sardane and singers
Correfoc, fireworks and 'bal'.
Prats de Mollo
Music and big bonfire in the square
Maureillas-las-Illas
Music and fireworks at Prats de la Farga
Villeneuve de la Raho
Fireworks and 'bal' on lakeside.
Casteil
Lighting of the fire. Sardanes, bbq…..
Thuir
Lighting of the fire. Sardanes, tastings of traditional Catalan food and wine…..
…….and many, many more events all over the Pyrenees-Orientales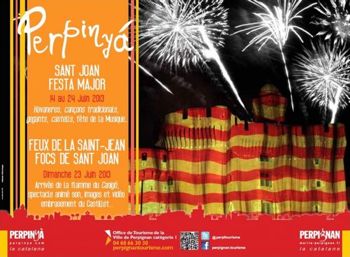 PERPIGNAN 2014
Saturday 14th June
21h00 Place de la République.
Festival des chorales de la Federació de Cors de clavé, six chorales de Catalunya Nord.
Info: 04 68 62 38 82.
FRIDAY 20th JUNE
21h00 Place de la République.
Trobada d'havaneres
Llotja de Mar, Veus de l'Estany, Mariners del Canigó.
Info: 04 68 62 38 82.
SATURDAY 21st JUNE
20h00
town centre
Fête de la musique.
Info: 04 68 62 38 57.
Granda diada de la Sant Joan.
10h00 – 12h00
Centre-ville.
Parade of the giants.
11h00
Place de la République.
Trois sardanes. Cobla Mil·lenària.
14h00 – 17h00
Castillet, 1er étage.
Workshop: learn to make 'ramallets'.
15h00 – 19h00
Allées Maillol.
Aplec de sardanes.
Cobles Mil·lenària, Tres vents et Nova Germanor.
17h00 19h00
centre-ville.
Trobada castellera.
17h00
centre-ville.
Meeting of the giants.
Info: 04 68 62 38 82.
SUNDAY 22nd JUNE
21h00
Place de la République.
Spectacle Aires de la Terra Groupe Montgrí Dansa et cobla Mil·lenària.
Info: 04 68 62 38 82.
MONDAY 23rd JUNE
Célébration des feux de la Saint Jean autour du Castillet.
14h00 Départ de la flamme du Castillet vers les villages du département et de la Catalogne Sud.
17h00 – 19h00
Au Castillet, place de Verdun. Les Cantarelles de Sant Andreu interprètent des chants traditionnels catalans.
20h30
Place de Verdun.
Chants d'havarenes with la Llotja de Mar.
Free.
21h00
Place Gambetta.
Le Fanal de Sant Vicens et son concert de chansons catalanes.
Free
22h00
Place de la Victoire.
Show introduced by France Bleu Roussillon withsoprano lyrique Sarah Rodriguez, dancers, musicians of groupe folklorique Joventut, then the procession of the flame accompanied by dogs and sheep, horses, scouts and hundreds of volunteers……
23h00
Fireworks, illuminations and the lighting up of the riverside areas and Castillet.
23h30
Grand finale: feux de joie.