We're back again in Céret, irresistibly drawn this time by the latest exhibition at the Musée d'Art Moderne – 'Eureka' by Salvator Dali.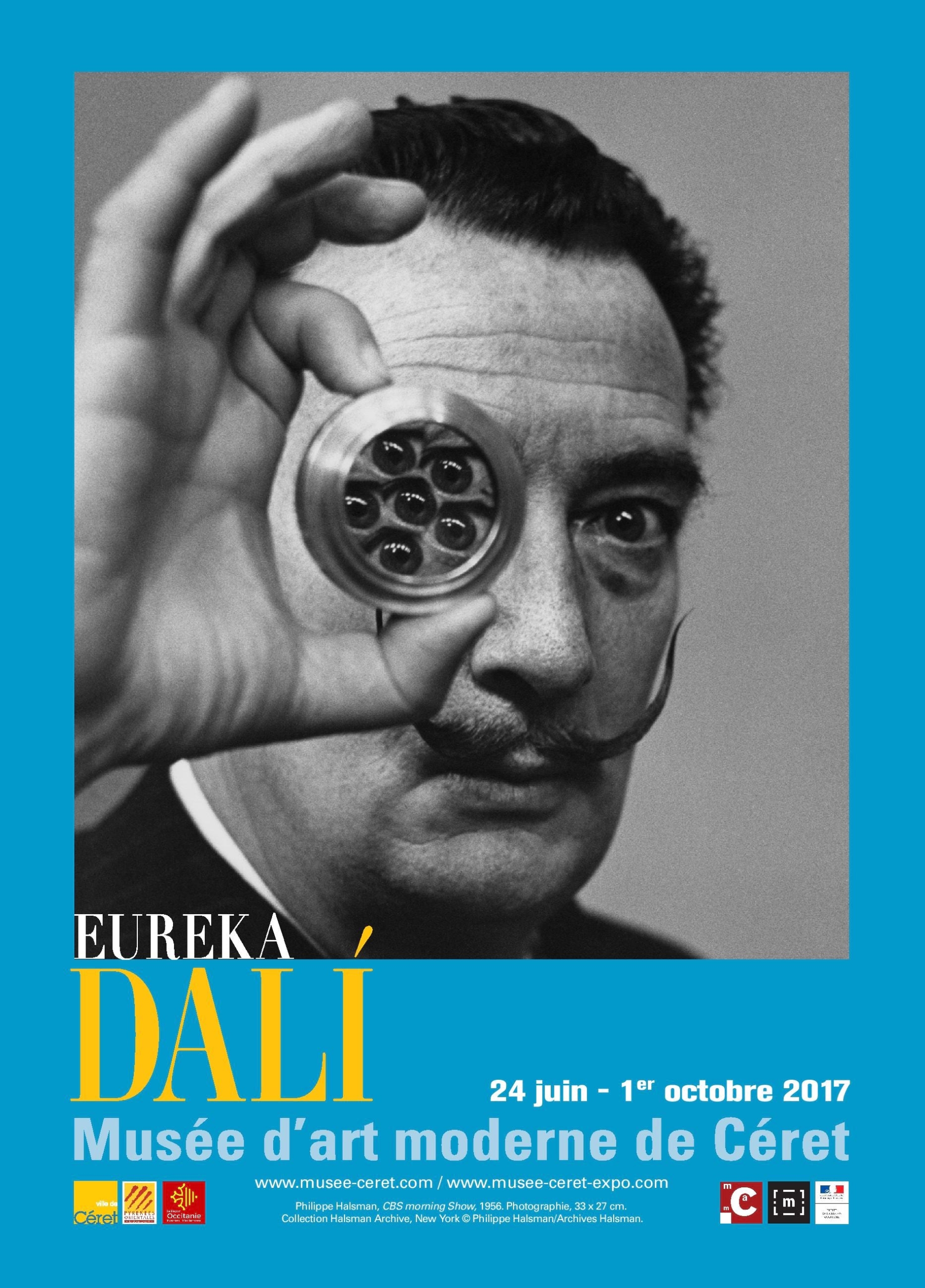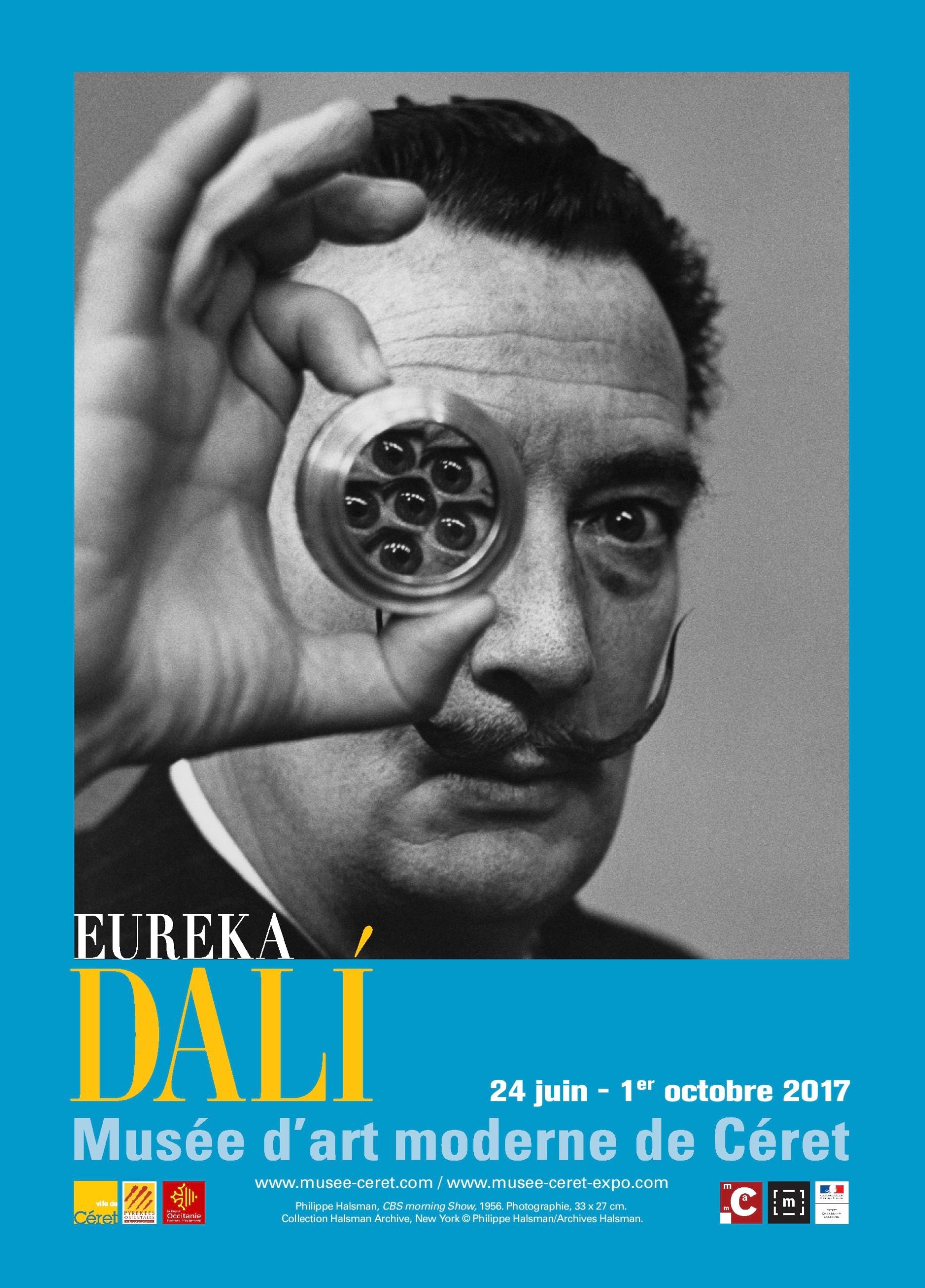 At the age of seven, this eccentric Catalan painted his first picture and declared he wished to be Napoleon Bonaparte when he grew up. In fact, he grew up to be a world famous surrealist painter and sculptor.
In 1965, with great fanfare and pomp, Dalí descended on the sleepy, little town of Céret and announced his engagement to his artistic muse, Gala.
Traditional Catalan bands and dancing, alongside the most important municipal representatives, were given the surrealist makeover.
Flourishes included a giant cardboard rhinoceros and a 2 metre skeleton, whose articulating arm offered flowers to the impressive (and impressed!) crowd.
Dalí, arguably dubbed "the prince of Catalan intelligence", is most famous for his revolutionary art and sculpture, revealing his sense of the absurd to be more absurd than most, but his curiosity extended to all aspects of science and engineering. Genetics, astrophysics, psychoanalysis…..Describing himself he said; "Painting is an infinitely minute part of my personality."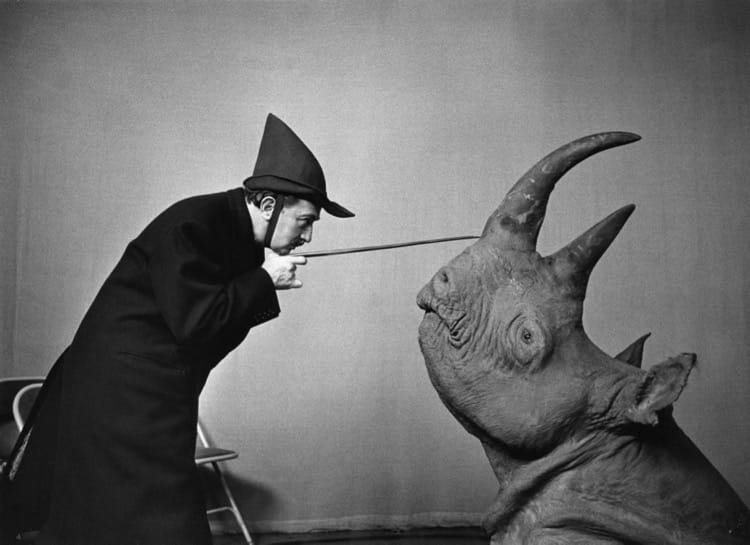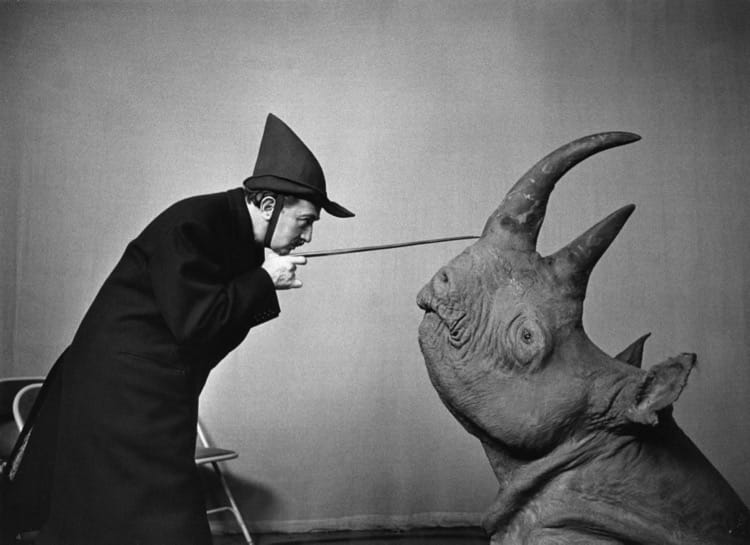 This summer, the Musée d'art moderne celebrates the fascinating world of Dalí with an original exhibition of works compiled using the artist's own 'paranoiac-critical' method where subjectivity itself becomes the prime focus.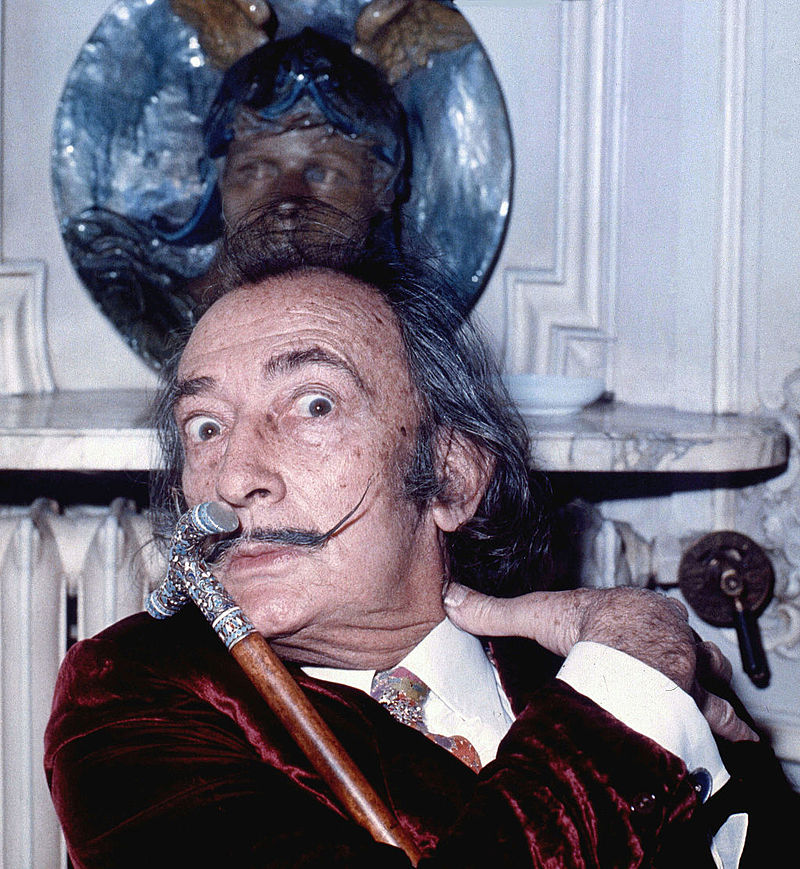 Curator Nathalie Gallissot, in collaboration with guest curator Jean-Michel Bouhours (Centre Georges Pompidou, Paris), cordially invite you to discover the complex and multi-faceted visionary that is Salvador Dalí. FIND OUT MORE
DALI'S CATALONIA
If 'Eurêka' leaves you desperate for Dali, why not pop across the border and visit the 'Dali Triangle'? You'll probably need a couple of days to visit these three Dalí Museums, all within a 50 mile radius of each other. The Dalí Theatre-Museum in Figueres, the Salvador Dalí House-Museum in Portlligat (Cadaqués) and the Gala Dalí Castle House-Museum in Púbol are all kitch, fantastic, and very different.
www.salvador-dali.org
AROUND AND ABOUT


TORKING CORK IN MAUREILLAS

From Céret, follow sign posts for Maureillas and cross this pretty Catalan village surrounded by cork oaks, for an enjoyable and informative hour at the Musée de Liège, dedicated to cork. This fascinating little museum is unique in Europe, and presents what was once the main village industry.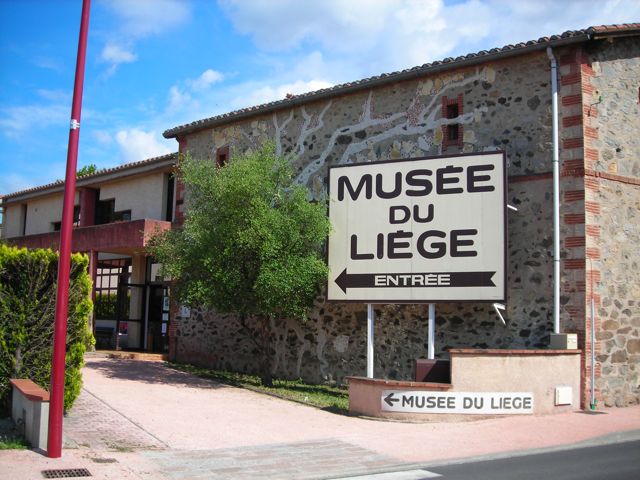 From tree to finished cork, there are videos, ancient machines and tools, mini-sculptures in cork, cork art and furniture…..and the biggest cork in the world; 2,40 metres high with a diamètre of 1,30 metre. Love to meet the bottle of wine that fits the cork!!
ART IN SAINT-MARTIN DE FENOLLAR
From the Musée de Liège, head for Le Boulou, and left onto the D900 Le Perthus – Le Boulou road, looking for a rapid left turn over a ford signposted for the tiny chapel of St Martin de Fenollar.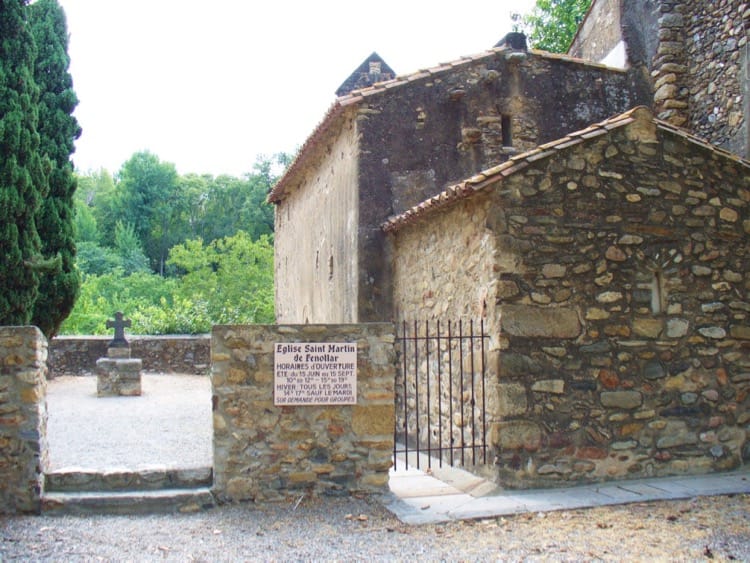 The first written record in 844 tells us that the chapel once belonged to the Abbey of Arles sur Tech whose monks used it for meditation and dipping into the nearby thermal waters.
Decorated with spectacular 12th-century frescoes, which probably would have covered every wall top to bottom, the chapel was abandoned and used as a barn, then restored in the mid 1900. today, the frescoes are acknowledged as the best Romanesque wall paintings in Roussillon.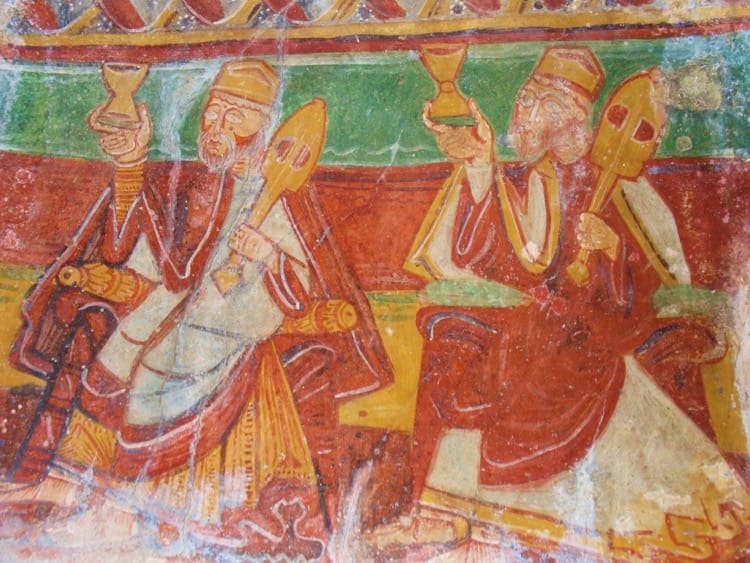 Their colours are few. Glowing ocre, red and green, so favoured by XII century artists, dominate. Centuries later Picasso and Braque were said to be much inspired by them. Miraculously many survived despite several scenes behind the altar being lost due to an ill placed farm door. Nevertheless, in the vaulted ceiling, Christ in Majesty is surrounded by angels bearing the symbols of beasts representing the evangelists and above the altar is Mary the Virgin.
GETTING HIGH IN LE PERTHUS
Back at the main road, turn right for Le Perthus, and as you enter this typical border town, turn right for the 17th Century Fort de Bellegarde, once Spanish, now French. The lorries on the motorway take on dinky toy proportions as the road winds upwards. Built by Vauban, and standing guard over both north and south Catalonia, this massive fort has walls of sixty-two metres high, and six metres thick walls, a well sixty-three metres deep, the deepest in Europe, and views to take your breath away. Unspoiled, made safe but not restored, wander round the ramparts or visit the chapel, barracks, small museum….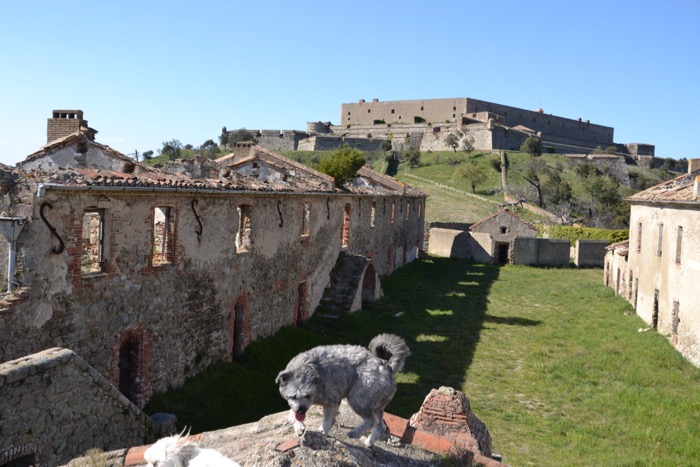 Open daily from June to September but check in advance on 04 68 83 60 15
A 10 minute downhill walk leads you to the Col de Panissars. In 71 BC, Pompey had a monument constructed there to commemorate his victories over the unruly Spanish. The foundations were discovered in 1983 beneath the remains of the Benedictine Abbey of Ste Marie des Panissars. Delightful walks and strolls spike off in all directions, including the cycle path which will take you all the way to Girona if you're feeling sporty!

GO JUMP IN A LAKE AT SAINT JEAN PLA DE CORTS
Back down to earth, head full of history, incredible views, and culture overdose, it's time for a bit of pure fun and relaxation. Head back towards Le Boulou, following signs for the 'Plan d'eau' of Saint Jean Pla de Corts to arrive at the perfect spot for picnics, summer swims, 'pieds dans l'eau' dining and lakeside strolls, shimmering reflexion of Mount Canigo in the smooth waters of these twin lakes, one immaculately landscaped, the other a water sport and occasional fishing lake.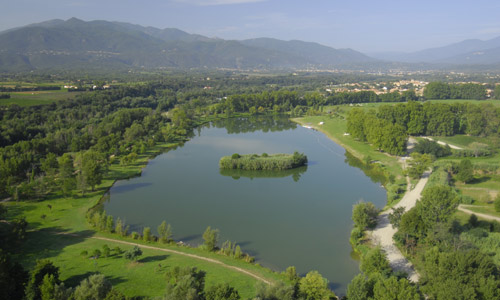 It's already well worth the small entrance fee of 2 Euros per car, to park in the spacious car park, but there is 'telesking' on the small lake and around the large lake, there is tranquility on one bank…and family fun on the other. Aquatic action, archery, electric pedalos, bouncy inflatable games in and out of the water, lifeguards……and an exciting series of increasingly difficult runs high up in the trees……nets, ropes, zip wires, Tyrollean splash across the lake. It's suitable for 4 to 104 years olds so go on Gramps. Dare you!