Rugby is a massive part of the P O culture, but where did the game originate, how did it evolve and why is it so popular here?
The most widely held view is that rugby started in Rugby School in 1823 when a senior pupil "with a fine disregard for the rules of football, first took the ball in his arms and ran with it". The game spread rapidly throughout Public Schools and English Rugby Union was formed in 1871.

SOME USEFUL RUGBY VOCABULARY
Un plaquage – a tackle
---
Une mêlée – a scrum
---
Une touche – a lineout
---
Une essai – a try
---
Une transformation – a conversion
---
Un demi de mêlée – a scrum half
---
Un demi d'ouverture – a fly half or stand-off half
---
Un avant – a forward
---
Un arrière – a fullback
---
Un ailier – a winger
---
Un arbitre- a referee
---
Un en-avant – a knock-on or forward pass
---
Une pénalité – a penalty
---
Une chandelle – an up-and-under
---
Baron Pierre de Coubertin, founder of the modern Olympic Games was a great admirer of the "never say die" ethos of English Public Schools and was a major influence in the setting up of the first two rugby clubs in France in the 1880s. Liberally sprinkled with aristocratic family names, it was clearly a game for the 'upper crust'.
In the 1890's, rugby spread like wild fire into the provinces, in particular throughout the south West, from Bordeaux and Biarritz up through the Basque lands and then to Pau, Lourdes, Carcassonne and into North Catalonia, mainly through the involvement of ex pats.
Our much loved local team USAP – United Sportive Arlequins Perpignanais – was set up in 1902. Note the Arlequins, clearly a link with the prestigious Harlequins from London.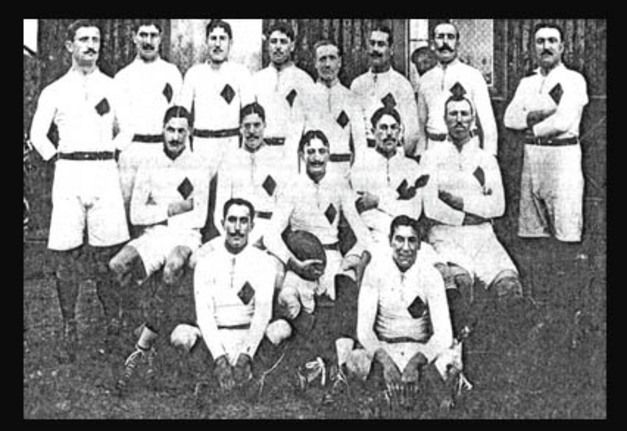 At this time 'rugby de villages'' took root and during the early 20th century many local clubs were set up. Ceret, Argeles, Thuir, Prades, Port Vendres, Collioure, Millas, have all produced teams that have achieved success at National Level. Intense local rivalries developed and continue to this day and it is well worth the small entrance fee to go to the picturesque stadium in Céret (opposite the Lycée) to watch a local match with Argelès, both for the game and a bit of interesting people watching!
Rugby League is also an English invention. In the late 1890's, when clubs in the North of England wanted to pay players who took time off from work to play, Rugby Union was horrified. The Northern Rugby Football League was formed at the George Hotel, Huddersfield in August 1895, in an attempt to make the game more attractive to the spectator. It was imported into France in the 1930's.
The Catalan Dragons play in the Super League along with 13 English clubs, 12 from the North and one from London. They play in Perpignan at the Stade Gilbert Brutus, a stone's throw from USAPs home, the Aimé Giral. A strong Catalan identity is evident in both stadiums. The passion and commitment of both sets of fans is clear, but one is also aware of a family atmosphere and for all of the noise and excitement there is never any trouble.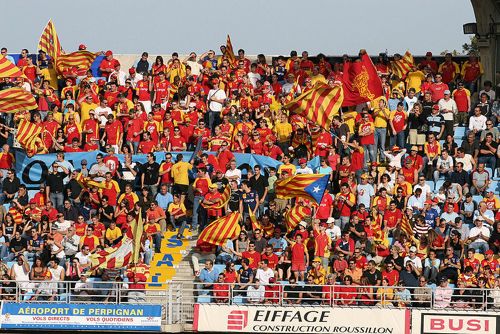 A foreign influence in the French game continues to be a major factor.
Many British and Irish frequent the matches and, dare I say it, many of us are as passionate about the 'Drags' and USAP as are the Catalans.
Rugby is a great game. Get down to the Gilbert Brutus or Aimé Giral stadium or your local rugby club and you will see what I mean.
@Frank Parkinson
---
Just 14 months after their victory, Aimé Giral died alongside seven other members of the team at the outbreak of WW1…..READ MORE