Getting tested for Covid 19 : My experience
Laura Mclellan
I think one of the most difficult things in the whole Covid 19 crisis is the unknown. The situation seems to change on a daily basis, with wildly different approaches depending on which country, region and even town you live in.
Similarly to Brexit, it has divided friends and families, polarising opinion on everything from its origins to the need for wearing a mask.
Check out our breakdown of the latest announcements made by President Emmanuel Macron on Wednesday 14th October to help navigate the coming weeks.
This article, however, is to share my own personal experience of getting tested for Covid 19, with the aim of reducing some of the anxiety associated with such an unfamiliar process.
First and foremost, although I could never describe my morning as pleasant, the whole process was calm, well-organised and efficient. I'd like to say a huge BRAVO and MERCI to all the health care professionals who are working so hard to keep us safe.
How
Obviously testing is a key aspect of tackling the spread of the virus. As such, Macron decided to make tests free and available without prescription.
So, at 2pm on Thursday, having being informed that I had been in contact with a confirmed case, I set to finding a testing centre.
Not as easy as I thought it would be!
Following government advice, first of all I called the medecin traitant of my partner, as his doctor is in Perpignan. This doctor doesn't work on a Thursday afternoon and there was nobody taking his calls.
Next, I tried typing "covid 19 test perpignan" into Google. The first hit I found was https://coronavirus.test.fr/perpignan.html. Although providing current statistics and advice on gestes barrières, if I wanted a telephone number for a testing centre I had to call an 0800 number that cost 2,99€ plus the cost of the call.
Obviously this wasn't going to break the bank but, on principal, I wanted such vital information to be available free of charge. It also required good enough French to understand an automated recording; OK for me but perhaps not for everyone! And so my search continued.
The local government sites for the Pyrénées-Orientales and for Occitanie provided interactive maps, where I could find the closest test sites to my home address.
https://www.occitanie.ars.sante.fr/lieux-de-prelevements-covid-en-occitanie
I then proceeded to call the centres, to enquire about the procedure but there was nowhere open after 3pm. So that was it, we had to wait until the morning.
What's more, the overall impression that I got from the people I spoke to was very different to what I had seen on the news and what Macron had expressed the previous evening. They almost seemed to want to dissuade me from going, saying that if I had no symptoms, I should just wait it out.
Given the nature of our jobs, "waiting it out' was not really an option, so I called my own médecin traitant, and expressed my concerns.
She very clearly explained that the sheer number of people requesting Covid 19 tests is a monumental task for nurses and laboratories, who are now inundated with people who are going to put their minds at rest, even if they have not been in contact with confirmed cases.
She gave me the address of the Centre Culturel in Cabestany (see map below) and told me to go, without an appointment, between 8am and 2pm.
What
Arriving at the Centre Culturel just after 8am, we easily parked in the ample car park and made our way over to join the queue that was already 50 people deep.
Everyone was wearing a mask, and wearing it correctly. They were also respecting social distancing guidelines, helped by the barriers put in place by the laboratory.
The French are not always known for their patience in queues, but everyone was respectful, polite and calm. We waited for just under an hour before getting to the door of the centre.
To avoid any large groups forming in enclosed areas, the queue was outside… bear this in mind as we move towards the winter months! We had brought thick coats, scarves and gloves and were still frozen by the time we got through. Some poor folk were woefully under-equipped and joked that even if they didn't have Covid, they would have caught the flu!
At the door, an officer of the Protection civile was ensuring everyone sanitsed their hands before entering and controlling numbers to avoid a backlog.
He also checked whether we had filled in the prerequisite form, which we hadn't. The form was available to be filled in on site, but if you want to minimise the amount of time you spend inside, you can download it and print it off in advance here.
A first checkpoint verified the details on the form, ensuring that all names and contact details were not only correct, but legible!
They also informed us that results would be available the following day, although it might be the evening and therefore just over 24 hours. They said we would receive a text message telling us the results were ready and then provided a leaflet with details of how to connect to the secure site and access our results.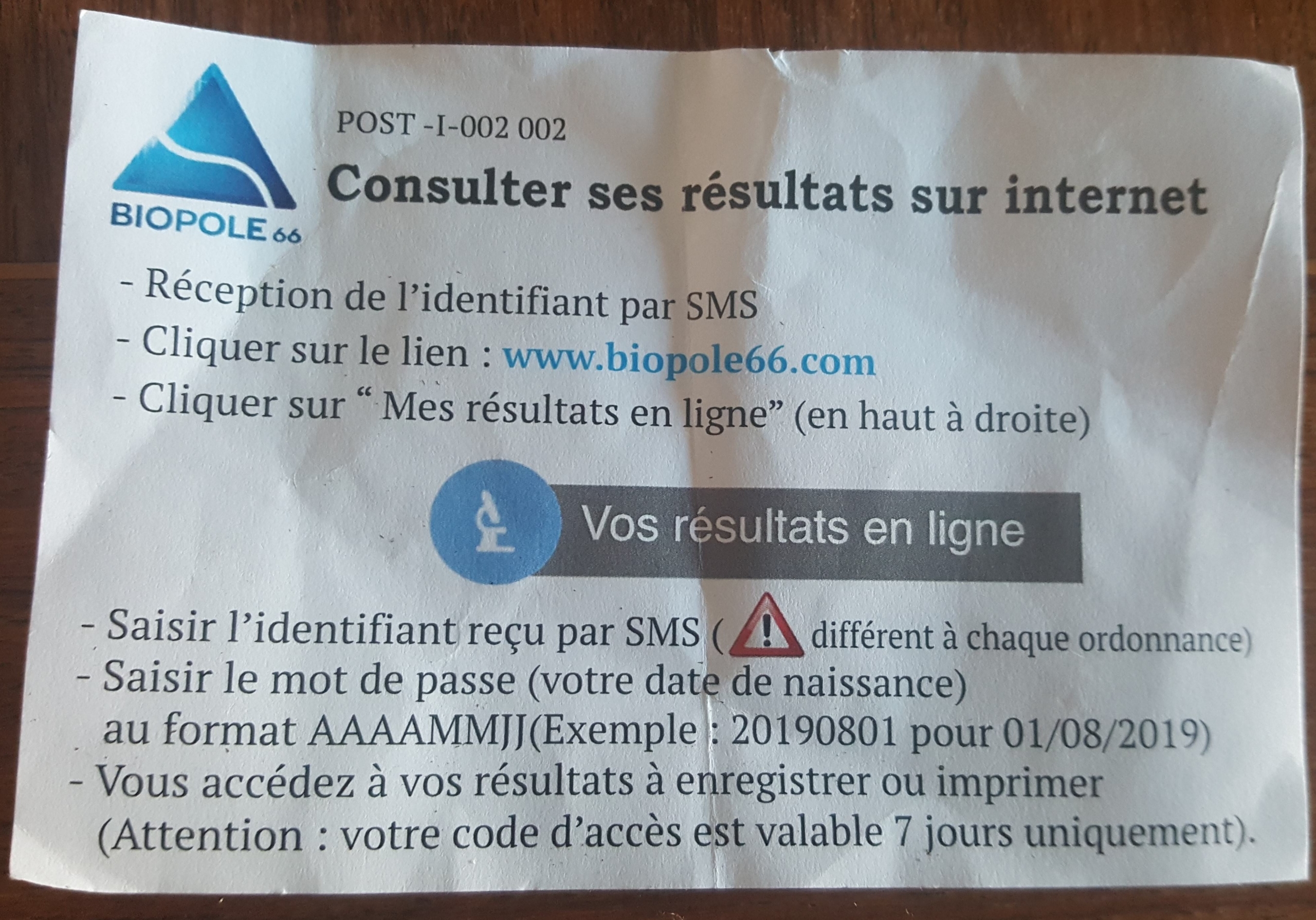 The test
Once into the testing booth, the nurse, in full protective clothing, explained the procedure and told me it would be painless.
She then asked me to blow my nose before tilting my head back and keeping still.
She inserted a very fine, soft swab up my nose, which went much further than I was expecting. Although I could not say the procedure was painful, it was certainly very uncomfortable, with a stinging sensation, almost like sinusitis.
Nevertheless, it was no longer than 10 seconds and after she'd finished, the only lasting effect was my eyes watering.
Results
At this stage, I'd like to remind you that we were tested at just after 9am. Expecting the results the following day, I was very surprised to receive a text message at 4.48pm, THE SAME DAY, informing me that my results were ready.
So just 7 hours after the test, I followed the instructions on the leaflet given to me by the centre, I found the website, connected using my personal ID and password and found the laboratory report.
Far from being full of scientific jargon, numbers and figures, the report clearly stated : NEGATIF.