MOUNTAIN MAMA IN LES ANGLES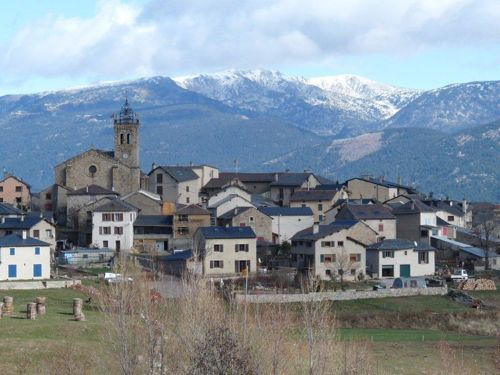 Are you as hot as I am? We are melting up here.
It's going to be of no news to anyone that it is hot, it has been hot and will probably get hotter. Down there in the flatlands, [Perpignan area] most of the the houses have air con and so the electric bills go up. Up here our heating bills go down – whoopee! So somewhere in the middle we have some kind of equality.….I think.
For weeks the heat has been quite unbearable and now we are getting rumbling thunderstorms that can go on for hours and are quite regionalized. Some friends in Formiguères didn't have the slightest hint of a storm when we had an earth shattering thing up here. Weird weather .
As for our guests, we have had the New Zealand Triathlon team and a group of Iron men who have all made life very interesting. So many fit bodies flitting around my garden has been making my elderly neighbour go weak at the knees. She's loved every minute of peeping out from behind the shutters.
Les Angles is now buzzing with tourists and holiday makers. There is a superb new restaurant down at the lake which has just opened in time for the season. It has been built like a huge pool cover and on a cool night the cover can be pulled over the diners but if it is warm it can be left open. It has been very popular since it opened a few weeks ago. It is in the same place as the old pointed tent used to be but looks so much better.
On the subject of where to eat. There is a tiny place in the center of Les Angles called "A toutes les Sauce". Now to say it looks nothing would be telling the truth but the food is super. Well worth a visit. They do the most amazing Brochetas, which I thought were something on a stick but it turns out to be whatever you want on a large slice of toast. All the food is fresh, no processed food around. A friend went one evening and the chef came out with a basket of eggs and some truffles. Fantastic. The truffles were from 15 Kms away. Of course, exactly where that is……. that bit is a secret.
All the local villages are having their Fetes at the minute. The only problem is which one to go to. Font Romeu had a two day Bio Fair which was difficult for me to go to as Lili tends to browse the stalls and can virtually inhale a whole saucisson if not held back. It cost us about 48 euro when she was young. We were strolling along in the market in Prades one Tuesday morning when there was a laugh and a shout and the stall holder wasn't quite sure what to do as Lili stood with pride holding the sausage like a cigar between her lips.Of course we paid for the wretched thing but couldn't eat it.
Mike has been away recently guiding in Corsica. He spent two weeks walking the GR20. Amazingly beautiful but definitely not for the faint hearted. Now it's the Alps and a lot more walking.
As always my laundry pile gets no smaller. There always seems to be ironing and I hate folding it on my own. King sized duvet covers are not easy. But if anyone has an easy idea I would be happy to hear it.
And so summer moves on.
Take care folks and enjoy. [it won't be here for long]
Jen
xx
Jenny's husband, Mike, is a qualified International Mountain Leader/Accompagnateur en Montagne and is one of the most experienced leaders in France, having walked and climbed in the Alps & Pyrénées for over 40 years.
Resident in Les Angles, Mike will give you a day to remember so don't forget your cameras!
For safety reasons the group size is limited, so book your place early
Contact Mike & Jenny Rhodes on 04 68 04 37 28 or email: mike.rhodes@free.fr
If you would like to visit Les Angles, Jenny and Mike offer comfortable accomodation in their delightful barn conversion apartments on the edge of the old village of Les Angles.