If, like me, you prefer the paper version, you will be able to pick it up from all the usual places around the region from 1st June when it hits the streets!
Keep an eye on the map below as we update!
Here's the list of just some of the places you can (or will be able to soon) pick up our Summer issue
To be updated once mag is out ……Places in
green

have it available now and places in

orange

will have it shortly.
Abbaye ST Martin
-OT
Amelie Les Bains
– OT
-Mairie
Argelès
– OT
– Chateau Valmy
– Intermarché
-Jardinerie d'Argeles"
-SLS
-Alberabike
-O Mamies
-Weldom
Arles sur Tech
– Patisseries Touron
– Els Simiots Restaurant
– OT
Banyuls-sur-Mer
– Carrefour
– La vieille cave
-O. T.
Carrefour – route des crêtes
Cabestany
-Sams Salon
Canet en Rousillon (+ plage)
– OT
– Bio Coop
– Hyper Casino
Céret centre:
– Bella Pizza
– Quattrocento
– Céretnité
– Maisons Martin
– OT Ceret
– Allianz
– Pays Pyrénées Méditerranée
– Century 21
– Immo service
– Carrefour market
– Terrasous
– Axa
Collioure
– OT
– Cave à FéFé
– Café Sola
Céret Zone Oulrich: (around Intermarché)
– Intermarché
– Boulangerie l'Atelier
– art & renovation
– Fun Bike Center
– Bio-sud
Elne
– OT
– Au Rempart
-Dupain et Dubon
–intermarche
-biocoop
Fenouilledes:
-OT
Ille sur tet
-Super U
– OT
Laroque-des-Albères
– OT
– Café des Artistes
– Laroca
– Boulangerie
-Carrefour
-Le Fournil
Le Barcares:
– OT
Le Boulou:
– Bricomarché
– OT
– Boulanger (electrical shop)
– Leclerc
– Logial
– Biocoop
_ Fresh veg (near Gifi)
Le Soler
– Intermarche
Leucate:
– OT
Llupia:
– Intermarche
Millas
-intermarche
Molitg-les-bains:
-OT
Perpignan:
– Tourist Office
– Café Vienne
– Catal'encre
– Beautiful South
– Agence de Développement Touristique
-Artaxa Immo
Perpignan Agrisud:
– El Coco Rico
– La Pata Negra
– Olivier Bajard
– Boniface Coquillages
Perpignan Airport
Perpignan Nr. Chemin de la Fauceille:
– Maison Paré
– Rugby Store
– Art et Renovation / Biossun
– Tryba
-Leroy Merlin
-veloland
–Gaiete Du Feu
Pollestres
– Alvarez
-Corner Shop Coffee
-Intermarche
Port-vendres
– OT
– Criée Côte Catalane
– Restaurant Chez Jo (former 7 grill)
– Carrefour Market
– Intermarché
– Eve'solutions
– Les caves du roussillon – 19 rue Jules pams
– Cave St Martin : 5 residence templers
– Petit casino :14 rue jules pams.
– Mairie de Port vendres – 8 rue jules pams
– Boulangerie : 5 rue jules pams
– Brico marché : la plat du port
Prades
-Super U
-Intermarche
-OT
– Biocooop
Saint Génis
– OT
-Axa
-l'auberge Des Alberes
Saint André
– OT
– Intermarché
-Mas Cristine
Prats:
-OT
Rivesaltes:
–OT
Saint Cyprien
– OT
-Bike and Beach
-Pub de la Francaise
Saint Jean pla de Corts (lake)
– La Guingette
-Wake park
-Pedalos + paddle hire centre
-Water park
Sainte Marie
– OT
Sorède
– OT
Terrats
– Terrasous
Thuir
– OT/ Caves Byhrr
-GF Peinture
-Hotel Cortie
Torreilles Plage
– OT
Torreilles Village
– OT
Trouillas
– Domaine de la Perdrix
– Mas Deu
–Domaine Treolar
Vernet les bains:


-OT
Villefranche:
-OT
Vinca:
-OT
You may already have noticed that they disappear very quickly so why not 'order' one to be saved at one of the main tourist offices, or at one of our advertisers, most of whom stock the mag and will be happy to put one aside for you.
Copies can be found at Perpignan airport, Leroy Merlin, all main tourist offices, various restaurants, shops and boulangeries around the region, most Intermarchés and Carrefours, Café des Artistes in Laroque, Cérenité and Martin estate agents in Céret, Cave à Féfé in Collioure, Casa Mombasa in Argelès Village……and loads of other places…..and of course chez many of our advertisers. CLICK HERE FOR MORE DETAILS (updated once the paper magazine is out)
If there are none left, please ask them to ring us and we can take in more.
As usual, P-O Life brings you walks, restaurant reviews, recipes, airport news, French and English language exercises, incredibly bad jokes, days out…… and a host of talented guest writers who have volunteered (or been volunteered) to be your personal guides around the region.
My grateful thanks to them all – they are what make P-O Life special!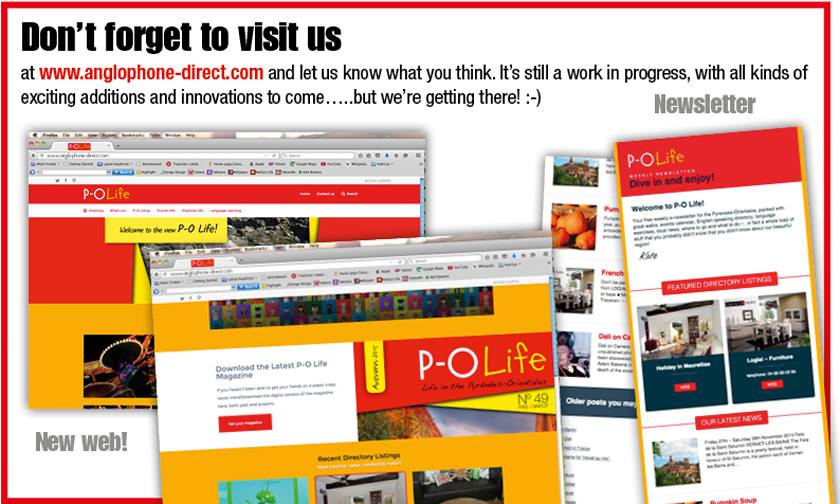 Please continue to support our advertisers wherever possible as we depend solely on this revenue to cover design, production and printing.
---