Port Vendres fish market (
Criée

aux poissons)
with Michael Brady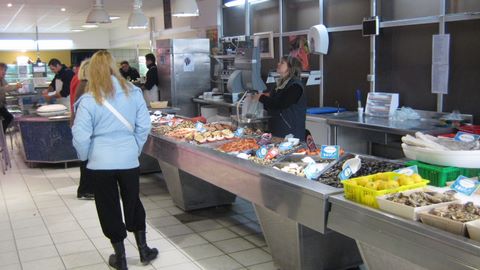 Oyster and wine bar, fish market 'extraordinaire' It serves no proper meals, just dégustation, samples of its retail selection of seafood. It has no tables, so you cannot book one. It has no website. It closes at 7 pm, just as traditional dinnertime starts. Yet the retail niche in the Port Vendres wholesale fish market (Criée aux poissons) is a popular seafood eatery and shopping point.

With good reason: the best of raw materials are close at hand, as the market is among the largest in the western Mediterranean. Vans and lorries come and go, and the fishing fleet based in the port docks just a quay away.
Along two walls, there are shelves lined with seafood delicacies, condiments and wines. There are counters with fresh shellfish and prepared dishes. Live lobsters and langoustines stare out from tanks. Just outside the entrance, there's a pavilion dedicated to fresh fish of innumerable species. It's the seafood shoppers' delight.
The focal point for sampling shoppers as well as snack seekers is a pub-height counter toward the back of the retail shop. Here, you rub shoulders with the real stuff: the waiters are seafood workers, wearing rubber boots and waterproof aprons.
They speed back and forth, opening oysters, cleaning mussels and serving customers at the counter. They are workingmen, doing their jobs with pride. Many are linguistically capable, speaking Catalan, English and other languages, in addition to French.
The menu of reasonably-priced small dishes is a single A4 sheet, printed both sides, encased in plastic, oysters, shellfish and crustaceans on one side, tapas and wines on the other.
Everything on the menu is available on the shelves and counters in the shop; few counter customers leave without buying something to take home.
And talking of taking home, they now do home cooked paella and bouillabaisse to take away! Délicieux!
To navigate to the market, first find the memorial Obelisk at the head of the old part of the port (Vieux Port). With your back to it, you are looking East. At your left is the church and quays for fishing, customs, rescue and pilot boats.
Follow the quays to the northeast: first Quai de l'Artillerie, then Quai du Fanal and finally, Quai de la Quarantine to Criée aux poissons, a large rectangular building adjoining a fishing and leisure boat works and yard. Go to the left around the building and follow the large signs to the entrance of the retail part of the market. It's about a five-minute walk, but you may drive if you wish.
Poissonnerie Côte Catalane,
Anse Gerbal, 66660 Port Vendres
Open 08:30-12:30 and 15:30-19:00 Tuesdays to Saturdays; 09:00-12:30 Sundays and holidays; closed Mondays.