Restaurant reviews – Autumn 2015
(A look back at last year's reviews, all still open autumn 2016 but assume some price changes!)
With Kate and Mates
I am no gourmet 'foodie', but I know what I like. Fresh, tasty food, good and friendly service, clean cutlery, crockery and loos, and prices that don't send me into shock compared to the quality of the meal. The following reviews are not adverts. They are just restaurants that I have enjoyed or that friends have recommended. Bon appétit!
Les Glycines – Arles-Sur-Tech

with Fiona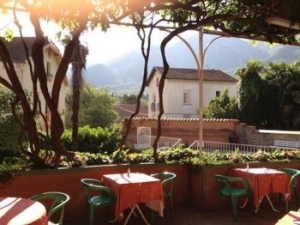 Don't miss this hôtel-bar-restaurant with its beautiful, shady and spacious, wisteria-covered terrace in the heart of Arles-sur-Tech.
It's a family affair – with newcomers Thierry Genot, managing and his charming wife, Patricia & son doing the cooking.
Lunchtimes offer up a set menu (Mon-Fri) which is great value-for-money at just 13,50€ for 2 courses or 15,00€ for all three.
Feeling on the hungry side, I chose the latter and have to say I was more than satisfied! A very fresh and copious Taboulé was followed by a delicious Merlu au beurre (which tasted just like sole) and came with a pot of split peas & lentils and tiny jacket potatoes – my favourite. The lemon meringue pie that followed is to die for!
Their à la carte menu includes a handful of cold starters, fish & meat dishes, tapas and desserts, not forgetting their rather copious Grandes Salades, including a particularly tempting chicken curry one!
Whatever your choice, only seasonal produce is used and everything, as far as possible, is fait maison.
Worth noting too that a platter of cold meat & cheese and another with anchovies & peppers, as well as a selection of tapas are served all day long, if you stop by outside of lunchtime and fancy a bite. Otherwise, you would love a cold beer, a coffee or an ice-cream? Take a seat. Ice-cream lovers will delight in the extensive range available.
PS You just might like to try Guignolet – an old apéritif that you rarely see on the menu these days I am told. Cherry-based and served on the rocks, surprisingly unsweet – it's quite delicious!
Look out for musical evenings at Les Glycines – next one is 14th August – more info to follow ..
Les Glycines
Hôtel-Bar-Restaurant
7 rue du Jeu de Paume
ARLES-SUR-TECH
04 68 39 10 09
Short but sweet… with Keith and Sheila
MOANA NUI, Thuir…..
Very much worth a review, this restaurant presents a menu from a different country around the world, changing on a weekly basis. Fabien is the excellent chef with his wife Patricia. The 3 course evening menu including a glass of wine and coffee at 19.50 euros is very good value.
Moana Nui
24 Rue du Souvenir
Thuir
04 68 64 19 72
Perpignan – Dove andiamo a cena stasera?
Spaghetteri'Aldo
with Kate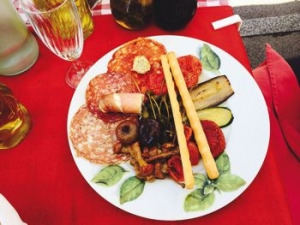 There are many good and https://anglophone-direct.com/perpignan/some great restaurants in Perpignan, but Spaghetteri'Aldo ticks all the boxes for me, as a resto which caters for everyone – vegetarians, carnivores and 'pativores' (my made up word for pasta eaters, so don't quote me!)
A stone's throw away from the Castillet, heading past Galleries Lafayette towards the Théâtre de l'Archipel, this bright and cheerful Italian restaurant, run by Magali and Philippe (who has 20 years of 'cheffing' behind him) is small on price, but big on flavour and quality produce.
Eat indoors or on the terrace, which despite being near a main road, wasn't disturbed at all by passing traffic when we visited in mid-May.
The dilemma? How on earth to choose from such an amazing range of pasta dishes?
Ravioli au foie gras, spaghetti vongole with clams, mussels and king prawns, tortellini au crabe, rigatoni, tagliatelle, fettuccine…along with speciality mushroom or seafood risottos, traditional Italian meat dishes, good choice of saIads…and antipasti to melt even the hardest critic's heart.
Too much to describe, you have to taste to believe! My friend, a 'hearty' eater to say the least, couldn't finish her main course, a rare occurrence!
Described by many as 'les meilleures pâtes de Perpignan' (no pizzas!), Spaghetteri'Aldo also has a good choice of light Italian summer wines and homemade desserts to cry for.
Definitely at the top of my list next time I eat out in Perpignan.
Simply delicious

Le Jardin des Simples, Saint André
with Fiona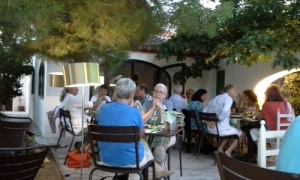 This has to be one of the most unusual restaurants I have ever eaten in – one dines quite literally in the leafy garden of a house tucked away in St André – not far from the Cave Coopérative.
Home to husband & wife team and their children, Patricia does the cooking whilst Christophe ensures a personal, efficient and altogether friendly service as he flits from table to table.
Naturally capacity is limited (around 30 people max) but this makes for an intimate ambiance, especially when the table lights and stray standard lamps are switched on.
The menu changes every month and you can be assured that the produce is fresh, local and definitely 'fait maison'.
The emphasis is on mediterranean cuisine using aromatic & medicinal herbs or 'Simples' which would have been grown back in the middle ages in the 'Jardin des Simples'.
There's a selection of 3 starters, 3 main courses and 4 desserts on the blackboard – absolutely no menus, but real cloth serviettes!
We chose the 'Tartare de Poisson' – tuna in a peach sauce which was superb and an aubergine, fig & goat's cheese 'Millefeuille' which had an equally refreshing taste to it. Our mains consisted of fish and roast lamb, both very good, but the lamb might be rather pink for many British palettes so good idea to check the 'cuisson' first. Desserts included fresh goat's cheese with honey for the savoury tooth and a very light 'Fondant au chocolat' (but more like a souffle) in a delicious raspberry sauce – a must for chocoholics everywhere.
Christophe obtains wines from 'Vins d'Auteurs' in Collioure which match your meal perfectly and, what's more, will gladly provide the cork so that you take the remainder home!
Worth mentioning too; the tasty 'Sangria maison' which is offered to everyone on the house.
Le Jardin des Simples is open in the evening from Thursday to Monday – but also open for lunch on Sunday.
Expect to spend around 40€ per head for 3 courses, not including wine.
Bookings are essential.
The Coast – nautical….but nice
La Marine in St Cyprien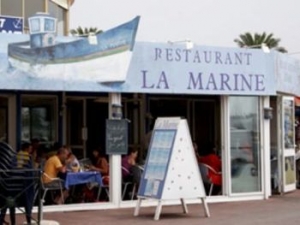 First-hand views over the port, ample parking just opposite the Tourist Office, (maybe less ample in high season) outside and inside dining in a cosy nautical atmosphere.
Husband & wife team, Hervé (in the galley) and Valérie (at the helm) offer a wide range of dishes, with the accent on fresh fish, and a 3-course set menu from just 16€.
My friend chose a very copious foie gras salad and I decided on the smoked salmon maison.
Our mains of cuttlefish and a seafood platter (white fish, mussels, squid, sauté potatoes) were big enough to feed an army.
No room left for dessert, but the home-made thickly-coated chocolate profiteroles proved irresistible. (Just a little longer out of the fridge would have made them even better!)
A pleasant, thoughtful and satisfying meal with warm and friendly service.
(PS After the seafood platter, we watched in fascination as the waiter produced a small, flat white pastille on a plate, added hot water, ……and it sprang into life, quadrupled in size, turning into the best beautifully hot hand cloth I've ever seen!)
6 Boulevard Desnoyer
Saint-Cyprien
Tel: 04 68 39 06 21
The Vallespir – Right Said Fred
L'Atélier de Fred in Céret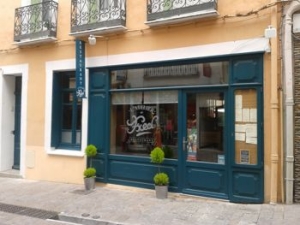 Not the first time we have mentioned the consistently excellent Atélier de Fred in the heart of Céret, so a very short nod to a superb restaurant!
Small and intimate, imaginative cuisine, using market fresh ingredients, the lunchtime formule changes regularly (24€ for three courses) and is an excellent value for consistently high quality dining.
In the evenings, the menu is now 'à la carte' only, so expect to pay quite a bit more, but both food and service are generally exceptional.
Original, home made desserts, short, but well-chosen wine list, (with fabulous, well-priced pichet wine from the popular Piquemal winery) this is a fine dining restaurant with high quality food and service.
The Catalan tradition for an "-ada" (a collective meal for many, based around a single ingredient,) often creates some highly unusual, charming festivals where the whole community meet up in the 'place'. Some examples are bullinada (fish stew), cargolada (grilled snails), ollada, (a winter stew), escalivada (grilled veggies), calçotada (char grilled onions)…