We love publishing your reviews. They're honest (mostly!) objective, (hopefully) unrelated to advertising (bien sûr!) and cover a wide range of tastes, prices, and places. You might not always agree, the chef might be having a bad day, your standards might be higher….or lower – but they give you an idea of what's available.
Once again, we start by going back over a few past reviews and picking out some choice phrases. We've checked they are still open. Over to you now to see if the review still fits the restaurant.

LA TABLE DE VALMY, Argelès…..
with Allan
Stylish restaurant with a lovely terrace and spectacular views over the vines and the sea.
Excellent service, the place had a real buzz about it. Using the restaurant as a showcase for their wines, they offer a 4-course menu with a different wine served with each course at €45 or without wine at €35 – in both cases coffee and water are included.
The food was very good, though not spectacular, but the place should be taken as a complete package, the location, the view, the wine, the food and the general ambiance – overall we thought it was terrific.
Chemin du Chateau Valmy
Argeles
Tel: 04 68 81 25 70
www.chateau-valmy.com
---

LA SALAMANDRE, SOREDE….with Merry
Tasteful modern style, beautifully presented, delicious dishes…..the cuisine has modern "Masterchef" touches without being overly fussy.
Scallops with leeks and a tasty lightly seared salmon slice, perfectly cooked beef fillet in a mouthwatering jus, and the catch of the day, Dorade from Argelès, came with pearls of Banyuls vinegar which burst in your mouth in an explosion of flavour.
Great value from a talented chef.
3, route de Laroque-les-Albères
SOREDE
04 68 89 26 67
http://restaurant-salamandre.com
---

L'AUBERGE DES ALBÈRES, SAINT GÉNIS-DES-FONTAINES…..with Sue C
A pleasant, light restaurant with good space between the tables, and option of outdoor, semi- outdoor (in veranda) or indoor seating.
We selected from the medium-priced menu at €26.90. Other evening menus were available at €19.90 and around €35 with a 3 course lunch for €15.30Magret de Canard, pieces of succulent duck breast fillet wrapped in bacon, accompanied by Banyuls sauce, Entrecôte, grilled exactly to requirement and very lean, Duo of Sea-Bass and Gambas in a Langoustine Sauce, Moules-frites, Paëlla royale, Zarzuela, a good selection of the usual desserts…..something for everyone.
We enjoyed a most convivial evening, and will certainly return to L'Auberge des Albères
78 Avenue Maréchal Joffre
Saint-Génis-des-Fontaines
04 68 89 88 38
---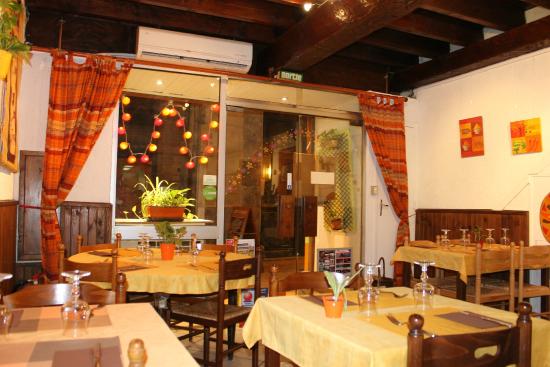 LA CREPERIE DU THEATRE, Perpignan….
with Fiona
There are times when you just fancy a crêpe.
La Crêperie du THEATRE, tucked away just beyond the old Théâtre Municipal off Place République offers quality, swift service, an ideal choice for a lite bite when out and about in Perpignan. Served piping hot, the Complète topped with an egg was delicious and the Caramel au beurre salé maison pure heaven.
The Salon de Thé menu starts at just 6,50€.
2 rue du Théâtre
Perpignan
04 68 34 29 06 (Open all year)
www.creperie-du-theatre.fr
---

LES REMP'ARTS, Elne….with Louise
Lovers of good food will enjoy this little gem, tucked away in Elne old town.
Homemade Mediterranean food based around fresh, seasonal produce and set menu at 15 euros for 3-course lunch or 23 euros in the evening. A la carte is, as you would expect, more pricey.
While the choice is pretty standard for the region, the chef gives each dish a little touch of originality.
A really enjoyable meal.
3, Place Colonel Roger
ELNE
04 68 22 31 95
www.remparts.fr
---
AND THE NEW (TO P-O LIFE) KIDS ON THE BLOCK…..
with Kate and (Facebook) Mates

LA GARRIANE, Perpignan…
with Kate
Unpretentious restaurant near the station with an unprepossessing exterior that you could easily walk past without a second glance – but wow!
This culinary jewel in Perpignan's crown really is all about the food! Accent on fresh fish and veg, but meat eaters won't be disappointed either. The four-course fixed lunchtime menu is excellent value at 23 euros, and the evening menu an experience to remember. Like lunch, there is no choice – but the superb dégustation menu at 45 euros presents 9 exciting dishes such as calamari on a sesame paste with buckwheat and a spring onion tempura; hake in pea broth with ginger, lemongrass and ground fennel seeds; chestnut ice cream with smashed chocolate coated cocoa beans…….A great experience in fine dining which will not fail to impress.
15 rue Vallette
Perpignan
04 68 67 07 44
---

CHATEAU DE JAU, Cases-de-Pène….
with Claire
Fabulous setting in a vineyard, 5 courses with a different wine to complement each course!
No choice but plentiful, rustic and something for everyone (tho' vegetarians beware). Just sit down and the food and wine will come to you! Very good value for money too!
I recommend taking a taxi or getting a lift! Wine flows very freely.
Cases de Pène
04 68 38 91 38
www.chateaudejau.com
---

CAN JORDI, Céret….
with Liliane
I really like Can Jordi in Céret. Seasonal food, cooked simply but really well. The welcome is friendly and easy. Prices are reasonable. My favourite when I don't want a load of fancy stuff that hides the taste of the ingredients, but a meal made with good fresh, seasonal ingredients.
10 Boulevard Jean Jaurès,
Céret
04 68 87 71 75
---

LA BARTAVELLE, Argelès….
with Karrie
Best food I've eaten in France.
This tiny place is a must for food lovers. Chef Thibaut Lesage and Stéphanie, his pastry chef wife, put an inspired spin on the classics to produce dishes that diners delight in.
Modern, stunningly presented food, skilfully cooked with oodles of pride. You will need to book ahead if you want to try it for yourself!
24 rue de la République
Argelès village
06 19 25 70 13
MICHELIN Guide recommended 2016
---

LA MERIDIENNE, Prades….
with Padraig
Absolutely deserves a mention. Always consistently excellent food and a great welcome and friendly service from Dave and Kathy. Vegetarians well catered for with prior notice. Great value lunch menus at around €14 and evening menus of €17.50 and €23. The food is always varied and delicious.
20 Rue des Marchands,
Prades
04 68 96 78 87
www.lameridienne.eu
---
BON APPETIT!