Claude Simon- Summer Exhibition at Musée d'Art Moderne
By Ellen Turner Hall

De l'Image à l'Ecriture
If you are unaware of the experimental writer Claude Simon and the fact that he won the Nobel prize for literature in 1985, you are not alone.
Happily for us, the Collioure show concentrates on Simon's visual art – what he did to take a break from his intense textual experiments.
Simon played with cut and paste when it was still a manual activity with magazines, catalogues, scissors and glue. His screens or room dividers covered in collage are playful panoramas of the history of art. You may very well find a fragment of your favourite painting alongside Picasso's blue guitar or Matisse's fishbowl.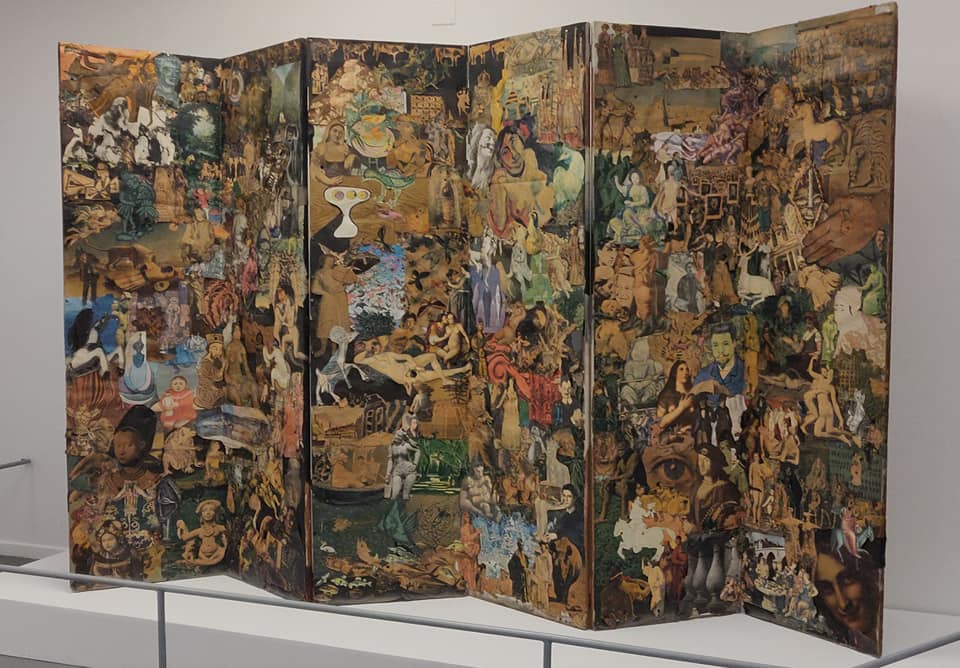 The screens include comic and suggestive juxtaposition like a packet of Hollywood chewing gum pasted over a forest or a hand cradling three eggs next to the chaste portrait of a Renaissance virgin.
In contrast to the joyful jumble of the screens, are Simon's stark black and white photographs of graffiti, including a group of pouting Gitan children in Perpignan.
You can also see his writing table and typewriter plus some handwritten notes in which he plotted the page-by-page progress of a novel. Other written notes cover the top of the page before they dissolve into doodles, showing perhaps that Simon used drawing to develop his texts. And vice versa.
One of my favourite works is a series of rough squares in which Simon seemed to be toying with the question: What is the life of an A or an S? As if…
Practical info
Exhibition runs from 5th June – 19th September
Open everyday from 10am to 12pm / 2pm – 6pm
Tarrif : 3€
Under 26s & reduced tarrif: 2€
Under 12s & Collioure residents: FREE
Guided visits available for an addition 5€ pp.
Contact
Tel: 04 30 44 05 46
Email: contact@museecollioure.com
Wesbite: www.museecollioure.com
Address: Villa Pams, 4 route de Port-Vendres, 66190 Collioure
For more info
Follow them on Facebook