with Tim and Chris Parker
---
Tour de Querriog (670m), Puig Joan, Banyuls ridge
---
This is a BIG 12km circular walk with approx 720m of ascent including the undulating ridge. It offers wonderful views and some technical challenge for experienced walkers. Allow 5½ hours. Good walking boots essential. Take plenty of water. Unsuitable in high winds.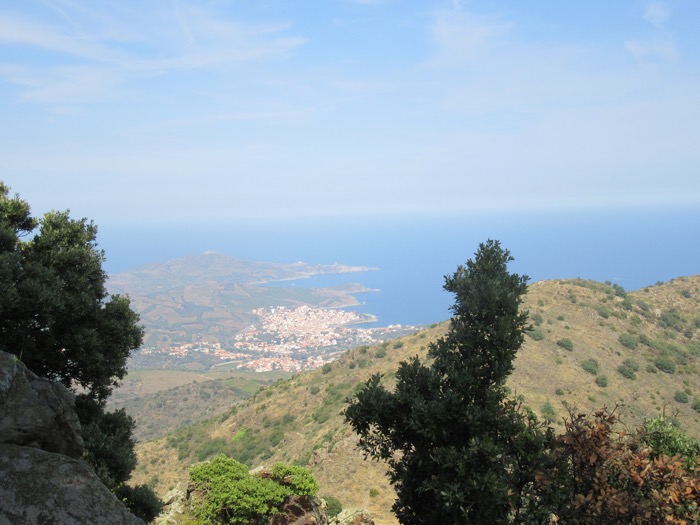 Access

: map IGN 1:25000 Banyuls, Col de Perthus, Cote Vermeille 2549OT Banyuls and coast on descent from Tour de Querroig
---
START: The village of Puig del Mas.
Take tree-lined Ave Gen de Gaulle from seafront in Banyuls. Turn left across metal bridge immediately after railway viaduct. Car park is in centre of Puig del Mas (Place Abel Pagès). Route is signed from car park and waymarked in yellow with double black marks on the Walter Benjamin part of the route.
THE WALK:
Turn right at higher end of car park into rue Des Evadés de France- route signed Walter Benjamin trail.
On second bend descend steps to cross a dry river bed. Emerge on tarmac road. After 20 metres take track on left, which starts cemented and then changes to earth/stone. Pass through vineyards to emerge on tarmac road once more. Turn left. After 300 metres reach Col del Bast. (25 mins)
A panel indicates that this is the route taken by Jewish writer Walter Benjamin and friends, to escape Nazi persecution in occupied France.
Take narrow footpath going uphill from the junction of road/pistes at the Col. On ridge ahead, notice a few landmarks you will pass later; the fire tower and the masts on Puig Joan.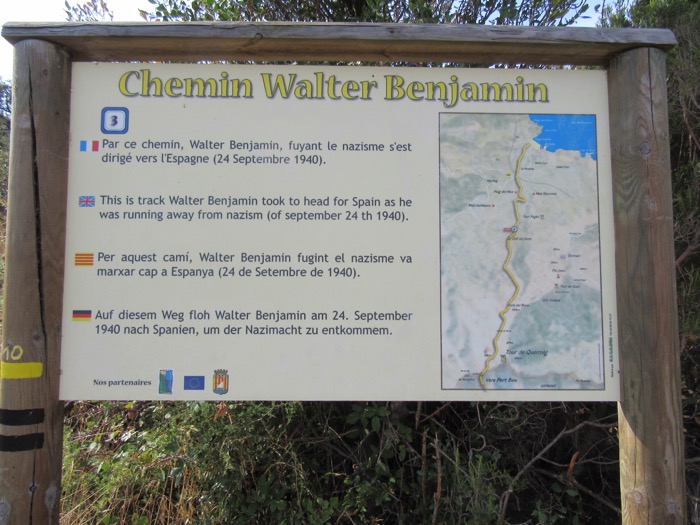 On reaching a double piste, take the top one and turn right.
Follow uphill and after couple of bends look out for footpath on right going up through a group of Mediterranean cork oak trees marked by cairn and waymark.( Miss it and walk straight into a vineyard after 40 metres! Turn back)
Path continues uphill. Go straight on at a right hand bend (signed) and follow footpath to a pylon (1 hour). A short steep uphill section leads to piste. Turn right and continue 5 minutes to junction.(For a much shorter, lower route continue this piste to Col de Cerbere)
Our route takes piste going up to right. After few minutes reach a footpath on left. A further panel indicates the spring where Walter and friends took a break on their flight into Spain (Font del Bana is not drinking water).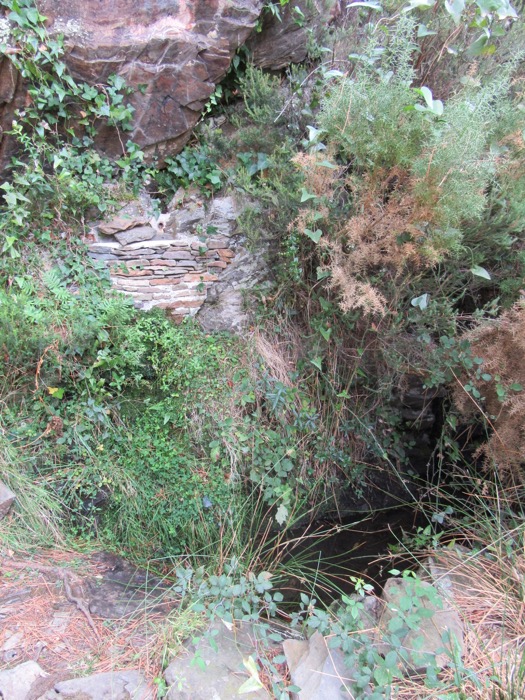 Footpath contours below ridge, heading upwards gradually and crossing several areas of scree to reach Col de Rumpissa (531m) – the Hill of Freedom. A rather faded panel quotes the words of Walter Benjamin as he reached this point.
It is here we part company with Walter as we strike uphill to the Tour de Querroig rather than downhill towards Portbou. The tale of what happened to Walter is very sad. On reaching Portbou, the group heard that Spain was collaborating with the Nazis. Walter was so afraid that he took his own life. The remainder of the group actually did escape into Portugal and then America.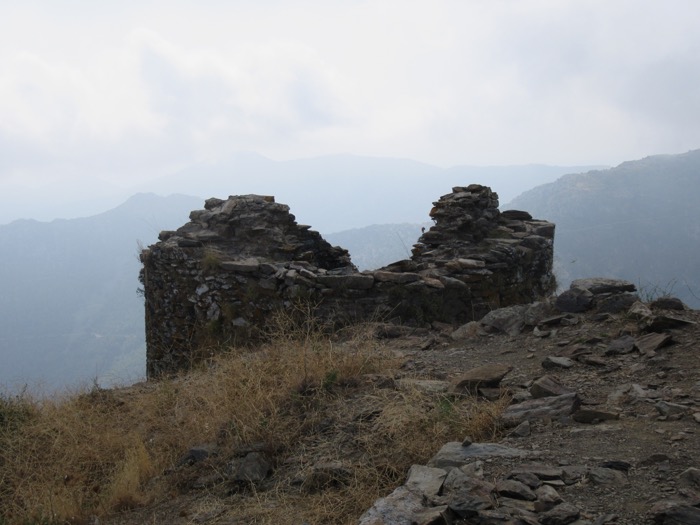 20 minutes up from the Col arrive at Tour De Querroig (672m), built at end of 13th century on site of 10th century fort, whose remains are still visible. (2h 45mins)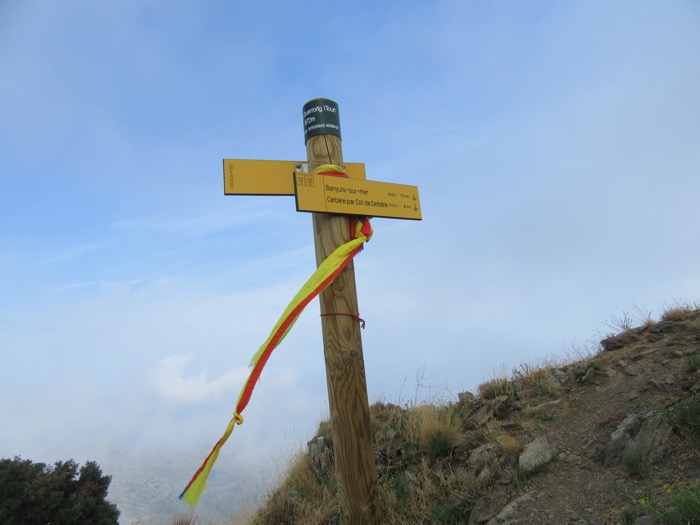 Magnificent views into Spain and France from. A good place to take a break after the climb to this highest point of walk. Looking back, note the boundary marker between France and Spain (597m) on the hill below.
Continue through a gap in wall to descend steeply and carefully from the peak. After a small Col, the ridge continues to undulate. Some tricky / enjoyable sections over rock. Wonderful views to north and south.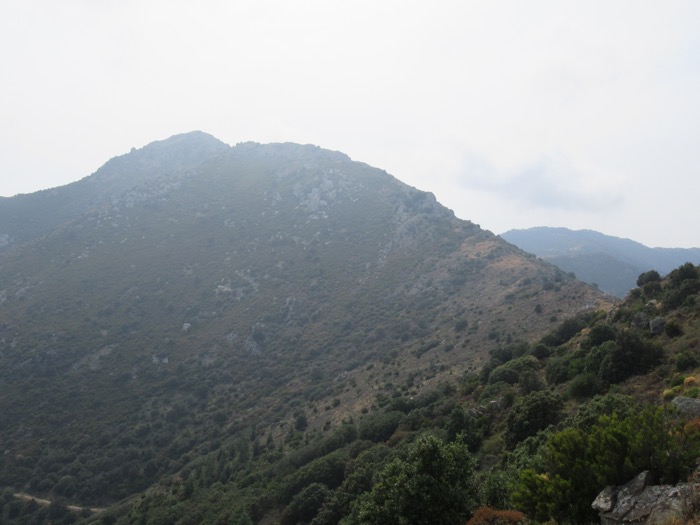 Arrive at Col de Cerbere (3h 45 mins) where you are close to the watchtower of the fire personnel with Puig Joan(458m) behind it.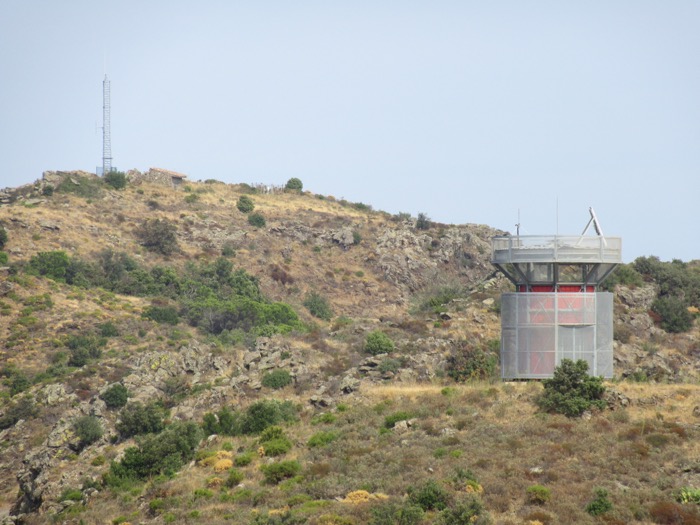 From the Col take piste AP62 which passes to left of the watchtower and below Puig Joan. At a pylon, take footpath left to continue downwards along rocky ridge. Look out for a small Dolmen and look down on Plage de Peyrefite with its Sentier Marin, underwater "path" for snorkellers.
On reaching Col de la Creu take signed footpath left to emerge on a road. Turn right and quickly reach another road. Turn right and pass La Tour del Pagès.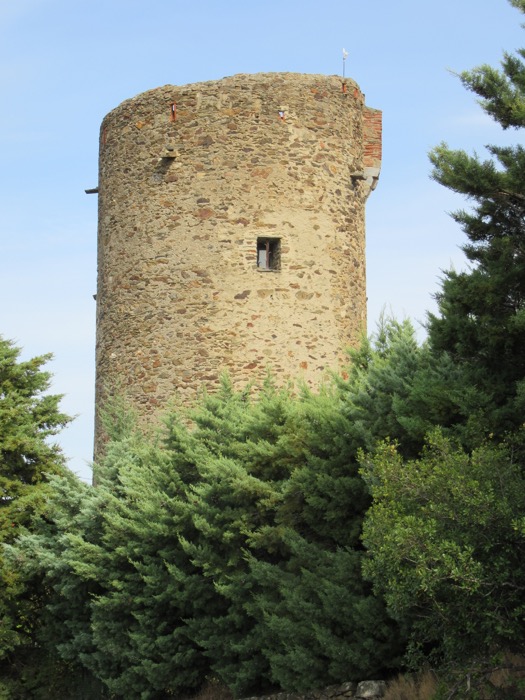 Take double track through pines on left to emerge on road again, then, after 50 metres, take footpath on left behind houses.
Emerge in street, descend it and cross road at bottom of hill to find car park on right.