by Mike Rhodes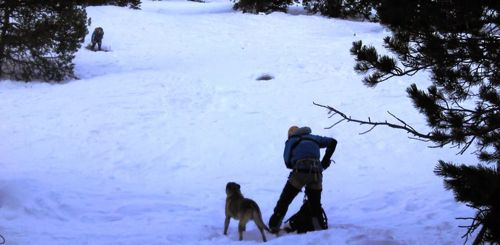 Normally when you are "invited" to visit the Police in France, you do this with a little trepidation. My invite however was to join the CRS, Secours en Montagne, on one of their avalanche, search and rescue, retraining or "recyclage" days. I have climbed the mountains of Europe, summer and winter, for nearly 50 years and have fortunately never needed to be rescued or been involved in the rescue of others, so it was bound to be interesting.
As part of our qualifications as an International Mountain Leader, (Accompagnateur en Moyenne Montagne) we have to be continually trained and assessed on our ability to deal with any situation. This includes avalanche searches and recovery, but until this winter, I had never seen how the professional rescue services in France work and undergo regular retraining.
Why is this important? Research has shown that 90% of people recovered within 15 mins from an avalanche survive, against 30% within 30 mins. Even in well-organized France it takes on average 40 mins for the rescue team to arrive, so anything that the rest of us mountain users can do, may help save lives.
My good friend, Ian Pendry, who many of you will know from my regular snowshoe walks, runs the café/restaurant in the Cambre D'Aze ski station and a few weeks ago he was hosting visits from both the PGHM (Peloton de Gendarmerie de Haute Montagne) and CRS Police Municipal-Secours en Montagne on one of their annual winter training days and as an IML, I was delighted to be invited along.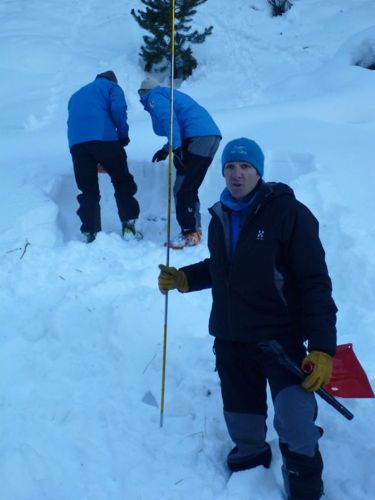 Arriving in St Pierre dels Forcats, at the proscribed time of 08.45am, there was no sign of the CRS or their official cars so it was time for a coffee in the Snack de Slalom and a chat with Ian and his wife Angela. Twenty mins later, and the CRS rolled up and introductions were made over the obligatory coffee.
It is important that everyone involved in mountain rescues attends these training sessions and this session also included several doctors from the Perpignan area. Our first session was classroom based and, not surprisingly being the Police, covered all of the forms that need to be filled in when attending an avalanche incident.
The majority of avalanches, happen outside of the controlled ski domains and are likely to have been set off by a skier or snow-shoe walker. It is probable in this situation that other skiers will be the first people on the scene and even with some training the resulting search is likely to be undertaken in a haphazard manner, especially as, in the stress of the situation, everyone knows that speed is the key factor in finding anyone alive.


Consider this – if you come across an avalanche and believe that someone is buried, what do you do?
Has anyone called the rescue.
Can you get a signal on your mobile?. If not has anyone gone to get them?
Has anyone started a search?
Does anyone have an avalanche transceiver?
The questions are innumerable. This is one occasion where someone assertive has to take charge and this is where the CRS's structured paper trail and form filling starts to make sense. We cover all of the abbreviations that will appear on subsequent forms, where the different roles of the leaders coordinating the search are listed, severity of the incident, flags, tags for each casualty and incident report forms and summaries.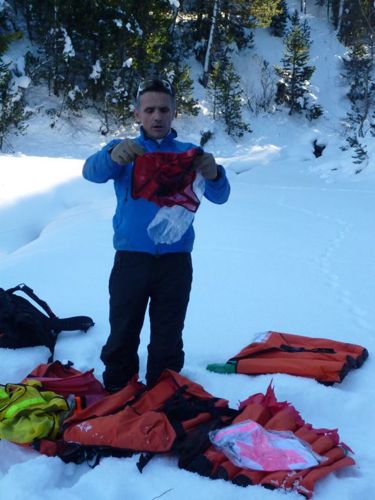 After the theory, the first practical session takes place on the lower slopes of the ski station. These can only be accessed by climbing the slopes on touring skis, or so I thought! Let's remember that this is the Police and out comes a kind of quad bike but one equipped with snow tracks that can carry two people and tow another three people behind. Mind you I did say that speed was important! Most of us did go up on skis.
At the end of the track and in virgin snow we all re-assemble to see what the CRS carry in their huge orange bags when they attend an incident. Once it's un-rolled we can see a bewildering array of different flags.
Bruno, the boss, starts to explain just what they are for – Flags to mark a safe entry and exit to/from the site, yellow and black mark the limits of the avalanche, red the immediate probe search area, yellow items found and most importantly where teams should dig.
The first rule of rescue is that it is essential that no one else is injured. Digging, Bruno explained also involves not only good teamwork but metal shovels. Shame that two of his team had brought their plastic ones!
Up the slope I am asked to join a team digging for a potential casualty. Teams of 4, with 2 in front and 2 behind start shoveling. The 2 in front move snow back to the second pair who then move it down the slope. This is really tiring work and after two mins we all rotate clockwise but not before Mr Pendry fills my face with several shovels of snow. Ho, Ho ,Ho.
Watches are checked and it's nearly midday so we pack up and ski back down to the Café, chez Pendry, where lunch is to be taken. Over a "demi" we discuss the morning's session as Ian and Angela prepare lunch, quiche, steak and pud, together with the obligatory glass of red wine.
Over lunch plans are made for the afternoon session which is to take place in the bowl above the upper lifts. Hold on, the lifts are not working! Yes it means even more climbing on touring skis up past the Pla de Cambre d'Axe and the top T bar lift.
Two thirds of the way up I am beginning to regret eating so much at lunch time, especially as the CRS bring out their quad and ski-doo and tow all of their people to the top. Just below the Pla, the quad stopps and offers us a lift up the last bit. It seems a good idea at the time but hanging on to a rope behind a quad going at 60kmh is quite frightening.
Our group had been split into three, with part being left at the bottom in the car park and the rest up into the bowl where a potential avalanche site had been marked out, various skis, gloves and sticks scattered about the slope and two people and dummy bodies buried in the snow ready to be found.
The radio crackles into life and an incident is reported to the team in the car park who call out a helicopter. Within minutes it appears with a person dangling on a wire just below. This is where it is essential to be organized as the rescue coordinator guides them to drop the person at the top of the slope to start a search.
Other people are nominated different roles and I join a team to search the snow with probes as the helicopter brings in yet another person together with his rescue dog. Now we have three coordinated groups searching the slope, importantly controlled by just one person to ensure no duplication. The live bodies are quickly located but our probe search in really deep and soft snow proves to be more difficult and we have to redo our search to find our "dummy" body. It shows just how difficult these searches are, even with professionals and why regular practice is so important.
On the short ski back to the café, I was able to reflect on the way that, even the professional services have to continually keep their avalanche rescue training and skills up to date and just how much we now rely on the speedy response of the courageous helicopter teams.


The next time that you keen skiers venture off piste, please do remember to wear avalanche transceivers and carry a small shovel and snow probe AND know how to use them. They may save your life.
Mike Rhodes is an International Mountain Leader / Accompagnateur de Montagne, lives all year in Les Angles and specialises in guided walks in the high mountains and Snowshoe trips in winter. He can be contacted on 0033(0) 46 80 43 728 email: mike.rhodes@free.fr or visit his web site at www.pyrenean-trails.com